Wrestling legend Hulk Hogan broke down in tears during an interview with "Good Morning America" that aired on Monday as he addressed his past racist comments in detail for the first time since he was fired by the WWE.
"Oh, my gosh. Please forgive me. Please forgive me," Hogan said. "I think if you look at the whole picture of who Hulk Hogan is, you can see over all the years that there's not a racist bone in my body."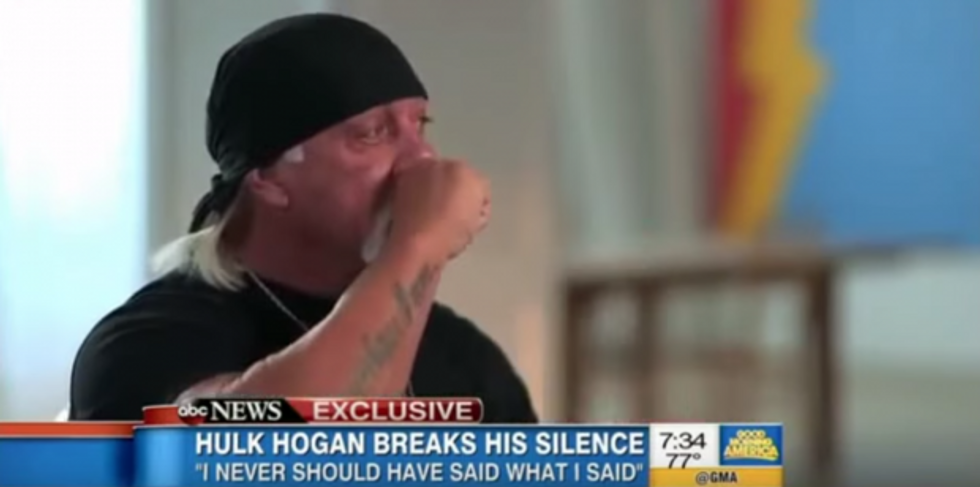 ABC
Hogan argued his remarks came at a time that he was very angry with his daughter and struggling with depression. He said he was "completely broken and destroyed" at the time.
Hogan was reportedly caught on video calling his daughter's boyfriend the n-word and admitting he's a "little racist."
However, Hogan also said it would be a "sad world" if people were judged on "one thing they said" when they were at their "lowest point."
"If everybody at their lowest point was judged on one thing they said and let's just say in high school, you may have said one bad thing and all of a sudden your whole career was wiped out today because of something you said 10 or 20 years ago, it'd be a sad world," he added. "People get better every day. People get better."
Hogan broke down in tears when he talked about his daughter after ABC News' Amy Robach read from a poem Brooke Hogan penned defending her dad after the scandal emerged.
"She should've been the one to throw me out like the trash, but instead, she showed me more love than anybody," he said as he teared up. He then asked, "Can we stop for a second?"
Watch the interview via "Good Morning America" below:
---
(H/T: Bleacher Report)