A newly-released email Hillary Clinton sent as secretary of state asks two things of the intended recipients: do not forward and delete after reading.
The email informs then-Chief of Staff Cheryl Mills and USAID administrator Rajiv Shah that she sent them emails on an unknown subject.
"Cheryl and Raj--I sent you emails [redacted] before removing their email info so pis do not forward to anyone and delete after reading. Thx," it said.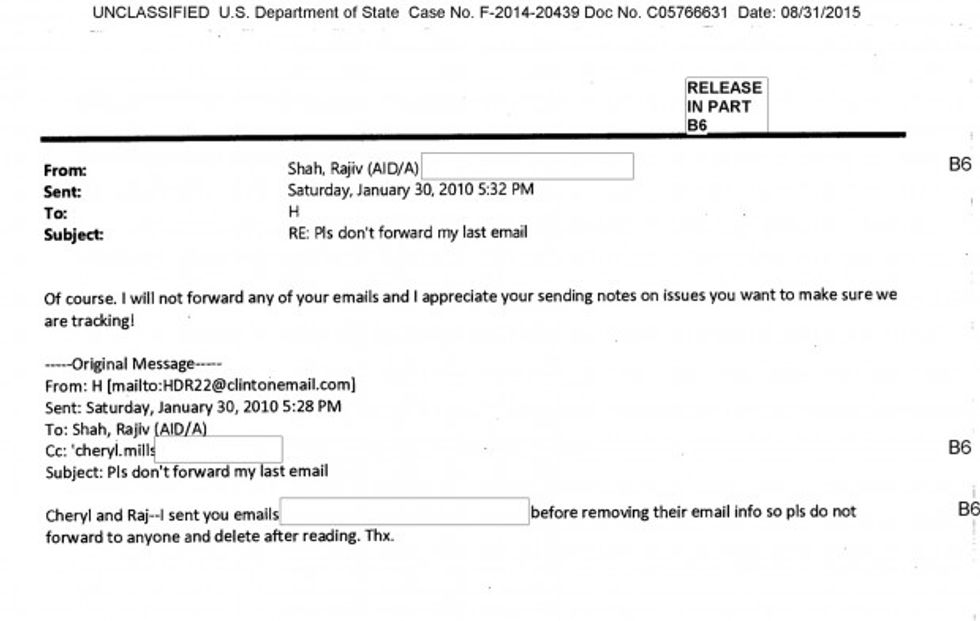 Image source: State Department
The email's subject itself was titled, "Pis don't forward my last email." It was not clear what email Clinton was referring to.
Shah replied to Clinton's message, assuring her of his cooperation.
"Of course. I will not forward any of your emails and I appreciate your sending notes on issues you want to make sure we are tracking!" he wrote.
The message was part of a batch of several thousand emails released Monday night by the State Department.
A representative for the Clinton campaign did not respond to a request for clarification from TheBlaze.
—
Follow the author of this story on Twitter and Facebook: