President Barack Obama will get a "crash course" in surviving the Alaskan wilderness on NBC's "Running Wild with Bear Grylls," the network announced.
Obama is embarking on a three-day trip to Alaska where he will primarily talk about climate change, but will also take part in an episode to air later this year on NBC.
"The two will then come together in the Alaskan Wilderness," an NBC news release says. "President Obama will become the first U.S. president to receive a crash course in survival techniques from Bear Grylls."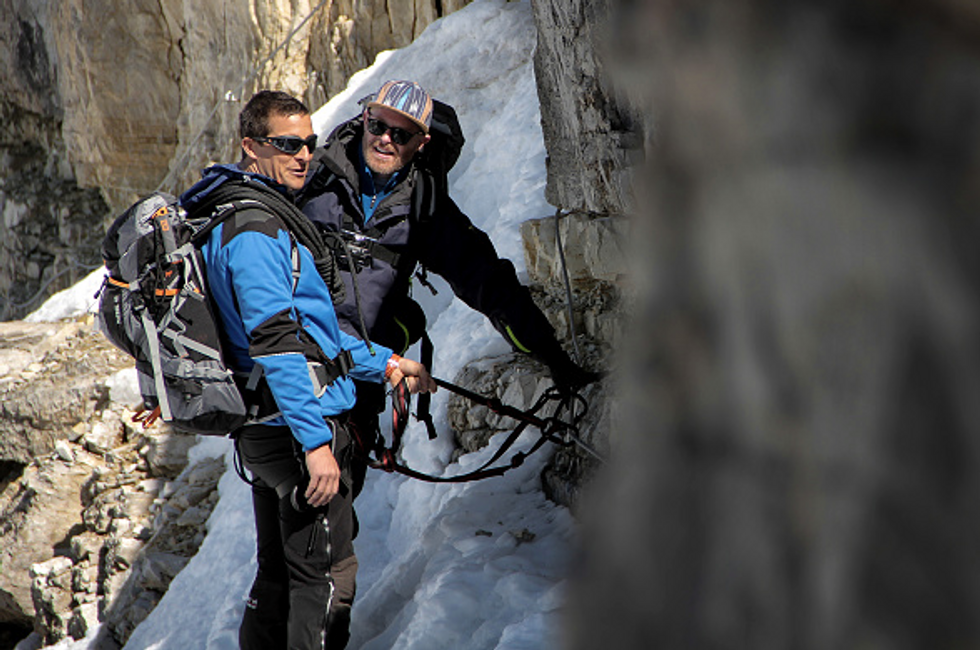 Bear Grylls, left, with "Modern Family" star Jesse Tyler Ferguson. (Mark Challender/NBC/NBCU Photo Bank via Getty Images)
"Running Wild with Bear Grylls" is in its second season and follows Grylls taking celebrities on one-on-one adventures that test their survival skills. Past guests have included Kate Winslet, Drew Brees, Kate Hudson, Zac Efron, Michelle Rodriguez and Channing Tatum.
Grylls spent three years in the British Special Forces and went on to become one of the youngest climbers ever to reach the summit of Mount Everest. Grylls previously starred in seven seasons of the Discovery Channel's Emmy Award-nominated "Man vs. Wild" TV series, reaching an estimated 1.2 billion viewers. He now hosts NBC's "The Island" and "Running Wild with Bear Grylls."
The White House did not immediately respond to a request for comment from TheBlaze.
Obama has routinely used entertainment venues to push his agenda to unconventional audiences, including conducting a round of interviews with YouTube personalities, an interview on Funny or Die's "Between Two Ferns" with Zach Galifianakis, and an interview for Marc Maron's "WTF" podcast.