Tourists and treasure hunters are descending on an area where the Polish government believes a train holding Nazi treasures that disappeared at the end of World War II is hidden underground.
Radio Poland reported Sunday that speculation about the storied train thought to be filled with gold, weapons and looted artwork reached "fever pitch" after a top Polish official said he was "99 percent" sure the train had been identified using ground-penetrating radar near the city of Walbrzych.
But on Monday a regional governor cast doubt on the claim.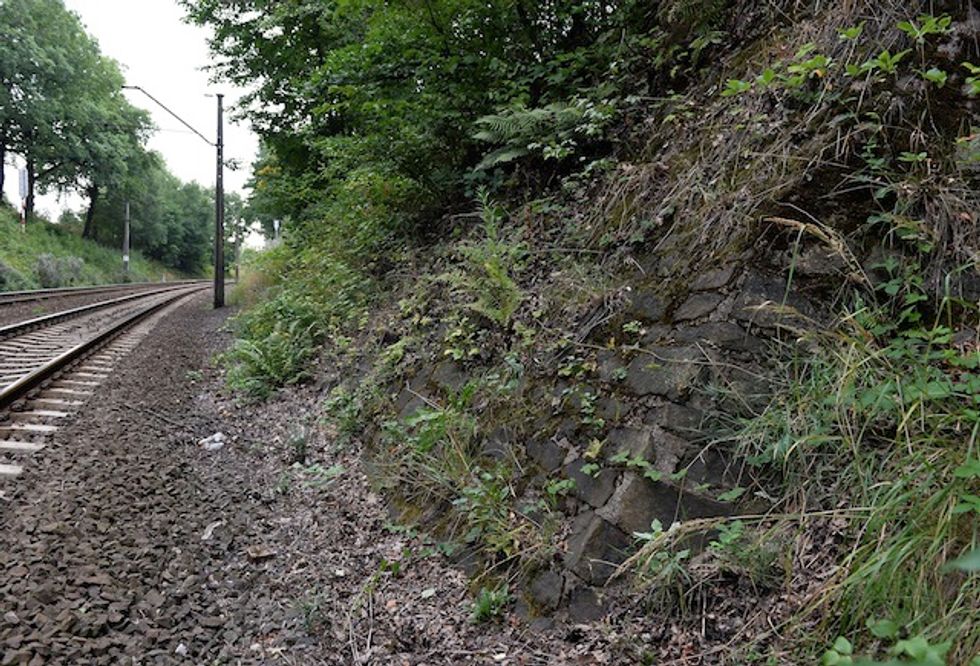 The potential site where a Nazi gold train is believed to be hidden is pictured in the city of Walbrzych, Poland, on Aug. 28, 2015. Poland's Deputy Culture Minister Piotr Zuchowski said Friday he has seen an image made by ground-penetrating radar that seemed to prove the discovery of an armored Nazi train missing in southwestern Poland since World War II, and is more than 99 percent certain that this train exists. (Janek Skarzynski/AFP/Getty Images)
The Polish culture ministry has asked "foragers" active in the area to leave and warned that they might get hurt by World War II-era explosives, the Guardian reported.
One local tourism official described the rush to the site as the "Loch Ness Monster effect."
"I'm more than 99 percent sure such a train exists, but the nature of its contents is unverifiable at the moment," Deputy Culture Minister Piotr Zuchowski said Friday. He said images seem to show a train with gun turrets.
That claim was tempered three days later by the regional governor.
"There is no more proof for this alleged discovery than for other claims made over the years," Tomasz Smolarz, governor of the southwestern region of Lower Silesia, told reporters Monday, Agence France-Presse reported.
"It's impossible to claim that such a find actually exists at the location indicated based on the documents that have been submitted," Smolarz added.
Rumors have circulated for years about a missing Nazi train filled with treasures that disappeared in 1945 as the Nazis were retreating from the Soviet Red Army.
Police and railway security are patrolling the #goldtrain area pic.twitter.com/oG6xzpMvTq

— Exen (@Exen) August 30, 2015
The BBC reported that no historical documentation has ever been found to confirm the train existed; however, "between 1943 and 1945, Germany forced prisoners of war to dig more than 9 km (five miles) of underground tunnels near Walbrzych that were apparently to be used as factories."
British author Tom Bower, who wrote "Nazi Gold: The Full Story of the Fifty-Year Swiss-Nazi Conspiracy to Steal Billions from Europe's Jews and Holocaust Survivors," told Sky News that many trains holding plundered art crossed Europe.
"If it is an art train there will be a huge amount of paintings, perhaps diamonds, rubies, precious stones," Bower said, then offered the bombshell speculation that the decades-missing Russian Amber Room might also be on the train.
The Amber Room was a chamber in an 18th-century palace outside St. Petersburg constructed of amber panels, gold leaves and mirrors that disappeared during World War II.
Given the near hysteria over its possible contents and in order to discourage treasure hunters, Polish officials won't say exactly where they believe the train is buried. The deputy culture minister even warned that the train might be booby-trapped, the BBC reported.
Zuchowski said the location was apparently discovered during a deathbed confession from a man who helped hide it 70 years ago.
Adding to the drama, a Pole and a German told Polish authorities earlier this month that they believed they found the train and were claiming a 10 percent stake in anything of value that was found, Radio Poland reported.
However, Deputy Minister Zuchowski said that Poland owns whatever ends up being found.
This post has been updated to include new quotes from the regional governor.