Ahead of 7,000 pages of new Hillary Clinton emails set for release Monday night, a State Department spokesman refused to answer whether the former secretary of state followed the law in her email use.
"Can you say from that podium, categorically, that Secretary Clinton followed the rules and the law?" Fox News reporter Ed Henry asked State Department spokesman Mark Toner during press briefing.
Toner declined to answer, but gave an explanation.
"I'm just not going to answer that question," Toner said.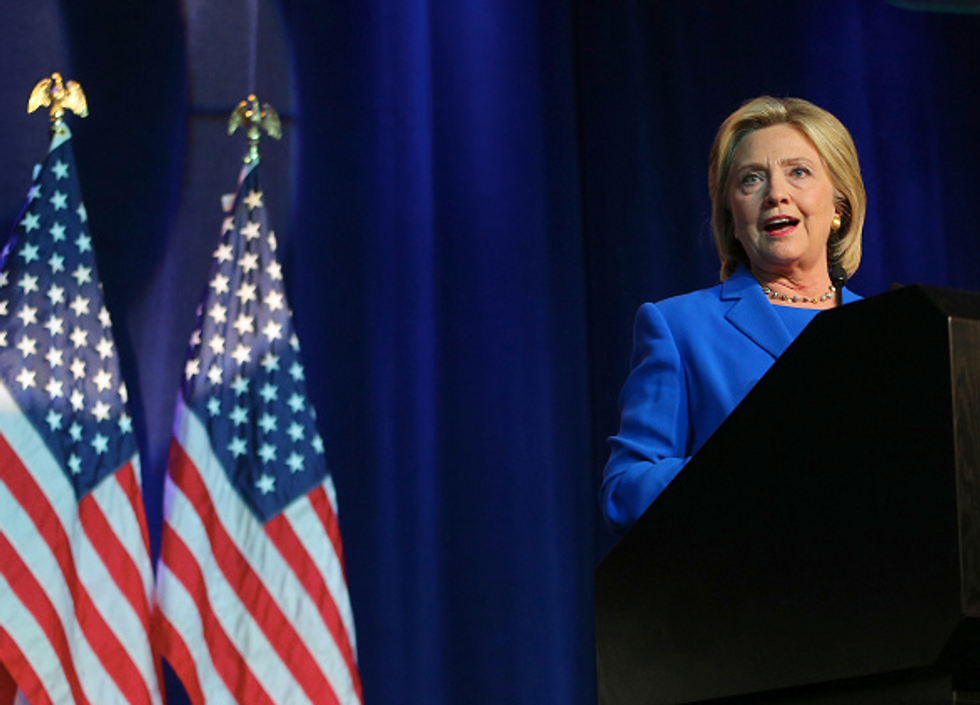 Democratic Presidential candidate Hillary Clinton speaks at the Democratic National Committee summer meeting on August 28, 2015 in Minneapolis, Minnesota. Most of the Democratic Presidential candidates including Clinton, Bernie Sanders , Martin O'Malley and Lincoln Chafee are attending at the event. (Photo by Adam Bettcher/Getty Images)
"It's not our goal. It's not our function in releasing these emails," Toner continued. "Our goal and our sole purpose, when we release these emails is to decide, first to publish them according to the FOIA request we received, but in doing that looking at them and deciding if any of that material needs to be redacted and subsequently classified."
Henry followed, "Can't the State Department state categorically that the secretary of state followed the rules?"
Toner said, "All I can say is that there are other reviews under way and that's really for the inspector general and other entities who are out there looking for some of these broader questions."
The emails are set for release at 9 p.m. Monday in response to Freedom of Information Act requests.
The FBI is investigating whether Clinton's private email server contained classified information.
Toner said "somewhere around 150" emails that will be release Monday were "upgraded" to classified status, meaning they were considered classified after they were on Clinton's server.
During the briefing, Toner explained that classified material is "not an exact science."
"It's not black and white. It's not always clear," Toner said. "There are strong feelings and different beliefs about when something is classified, whether it's born classified, whether it should be classified later."
---