Far-left website Salon found itself on the receiving end of word policing after publishing a tweet Monday regarding rapper Nicki Minaj's on-stage spat with Miley Cyrus during the 2015 MTV Video Music Awards on Sunday night.
"The look on Miley's face during Nicki Minaj's savage, expletive-laden rant says it all," the tweet read, linking to an accompanying article.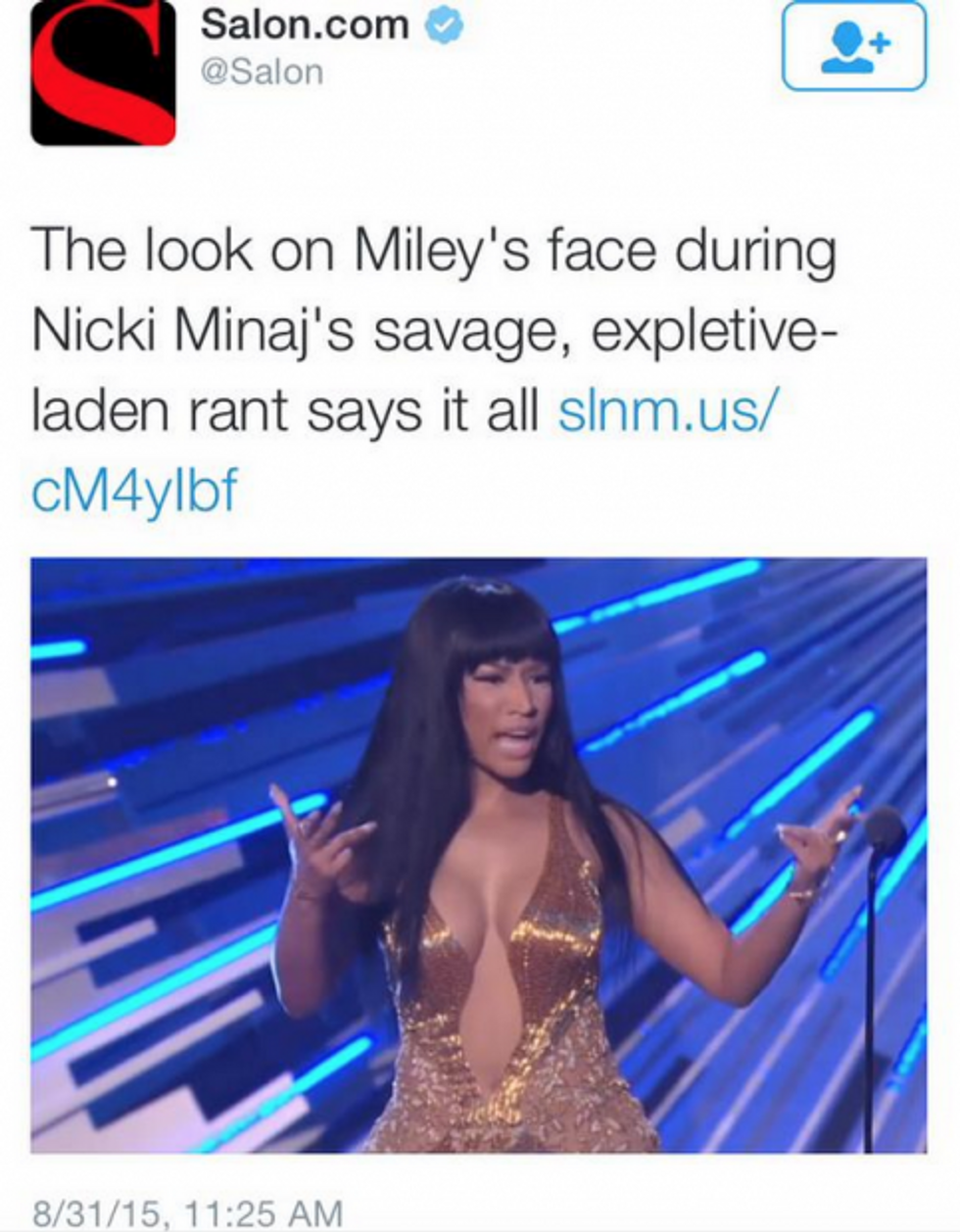 Twitter
Twitter users quickly criticized Salon for using the word "savage" to describe Minaj — even though the story in question portrayed the rapper in a positive light.
YO @Salon there's a long tradition of white people calling us caribs "savage". wanna go there? @capetownbrownpic.twitter.com/TQAm6nGzDs

— liza sabater (@blogdiva) August 31, 2015
Sensing the tweet could be a problem with its readers, Salon quietly posted another one with an altered headline: "The look on Miley's face during Nicki Minaj's raw, righteous rebuke says it all."
But that wasn't enough to quell the outrage.
This is not an apology, @Salon. pic.twitter.com/cKS3Q7MKTf

— Ryan Dalton (@capetownbrown) August 31, 2015
Within hours, Salon was accused of calling Minaj a "savage" rather than in reference to her possibly staged on-stage stunt in which she called Cyrus a "b***h."
Eventually, Salon just apologized for using the "poor choice of words." Even so, a prominent Black Lives Matter activist still wanted more.
.@Salon, her Twitter handle is @NICKIMINAJ. https://t.co/yI0mjn64WK

— deray mckesson (@deray) August 31, 2015
(H/T: Mediaite)
---