Glenn Beck has called for a national day of prayer on Friday in honor of police officers, members of the military and "all people who wear a uniform, because they are under attack."
"We would love, if you have church bells, to ring them at 11 o'clock tomorrow all across the land," Beck said on his radio program Thursday. "We want you to go to your church — your priest, your pastor, your rabbi — and we want you to say, 'Will you open the doors of the church so people can come and pray?'"
The time the bells are rung is meant to coincide with the funeral of Deputy Darren Goforth, who was fatally shot at a gas station last week.
Beck said people are welcome to pray in any way they feel comfortable, but he suggested the following below, which he said is "based on an old prayer from the 1700s:"
Dear heavenly father, we come before you with humble hearts. We pray for your protection over all law enforcement as they faithfully serve our communities. We lift up to you the family of Deputy Darren Goforth and all the families of first responders in our military who have lost loved ones. Comfort them and provide them with your peace that surpasses understanding in the midst of unimaginable grief. God, we ask for your healing over our communities. Let us come together and unite in peace and prayer. In your name we pray. Amen.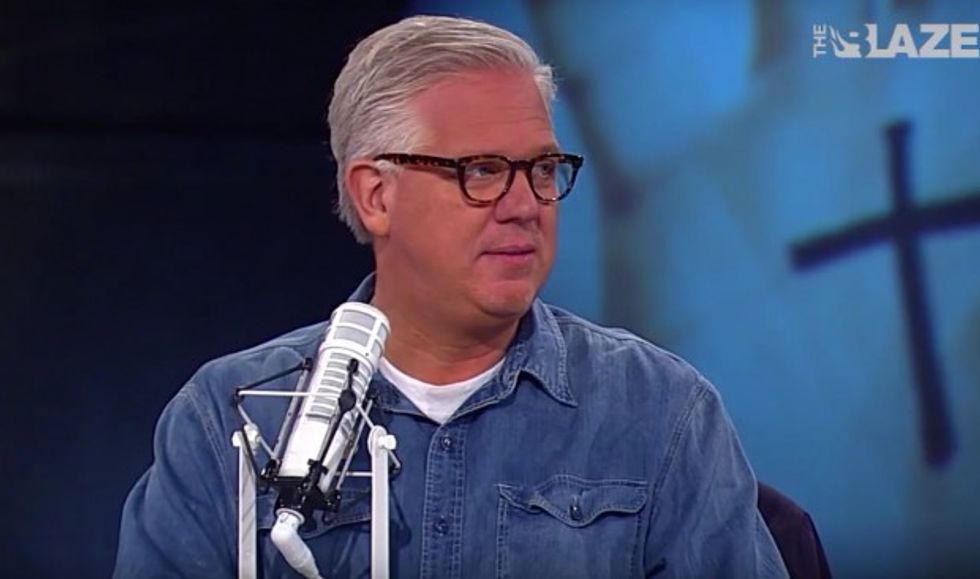 Glenn Beck speaks on his radio program August 24, 2015. (Photo: TheBlaze TV)
Beck also encouraged Americans to organize prayer vigils in front of their local police stations where they can "pray for safety of all of the people there, pray for vision, pray for sight beyond their own eyes, and safety and protection for those protectors who protect us."
"I'm out of political solutions. I'm out of financial solutions. I'm out of business solutions," Beck said. "We have passed all of the exits. What will save this country is us standing."
Beck said many people want to be involved with the various initiatives being launched but can't afford to donate to the Nazarene Fund or don't have the resources to sponsor a refugee family.
"If you're somebody who prays ... we want to enlist you," Beck said. "We are putting together Gideon's army. And that will be in back, in mouth, in feet, in mind, in mind, in prayer, in spirit. You name it, you have a talent, we're going to put it to work."
Audrea Taylor, who is helping to organize the event, added: "There's something powerful when we pray together. And so on Friday, we're specifically asking you to gather in your communities, in your churches, with your families, and pray together where two or more are gathered. And so Friday is a really important time. 11 a.m. Central Time, we're asking you to gather and pray together with your community."
"Please, we need you," Beck concluded. "We're a day away. We're going to need you to spread this everywhere and get the word out, a national day of prayer. And we are asking for you to pray specifically for those who protect and serve."
[mlbvideo content_id=446019983]
The full episode of The Glenn Beck Program, along with many other live-streaming shows and thousands of hours of on-demand content, is available on just about any digital device. Click here to watch every Glenn Beck episode from the past 30 days for just $1!