Republican presidential candidate Rand Paul said Friday that he is "absolutely convinced" the problems in Washington won't be resolved until term limits are put in place.
"The world is topsy-turvy," Paul said on Glenn Beck's radio program. "People in America get it, when you go out into America. But when you're inside the beltway, they do not get it. That's why I'm absolutely convinced we won't fix this place until we clean it, use some antisepsis on it and really have term limits and have better rotation up here. Because entrenchment up here -- basically people become furniture and nothing changes, and they don't listen to the people."
Paul said one of the prevailing mentalities in Washington, D.C. is that it's impossible to cut budgets. But he dreams of a day when the president says: "You tell me what to do, and I'm going to spend half as much and still accomplish what you ask me."
The two also discussed foreign policy and the responsibility Americans have to help rescue Christians being slaughtered by the Islamic State in the Middle East. Beck firmly believes the government isn't doing enough to help, and is trying to raise $10 million through the Nazarene Fund to help rescue and care for those being persecuted.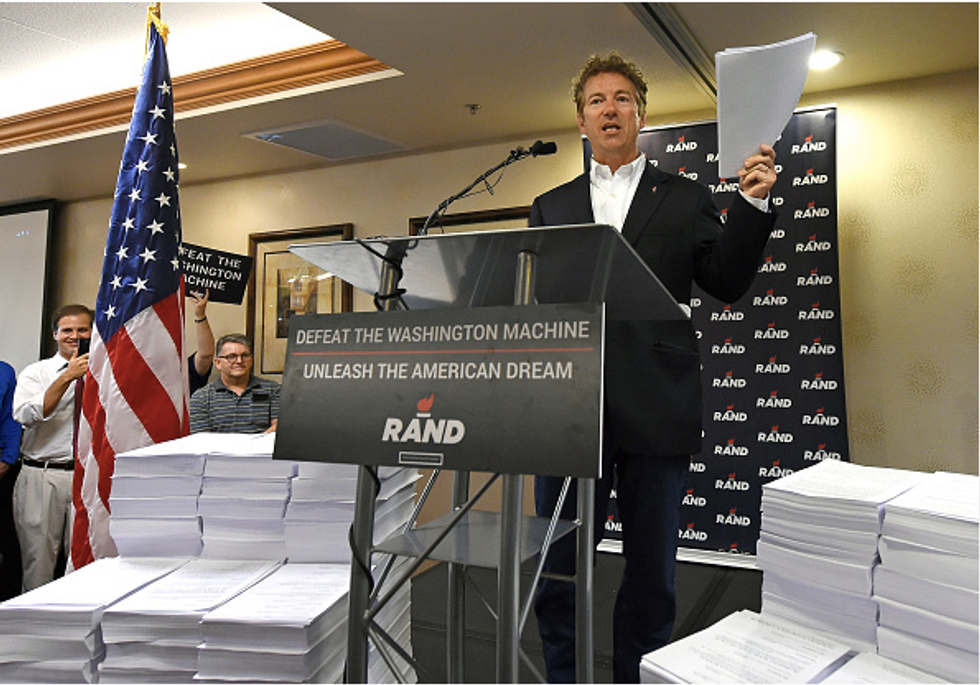 LAS VEGAS, NV - JUNE 29: Republican presidential candidate U.S. Sen. Rand Paul (R-KY) is flanked by more than 74,000 pieces of paper representing the size of the U.S. tax code as he speaks during a campaign stop at an Embassy Suites hotel on June 29, 2015 in Las Vegas, Nevada. Paul made stops in four cities in Nevada on Monday as he campaigns for the battleground state against 12 other Republican candidates in the 2016 presidential race. (Photo by Ethan Miller/Getty Images)
"If we're allowed to promote [the Nazarene Fund] on our campaign site, I'm going to put it out to our 2 million followers also because it's a great idea," Paul said. "People think when the government gives something, that it's something noble. Well, we can have government help, but if you want something truly noble that comes from the heart, it's charity. And nothing can replace that. ... So what I can do to help the Nazarene Fund, I will."
"Well, thank you," Beck responded. "I said last week, we don't need the government. Why are we waiting around asking for permission? We know what needs to be done. These people need to be evacuated out of there. ... There was another city that you know, fell yesterday to ISIS. They were given a 48-hour warning. ... The State Department says they'll look into helping the Christians out sometime in 2016. People are dying now. Why are we waiting for permission?"
"Well, it's even worse," Paul said. "Because when you look at who these groups are and what kind of weapons they have, their weapons came from Saudi Arabia, Qatar, and maybe even some of them from us. Now our side will say, we didn't give them intentionally. But we threw the weapons indiscriminately into that civil war."
Paul spoke out strongly against arming the Syrian rebels at the time, noting that many were affiliated or allied with Al Qaeda and saying it was "nonsense" to arm people we had been fighting for 15 years.
"I frankly don't want to give arms to people who hate us [and] people who hate Israel," he concluded. "Some of the people we have given weapons to have said that when they're done with Assad, they will take the Golan Heights, and they will attack Israel with our weapons -- with the weapons we gave them. This is insane."
[mlbvideo content_id=449074983]
The full episode of The Glenn Beck Program, along with many other live-streaming shows and thousands of hours of on-demand content, is available on just about any digital device. Click here to watch every Glenn Beck episode from the past 30 days for just $1!