You can't exactly fault first lady Michelle Obama for sending superstar R&B singer Beyonce a happy birthday tweet — the pair do go back a ways.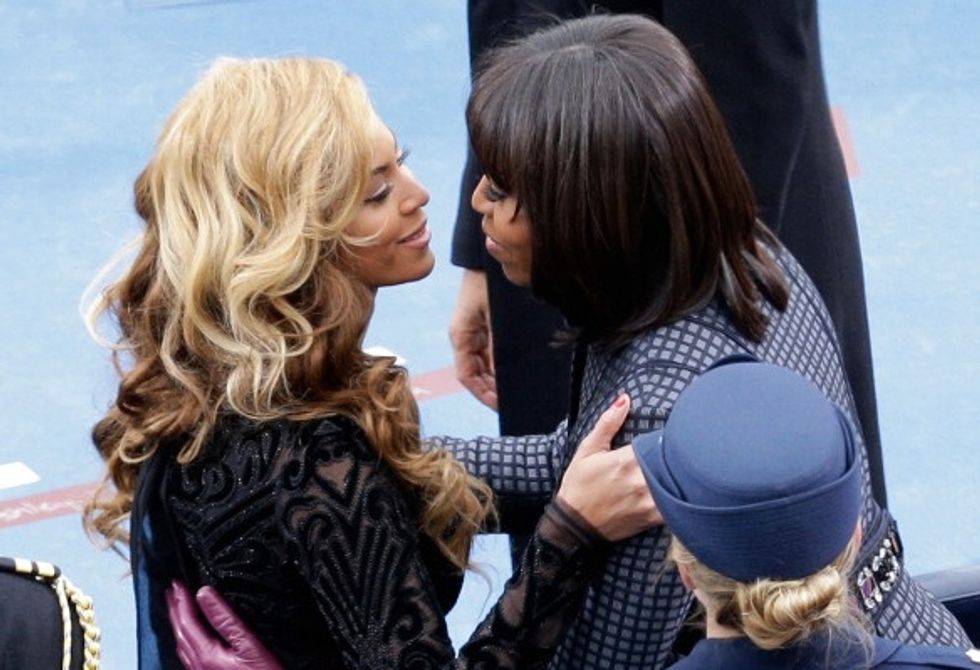 First lady Michelle Obama greets singer Beyonce after she performs the National Anthem during the public ceremonial inauguration on the West Front of the U.S. Capitol January 21, 2013, in Washington, D.C. Barack Obama was re-elected for a second term as President of the United States. (Rob Carr/Getty Images)
Since Beyonce performed at both of President Obama's inaugurations, such a social media greeting is far from surprising.
But Obama's birthday tweet to Beyonce on Friday included an extra message that thanked her "for being a role model for young girls around the world" —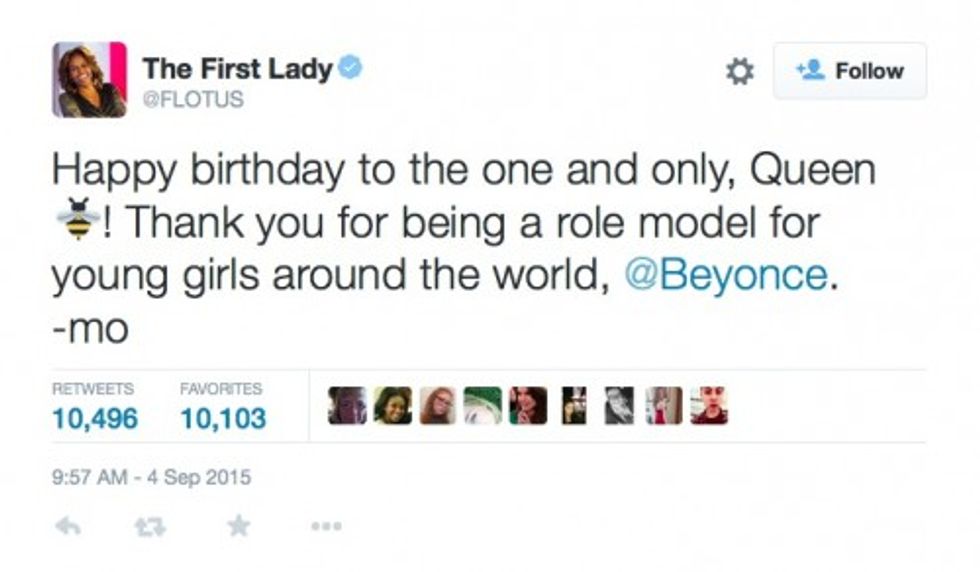 Image source: Twitter
— and just a few folks took issue with her observation.
Content warning: Some readers may find the two photos among the below tweets offensive:
@FLOTUS @officialroycey Role Model? Yeah, I can't wait for the day my 12 yr daughter gives it a bit of this. pic.twitter.com/VaY8qfMgfk

— Ian Collins (@iancollinsuk) September 4, 2015
@FLOTUS @WorldWideKilah @Beyonce role model how?

— busy gettin a degree (@rippleffects_) September 4, 2015
@FLOTUS - I have huge respect for you, First Lady, but in what way is Beyonce a role model? Or a feminist? Not in my books.

— Barbara L.B. Storey (@barbaralbstorey) September 4, 2015
@FLOTUS @Beyonce with all due respect, I do not see how a woman who dresses as she does and sings such explicit lyrics is a role model.

— Bernadette Stokem (@BStokem) September 4, 2015
@FLOTUS @Beyonce ok so role models to young girls give their husbands lap dances on stage? Seems your idea of a role model is a bit off.

— SassySHO (@DuplessisBrandy) September 5, 2015
@FLOTUS I admire you very much but am shocked that u would consider a her a role model for young girls. I rarely see a photo of her dressed!

— Micayla Lee (@LeeMicayla) September 4, 2015
@FLOTUS @Beyonce If she is a role model, then what exactly is your definition of "bad influence"?

— LisetteInBlue (@bookgirl8) September 5, 2015
Of course not all of the responses to Obama's tweet were negative — and some fought back against the criticism.
But those who didn't appreciated the "role model" comparison all seemed to point to the same stuff:
@FLOTUS how is this a role model for young girls @Beyonce pic.twitter.com/3qno1dczfS

— Rahul K (@peanutbut) September 5, 2015
—
Follow Dave Urbanski (@DaveVUrbanski) on Twitter