Iran's Revolutionary Guard recently released a video purporting to show its reconnaissance of a U.S. aircraft carrier in the Strait of Hormuz.
Taken by cameras positioned both above the carrier and alongside it, the video showed images captured from relatively close to U.S. military jets and personnel on deck — an apparent effort to demonstrate an American vulnerability and Iran's ability to get close to U.S. military assets unperturbed.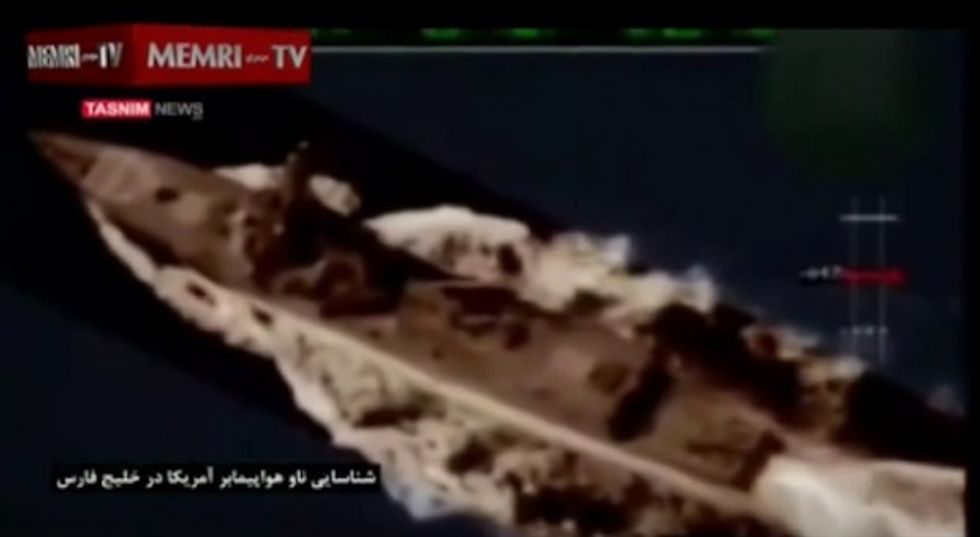 Iran's Revolutionary Guard released video purporting to show how close it got to a U.S. aircraft carrier in the Strait of Hormuz. (Image source: Tasnim via MEMRI)
The video was set to a backdrop of dramatic music rich with militaristic drumbeats.
The video showed aircraft and military personnel on the carrier. (Image source: Tasnim via MEMRI)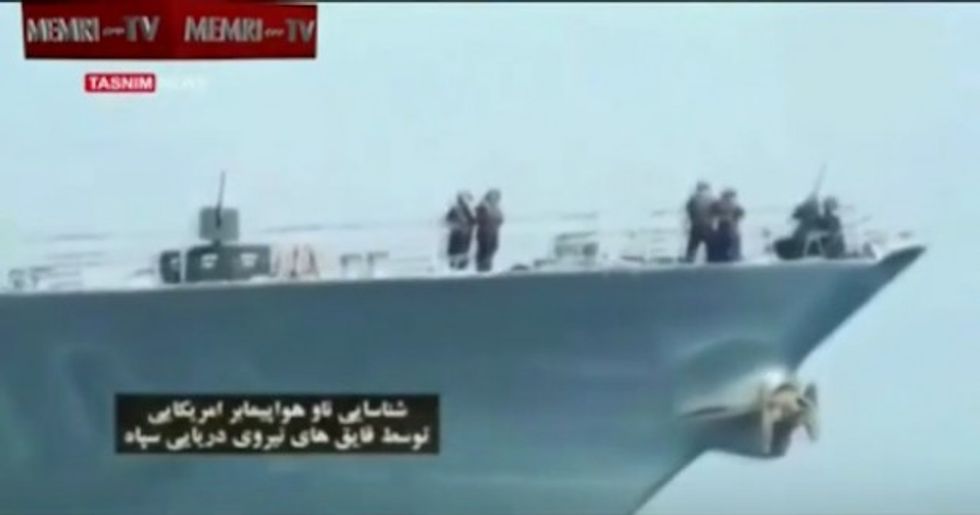 Image source: Tasnim via MEMRI
The Middle East Media Research Institute reported that the clip was broadcast by Iran's Tasnim News Agency.
"IRGC [Revolutionary Guard] drones have carried out such missions many times; although the drone remains for a long time above the [American crew's] heads, they didn't notice it," Tasnim reported.
"In some cases, [the American crew] did notice the IRGC drone awhile after the filming and tried to drive it off by sending a helicopter or fighter jet after it," the Iranian news agency added.
The report stated that an Iranian naval plane, the Harbin Y-12, also took part in the reconnaissance mission to "identify an American aircraft carrier."
MEMRI noted that Tasnim released the clip on August 29 but did not specify when the video was captured.
Iranian state television last year aired a documentary simulating attacks on U.S. aircraft carriers in the Persian Gulf titled "The Nightmare of Vultures."
Last week, a top Iranian cleric said the U.S. continues to be the "number one enemy" of his country, despite the nuclear agreement reached with the U.S. and five world powers.
The nuclear deal should not "change our foreign policy" regarding the U.S., "our number one enemy, whose crimes are uncountable," said Ayatollah Mohammad Yazdi, the head of the Assembly of Experts which elects Iran's supreme leader.