MARBLE FALLS, Texas (AP) — A San Antonio school district has suspended two football players from the team after one of them ran into the back of a referee watching a play and the other dove into the official, the district's athletic director said Sunday.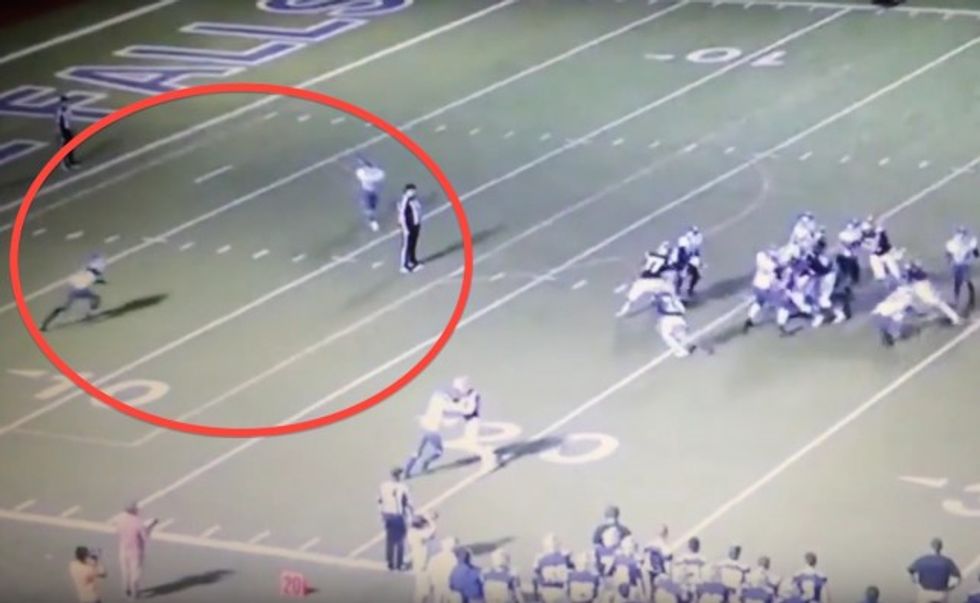 Image source: YouTube
Northside Independent School District athletic director Stan Laing told KENS5-TV that the players had been suspended because of the incident Friday, which he called "disturbing" and "inexcusable."
Video showed the referee watching the play, and his head snapping back when he is leveled from behind. The other player then dove on top of him. The team from John Jay High School in San Antonio was playing Marble Falls High School in Marble Falls, located about 90 miles north of San Antonio.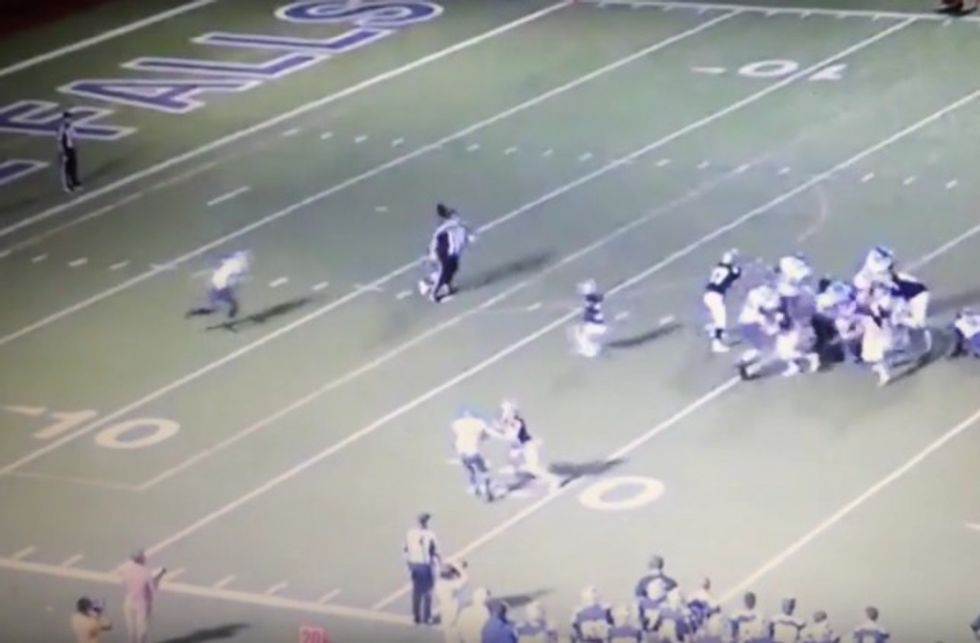 Image source: YouTube
Before the referee was hit, two Jay players had been ejected on separate plays.
Pascual Gonzalez, a spokesman for the Northside Independent School District, told The Associated Press earlier Sunday that the district would hear from game officials, coaches and students during an upcoming due process hearing.
"It is not the good sportsmanlike behavior that we teach students," he said.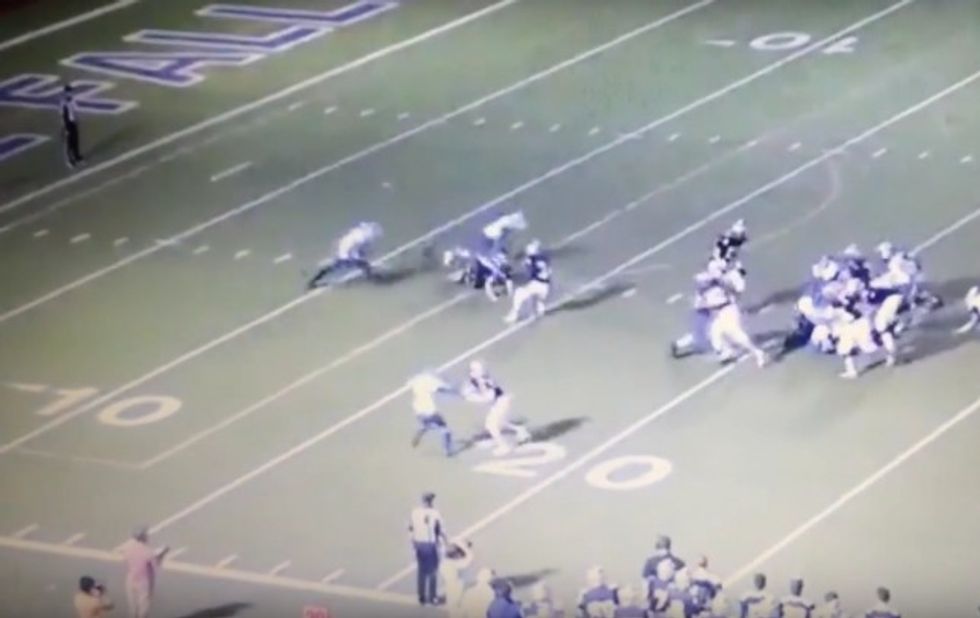 Image source: YouTube
The incident occurred with approximately a minute left in Friday's game, according to Marble Falls coach Matt Green.
Marble Falls was trying to run out the clock and called for a handoff toward the left side of the line of scrimmage.
The penalties stemming from the incident gave Marble Falls a first down. John Jay lost 15-9.
Marble Falls coach Matt Green said John Jay coach Gary Gutierrez apologized after the game.
"I've coached 14 years and I've never seen anything like it," Green told the San Antonio Express-News.
Gonzales issued the following statement Sunday:
This incident is extremely disturbing, not the sportsman like behavior we teach students at Northside ISD. We are cooperating with the UIL investigation. We will handle this incident on Tuesday morning and schedule a due process hearing which will include formal interviews with coaching staffing , the students themselves and other athletes, anyone who has knowledge of whatever was seen.

The bottom line is, Northside will not tolerate this type of behavior. It does appear the athletes intentionally tackled the referee, but we have not confirmed it.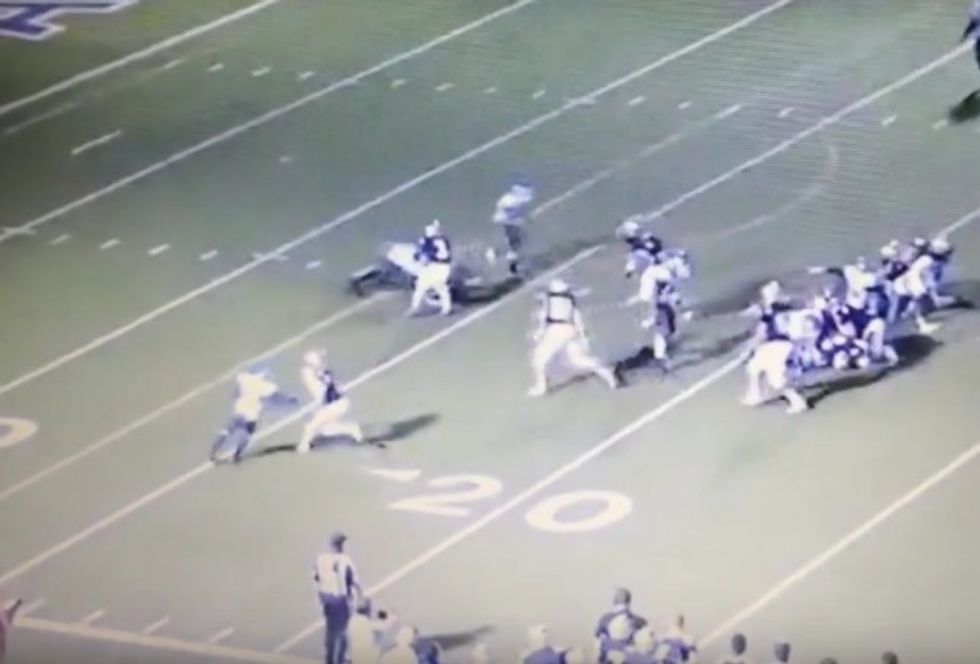 Image source: YouTube
The referee was "very upset" and "wanting to press charges," Austin Football Officials Association secretary Wayne Elliott told the AP.
Elliott said he was seeking guidance from the state officials association, adding, "the first thing we want is that those two kids never play football again."
He declined to release the referee's name.
The University Interscholastic League, which governs primary and high school sports, is working with the school district and officials on the investigation, according to spokeswoman Kate Hector.
This story has been updated.
—
Follow Dave Urbanski (@DaveVUrbanski) on Twitter