Former vice presidential candidate Sarah Palin appeared on CNN's "State of the Union" Sunday morning and defended Donald Trump after he appeared to fumble through some questions during an interview with conservative radio show host Hugh Hewitt last week.
During the interview, Hewitt asked the Republican presidential frontrunner about General Qasem Soleimani, commander of the Quds Force. Trump later said he thought Hewitt was asking him about the "Kurds" and accused the "third-rate" host of purposefully asking "gotcha" questions.
"I think I'd rather have a president who is tough and puts America first than can win a game of Trivial Pursuit," Palin told CNN's Jake Tapper Sunday morning.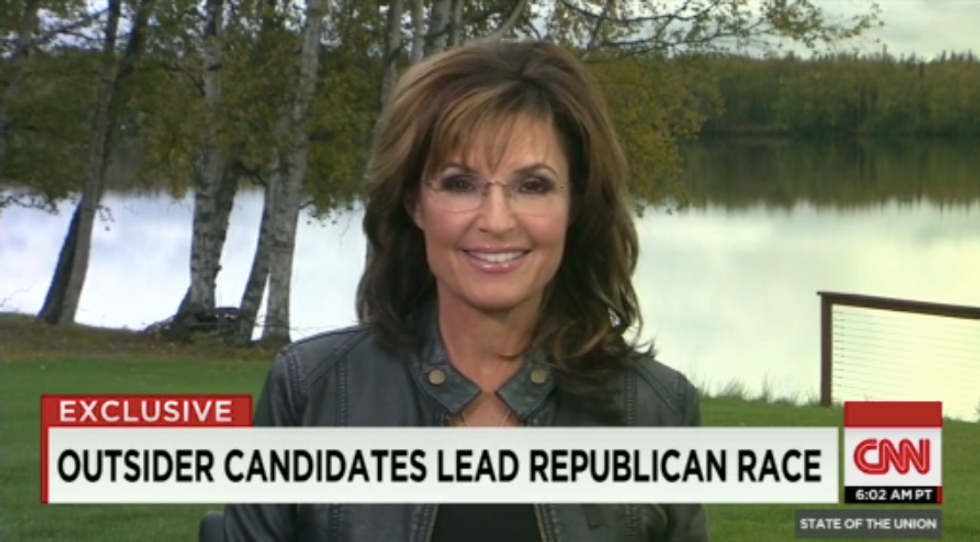 Image source: CNN
"Some of those questions, I don't know if other candidates were posed the same questions so I don't know if they would have the answers, but I don't think the public gives a flying flip if somebody knows who today is a specific leader of a specific region or religion or anything because that leader will change, of course, when the next president comes into power just based on the volatility of politics in these other areas," Palin said. "So I don't think the public is so concerned about that. "
Instead, Palin said she thought what voters look for in presidential candidates can be pretty "subjective" and some voters may be more interested in candidates who know the price of a barrel of oil or how much oil the U.S. is importing from other countries.
When asked what area she'd like to serve in during a hypothetical Trump administration, Palin said she's thought about the Department of Energy.
"And if I were head of that, I'd get rid of it," Palin said. "And I'd let the states start having more control over the lands that are within their boundaries and the people who are affected by the developments within their space. So if I were in charge of that, it would be a short term job, but it would be really great to have somebody who knows energy and is pro responsible development to be in charge."
During the interview Palin also praised former Florida Gov. Jeb Bush for his ability to speak both English and Spanish fluently, but echoed Trump's sentiments — that were directed at his Republican opponent — that people should "speak American" when in the U.S.
"It's a benefit of Jeb Bush to be able to be so fluent in Spanish because we have a large and wonderful Hispanic population that it's helping to build America and that's good and that's a great relationship and connection that he has with them through his wife and through his family connections," Palin said. "On the other hand, you know, I think we can send a message and say, 'you want to be in America, a, you better be here legally or you're out of here. B, when you're here, let's speak American. Let's speak English.' That's kind of a unifying aspect of a nation."
In her interview with Tapper, Palin also discussed abortion and Vice President Joe Biden, who she called "such a character." Watch the full "State of the Union" interview below.