The rent was just too high for one University of Michigan student until he decided to take matters into his own hands.
Christopher Cerk, a 21-year-old computer science student, didn't care too much for the freshman dorms and spent $800 per month on rent last year. So Clark dished out about $13,000 on materials over the past two years and built his own small home to reside in during his final two years at U-M.
"Around freshman year I didn't enjoy living in the dorms so I wanted to do something different," Cerk told the Ann Arbor News. "I started researching different ways to live. I wanted to put all the money that would be going towards rent in Ann Arbor to something else."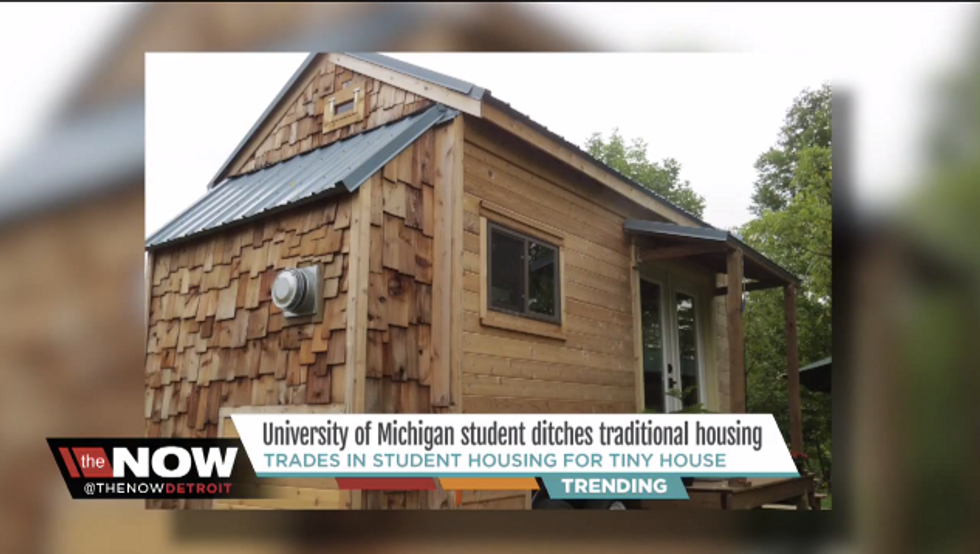 Image source: WXYZ-TV
"I lived on North (Campus) last year and it was about $800 a month and that's pretty pricey for living on North. It wasn't just the money issue — it was also just wanting to do something different and live simply," he said.
Originally Cerk, from Traverse City, approached his mother with the idea to live in his Volkswagen van for the final two years of college, but that idea was quickly shot down.
"I wanted him to live somewhere safe and normal," Cheryl Cerk told the Ann Arbor News. "I knew absolutely nothing about tiny houses. I started looking and found they were big out West, but in this area nobody had even heard of them here at the time."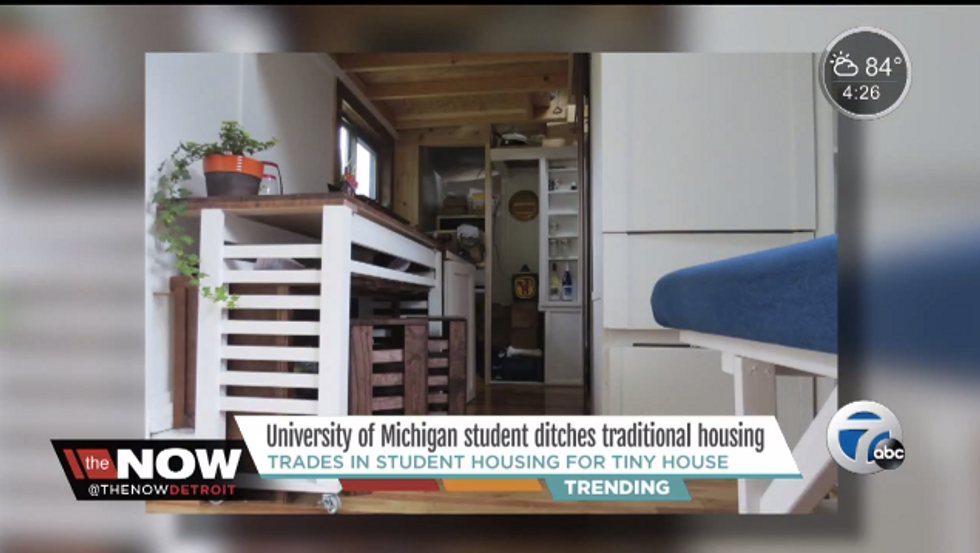 Image source: WXYZ-TV
"He had to convince me to let him do this. I made him do a cost-benefit analysis and do all the research ahead of time to see if it was going to be worth his while," she said. "When he was able to find a location that was a key part of it for me."
So as students moved back to campus after summer break, Cerk loaded his 170-square-foot house up on a trailer and headed back to U-M. The house sits on private property, although Cerk has not disclosed its exact location to the press as an Ann Arbor city ordinance requires homes to be at least 450 square feet. He does plan on inviting his friends over to his house occasionally.
Cerk is able to use water, laundry facilities and other amenities at the landowner's home while he resides on that property.
Not only is Cerk saving money — about $6,000 in rent overall — but he will be able to continue to live in it after college, if he so chooses. It also gave the 21-year-old an opportunity to build something from scratch, a task he said he's never done before.
"I have an adventurous personality and I'm very ambitious," Cerk said. "I think it's just a good step for people to go toward — using space more efficiently and living in a more purposeful and simple way."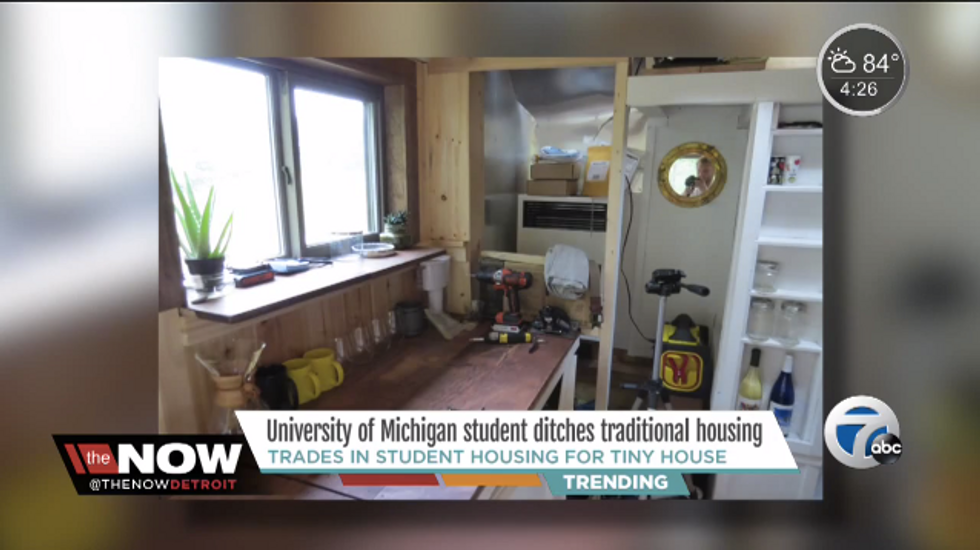 Image source: WXYZ-TV
The completed house has steel double doors, a compostable toilet, shower, oak floors, marble countertops, full-size loft bed, two couches, propane heater and solar panels to provide electricity for light and energy for his laptop and phone.
Cerk told WXYZ-TV that he plans to ask his girlfriend to move into the house with him after graduation and "made sure there was enough closet space" when he built the home.
"It's not easy. It's not like this this cute little tiny house," he said. "It definitely takes a lot more work doing it, but I would say it's very rewarding."