These days it's relatively common for people to have two phones — one for work and another for personal use.
But as phones begin to hedge on the size of mini-tablets, it can become quite cumbersome to carry both around, which is why Dennis Wong and the other founders of PIECE came up with a solution.
The self-described "serial entrepreneur" told TheBlaze he had a "strong interest in developing [a] system for data storage devices, consumer electronics tools and industrial products, and dedicated my career in making innovative products."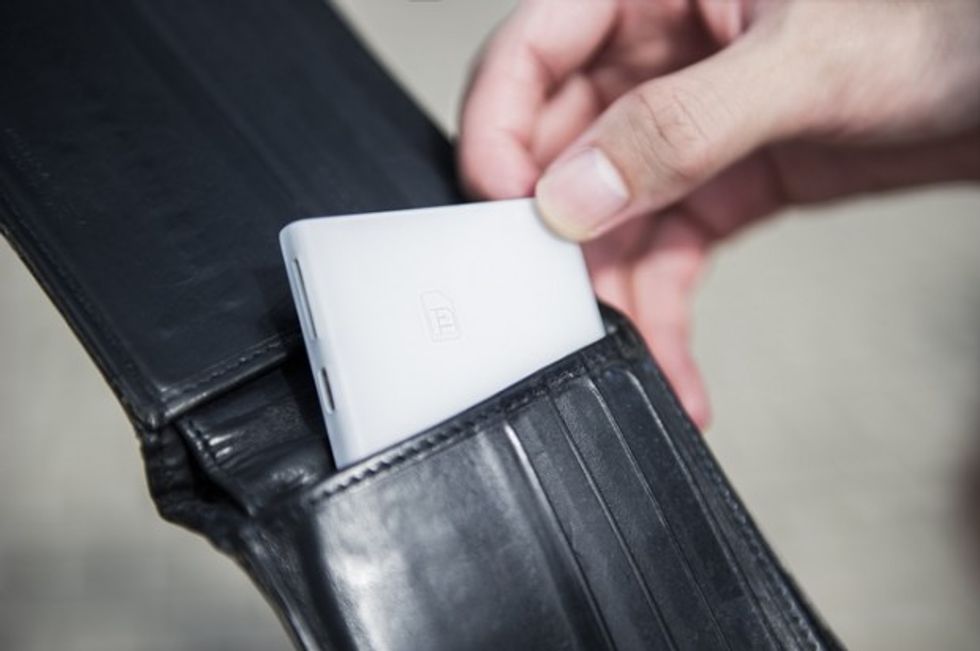 PIECE is a SIM card adapter. (Image source: Kickstarter)
But he too knows the burden of carrying two devices first hand.
"I need travel for work and I have more than one phone," he said in an email. "When I travel internationally it is a pain to have to bring both phones and make sure both work on the wireless networks. Two phones takes up valuable space in my pocket and it's really a hassle to be carrying two phones around."
More than 3,700 other people agree enough with Wong that they've chosen to back the project on Kickstarter. With less than two days left in crowd-funding the campaign, PIECE has nearly $300,000 funded, far exceeding its initial $26,825 goal.
PIECE is a dual SIM card adapter the size of a credit card that can literally slip into your wallet, allowing a user to connect his or her phones via a Bluetooth connection.
Image source: Kickstarter
"PIECE is designed to be unique and practical. It is a tiny companion device that holds any GSM, EGSM, DCS, or PCS card, allowing you to add an extra number to your existing smart device via Bluetooth," Wong explained. 
Here's how it works:
You take the card out from whatever phone you no longer want to carry around with you. Then you put it into PIECE. When someone calls this second phone number, with PIECE now fitted with this card and connected to your other phone via Bluetooth, your primary phone (the one you choose to carry) will ring.
Watch this video about the project:
PIECE, which is iOS and Android compatible, also has a security feature that issues an alert from both your phone and PIECE when the adapter is more than 30 feet from your phone. This means that if you left your wallet with PIECE inside on a restaurant table, for example, and started to walk way, you'd get an alert when you went too far.
There's also a feature that you can control if you can't find PIECE itself.
"By using the PIECE app you can make PIECE ring. From now on finding your wallet is super simple," the creators stated.
Here's another video showing how the device works:
—
Front page image via Shutterstock.