With debate over the Iran nuclear deal expected to begin in Congress this week, the Obama administration could have another showdown on its hands: dozens of states that want nothing to do with business in Iran.
A provision of the Iran agreement calls for the federal government to use "all available authority" to deter state or local divestment policies.
There's now a plan to put a defund-Iran measure on the November 2016 ballot in 30 states, all of which already have either laws or policies preventing state tax dollars from going to companies that do business with state sponsors of terrorism.
It's paragraph 25 of the Joint Comprehensive Plan of Action between Iran and six world powers, including the United States, that has state officials concerned.
"If a law at the state or local level in the United States is preventing the implementation of the sanctions lifting as specified in this JCPOA, the United States will take appropriate steps, taking into account all available authorities, with a view to achieving such implementation," the agreement states. "The United States will actively encourage officials at the state or local level to take into account the changes in the U.S. policy reflected in the lifting of sanctions under this JCPOA and to refrain from actions inconsistent with this change in policy."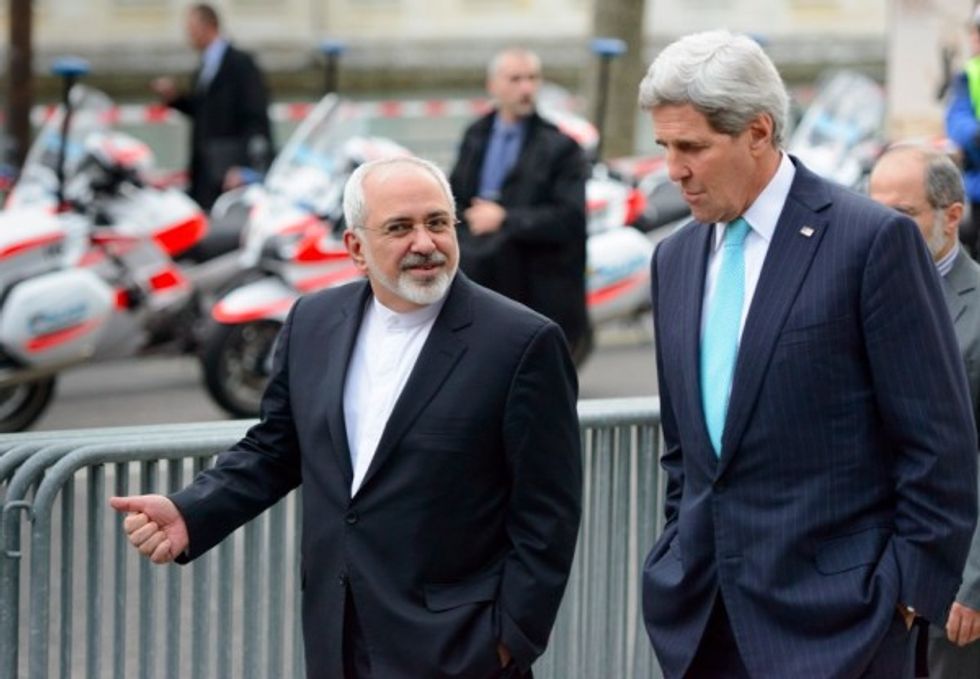 Secretary of State John Kerry speaks with Iranian Foreign Minister Mohammad Javad Zarif in Geneva, Jan. 14, 2015. (AP/Keystone, Laurent Gillieron)
Thus, any member of Congress supporting the deal is supporting the paragraph, say state lawmakers who fear the administration could issue executive actions mandating rescission of the state laws or rules; withhold federal funding; or potentially use a Department of Justice lawsuit to force comliance. All of these measures would be more difficult for the federal government if states enshrined divestment policies into their constitutions, Ohio State Treasurer Josh Mandel said.
"I'm behind this is because I believe states have to be concerned about the security of the American people and for states rights," Mandel told reporters during a Tuesday conference call. "This is also about tightening the economic noose on Iran to prevent further funding terrorism."
The coalition of state lawmakers does not have an assessment of the financial impact on Iran, but former Missouri State Treasurer Sarah Steelman believes it is potentially significant.
"There are possibly $4 trillion, with a T, in state pension funds in America," Steelman told TheBlaze. "If even a portion of that goes to Iran, if state laws are challenged by the Obama administration, it would be a substantial amount. The fact that paragraph 25 exists definitively says it could hurt Iran."
The Defund Iran group anticipates that ballot language would say: "In order to ensure that taxpayer money and pension money does not support international acts of terrorism, the State of ___ and its retirement systems shall not contract with or invest in stocks, bonds or any direct holdings in companies that have active business operations in strategic industries in countries designated by the US State Department, as of January 1, 2015, as State Sponsors of Terrorism. Existing contracts and/or investments must not be renewed, and must be cancelled or divested at the earliest prudent opportunity. Under no circumstance shall such contracts and/or investments be in force past December 31, 2018."
As has been evident in recent years, with issues such as gay marriage, amending state constitutions does not pose the near-insurmountable obstacles as amending the U.S. Constitution.
The state lawmakers are confident of popular support, citing 70 percent national support in favor of divestment, according to a poll by John McLaughlin and Associates. Republicans support it by 81 percent, 60 percent of Democrats and 70 percent of independents support the idea of divestment of state funds.
The State Department contends there is no goal to interfere with state laws.
"We have not made any commitments in the JCPOA that would require states to change their existing Iran-related sanctions laws," a State Department official told TheBlaze. "Rather, we intend to inform State and local governments of the contours of the JCPOA in order to inform their decisions moving forward and to encourage them to take into account the changes in U.S. policy reflected in the lifting of sanctions under the JCPOA, which will occur only after Iran has taken its key nuclear steps."
"A number of states have passed laws regarding investment of public funds and state government contracting with companies doing business with Iran, in response to the Iranian nuclear program as well as other issues, and it is only reasonable that we would inform them of Iran's commitments in the JCPOA to roll back its nuclear program – and the change to U.S. foreign policy reflected in the lifting of sanctions under the JCPOA," the State Department official said. "Our JCPOA commitment to take 'appropriate steps' only applies if a law at the state or local level is preventing implementation of the specific sanctions relief under the JCPOA. Accordingly, we do not expect to take any such steps at this time. For any new legislation, we would have to consider each instance on a case-by-case basis, consulting closely with the relevant State or local government."
While the coalition is entirely Republican now, officials are hopeful that will change given the vast poplar support.
"National polling shows the people do support making sure their tax dollars aren't supporting terrorism," Arizona House Majority Leader Steve Montenegro told TheBlaze.
Later during the call, Montenegro said he would not be surprised to see the Obama administration attempt to use the Justice Department to override a state law or policy that would prevent pension funds and other state dollars from going to Iran.
"We are used to this administration suing Arizona," Montenegro said. "Things that we used to imagine would never happen have happened under this administration."
This post was updated to include a response from the State Department.