An American tourist and his elderly Holocaust survivor father were called "fascists" and "killers" after they confronted pro-Palestinian protesters in Berlin for presenting a "bulls***" version of the Israeli-Palestinian conflict.
The Aug. 29 incident was captured on video at Berlin's Brandenburg Gate. Demonstrators were reading the names of Gazans killed during last summer's hostilities between Israel and Hamas when the tourists protested. (Content warning: strong language)
The American approached the group and said, "It's bulls***! All of this is bulls***!"
Asked by the organizers to leave the commemoration, which was held in a public plaza, he refused and then proceeded to tell them: "You started the war. … You're terrorists! Look at you. You hate. You're terrorists."
One female protester shouted at him, "Nazi!" to which the tourist responded, "No, you're a Nazi!"
More insults were flung at him, including, "criminal," "children killer," "occupier," "Zionist" and "terrorist."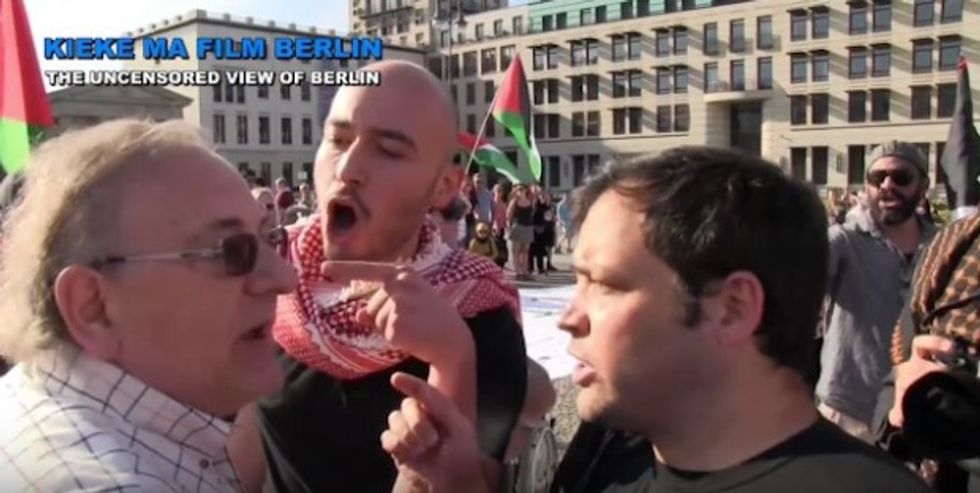 After the tourist insisted Hamas started last summer's conflict, protesters called him a "Nazi" and "fascist." (Image source: YouTube)
The verbal confrontation descended at one point into shoving: When he felt that a younger man had touched him, the American pushed back, saying, "Don't you touch me."
"You're violent, the whole bunch of you," he said. "Now we see how you really are. Look at you! … You're violent people."
One reply came, "We're protesting like civilized people. We're not protesting with bullets. ... This is our right, and people like you belong to the apartheid system. You're an occupier."
As the American made his way to leave, a protester wearing a red keffiyeh scarf approached him and said, "The reason I didn't smack you is because you're the age of my dad, that's why."
The tourist's father told German media covering the protest that he fled his native Berlin during World War II, that his family was killed in the Holocaust and that the protest "reminds me of the time when I lived in this country as a child."
One of the protesters accused him of "exploiting" the Holocaust, telling him in German, "I noticed you are exploiting Germany's history to this day. You are exploiting the Holocaust."
The American son later explained why he had become so agitated at the anti-Israel display.
"The Israelis did not start the war in Gaza. It's the terrorists who started it, and they indiscriminately attempted to kill innocent people," he said. "To now stand here and say 'The Israelis are guilty of war crimes' is purely absurd and somebody has to say you're wrong."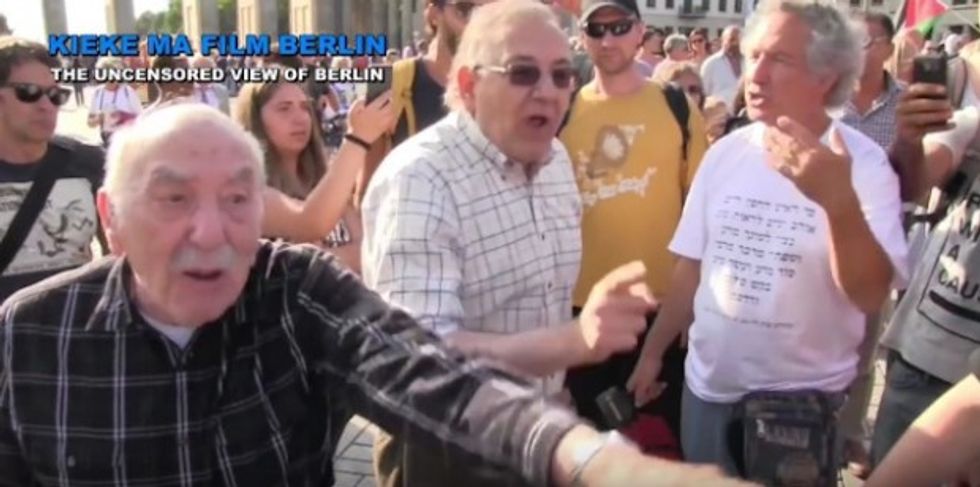 "You're terrorists. You started the war," said the American tourist visiting Germany with his nearly 90-year-old father. (Image source: YouTube)
The man compared the Palestinian position to anti-Jewish sentiment when the Nazis took power in Germany.
"They want to kill Jews. That's their constitution, that's why they exist, they're no different from the Nazis," he said.
Commenting on the protesters calling him a terrorist, he said, "I'm not a terrorist. I've simply got another point of view and they don't like it. They're not people who like free speech. They're not people who can debate."
One of the German organizers of the event later approached him and said, "This is a grieving for civilian victims of a war. This is a grieving. This is not a Nazi event."
The men were in Germany for the father, nearly 90 years old, to receive an honor from the German Historical Museum.
(H/T: The New Antisemite)