Vermont Sen. Bernie Sanders is now leading Hillary Clinton in both early voting states, as the professed socialist has taken a nominal lead in Iowa, according to a new Quinnipiac University poll released Thursday.
Sanders leads Clinton by 1 point in Iowa, 41 to 40 percent, in Iowa, where the first caucus is being held.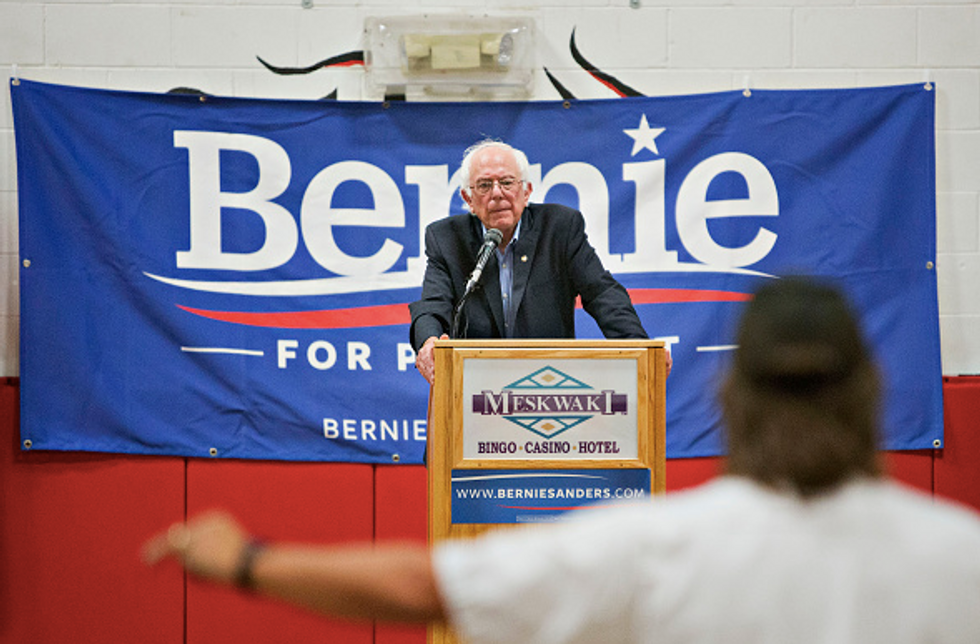 Sen. Bernie Sanders listens to a question from an audience member during a Meskwaki Nation Town Meeting at the Meskwaki Tribal Center in Tama, Iowa, on Friday, Sept. 4, 2015. (Daniel Acker/Bloomberg via Getty Images)
Sanders has already taken a lead in New Hampshire in most polls by a more comfortable margin, where the first primary is held.
The Quinnipiac poll of Iowa found that Vice President Joe Biden, who is considering a run, has 12 percent support from likely Iowa Democratic caucus goers.
"Sen. Bernie Sanders has become the Eugene McCarthy of 2016," said Peter A. Brown, assistant director of the Quinnipiac University Poll. "He is the candidate of the Democratic left, against his own party's bosses and their prized presidential candidate, Secretary Hillary Clinton. Sanders has seized the momentum by offering a message more in line with disproportionately liberal primary and caucus voters."
This has been a big surge for Sanders, who in July was trialing Clinton 52 to 33 percent in a Quinnipiac poll of likely Democratic caucus voters in Iowa.
The poll is bad news for Clinton and could present an opening for Biden, Brown said.
"Although Vice President Joseph Biden received only 12 percent of the vote in this poll of likely Democratic Caucus-goers, he still may be a winner in the zero-sum game of presidential primary politics because it further increases questions about Clinton's electability," Brown said.