Republican Sen. Rand Paul (R-Ky.) claimed on Thursday that it's Democrats who don't have enough votes to "fund" Planned Parenthood."
"Now some are saying we don't have enough votes to defund Planned Parenthood. That gets it exactly wrong. You have to fund Planned Parenthood," Paul said at Thursday afternoon's Women Betrayed rally at the U.S. Capitol.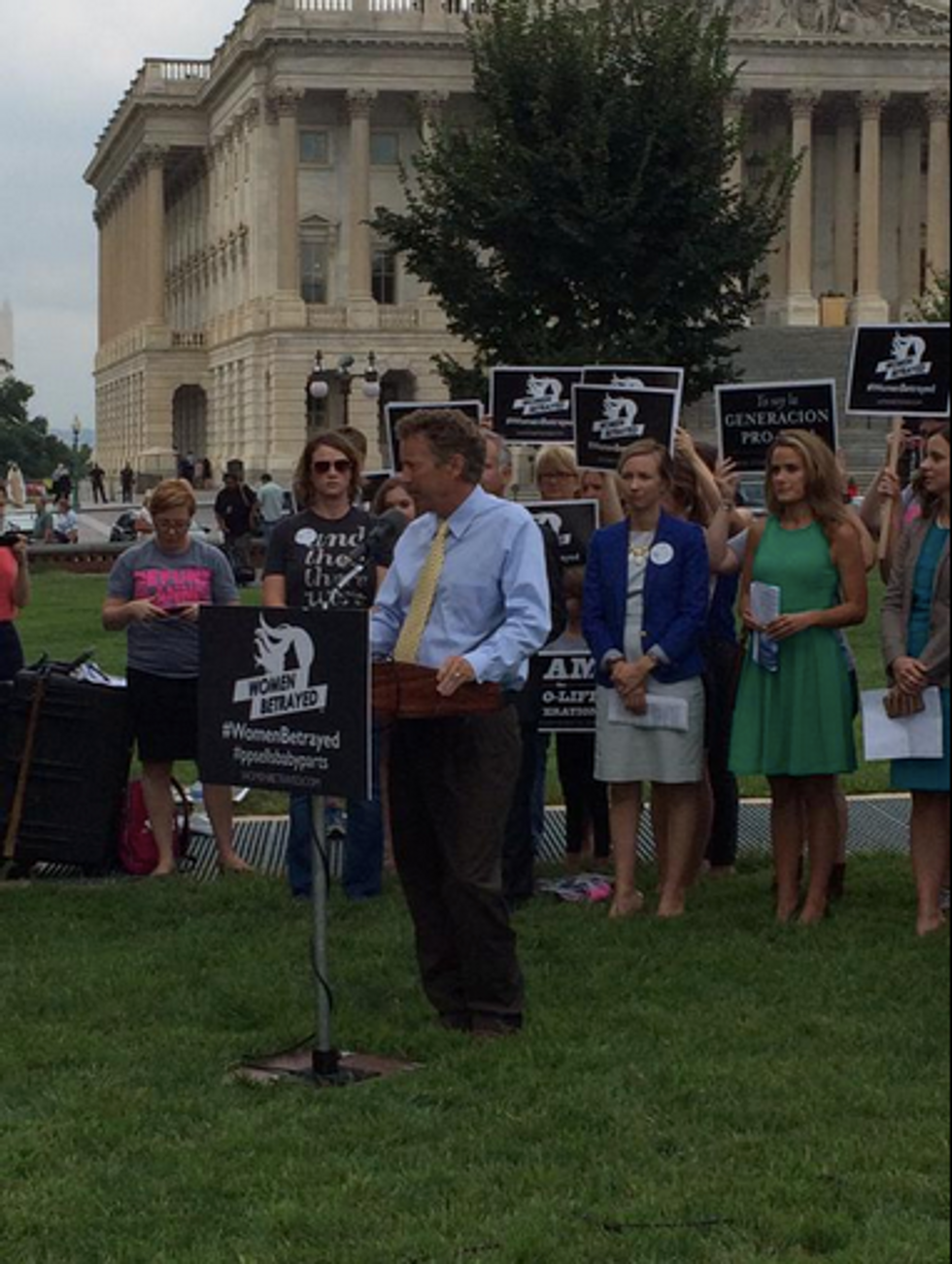 Image via Twitter @CatSzeltner
"So don't accept the notion that we have to get to 60. The other side has to get to 60," Paul continued. "This is not a problem. They do not have 60 votes to fund Planned Parenthood as long as we separate the bills and tell them you go out and get 60 votes to fund Planned Parenthood."
Paul, a Republican presidential contender, said the American people need "leadership in Washington, and we should demand nothing less than a separate vote" on the funding of Planned Parenthood.
"We should hold our ground. If the Democrats want to shut down government over this, then it goes to Democrats," Paul said. "If Democrats want to shut down government? We should point the finger and say 'if you want to shut down the government over spending money on harvesting organs from babies, so be it.'"
While at the Women Betrayed rally, Paul also slammed DNC Chair Debbie Wasserman Schultz for saying the matter of abortion is "private."
"When you have a group like Planned Parenthood, that we are giving taxpayer dollars to, that's no longer a private matter," he said.
This month both the House and Senate will vote on either a budget for the next fiscal year or a continuing resolution to keep the government funded temporarily. With the deadline for the budget looming, many House Republicans, along with other Republican presidential hopeful Texas Sen. Ted Cruz, have proclaimed that they will not vote for any budget that includes funding Planned Parenthood — meaning another government shutdown could be on its way.
Former Alaska Gov. Sarah Palin was a surprise guest at Thursday's rally. Palin said she decided to "stop by" the rally and to thank Paul and said the two had recently discussed how "nonsensical it is that there's even a fight" about the funding of Planned Parenthood in Washington.
"Planned Parenthood is not pro-women," Palin said, calling the organization a "bogus business."
"Planned Parenthood [doesn't] want women to think they're capable enough and smart enough and strong enough to be able to give their baby life and still go to school, still work, still raise their other children," Palin said. "They want women to feel inadequate."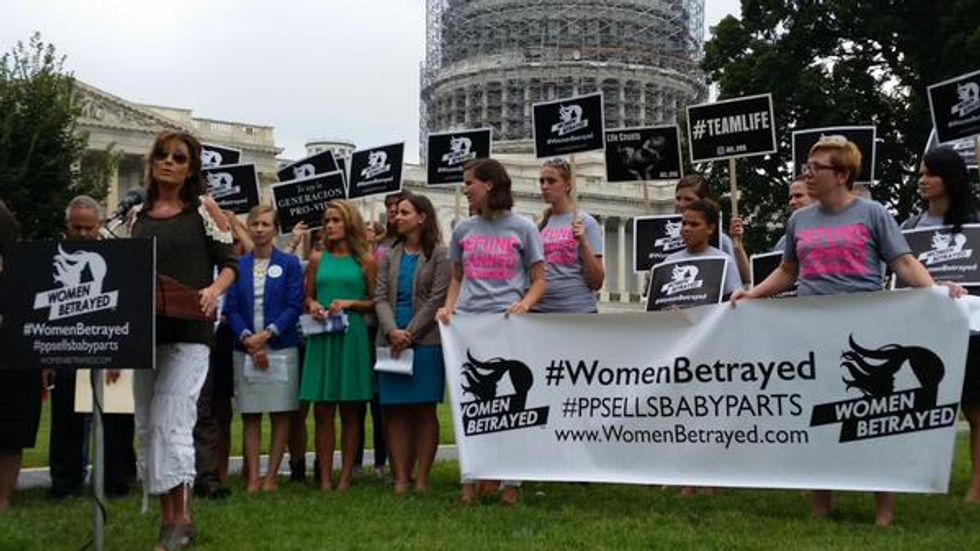 Image via Twitter @rockforlife
The rally was hosted by a variety of conservative and anti-abortion groups, including Students for Life of America and Pro-Life Future. March for Life, Live Action and Family Research Council were among the co-sponsors of the rally.
SFLA's founder, Kristan Hawkins, told TheBlaze in an interview prior to the rally that women across the country flew in to attend the event. Most of the women, she said, were former clients of Planned Parenthood and wished to voice their stories of "Planned Parenthood's lies."
Hawkins said with the undercover videos that were released over the summer by the Center for Medical Progress, another anti-abortion group, Planned Parenthood's actions are not an issue that that will last for only one week. According to Hawkins, more Americans are wanting lawmakers to defund the nation's largest abortion provider and have that money reassigned to other women's health organizations that "just do not kill babies."
"Americans, they're on board and they're passionate about it," Hawkins said. "They want Congress to do the job they were elected to do."
Hawkins said many college students were also slated to attend the rally — despite its being in the middle of the day when many college students are just getting back to fall classes.
"This is actually a pro-life generation. It might not be cool to be Republican, but it's cool to be pro-life," Hawkins said.
On Wednesday, two late-term abortion survivors testified during the first congressional hearing regarding the undercover videos and supported the ending of federal money being directed to Planned Parenthood.
---