A 16-year-old Scottish woman's life was forever changed in June when she took an ecstasy-like drug, collapsed at a party and fell into a coma.
Amy Thomson has since come out of the coma and her family, according to the Daily Record, posted a video of her thanking everyone for their support.
This was Thomson before and after taking the drug, identified as MDMA.
Teen left in coma by Ecstasy sends harrowing wheelchair message to anyone tempted by the drug http://t.co/kCpHCqm5JW pic.twitter.com/BgNSnDbrPV

— The Daily Record (@Daily_Record) September 10, 2015
Watch the video of Thomson:
Thomson's cousin, Kayla McLeod, said on Facebook, according to the Daily Record, that the family is pleased with the teen's improvements.
"What you are seeing is amazing compared to the way she was a few weeks ago. She's improved in many amazing ways. She still has many improvements to show us all," McLeod wrote.
The Guardian added that McLeod said she believes her cousin "won't be like this for the rest of her life. She's getting the best care and support."
The Daily Record reported that three other teens, along with Thomson were hospitalized after taking the drug on June 10 at a house party. The newspaper reported that three arrests on drug-related charges were associated with the incident.
Police Scotland and the National Health Service in the area issued a warning in June about the "capsules containing ecstasy crystals."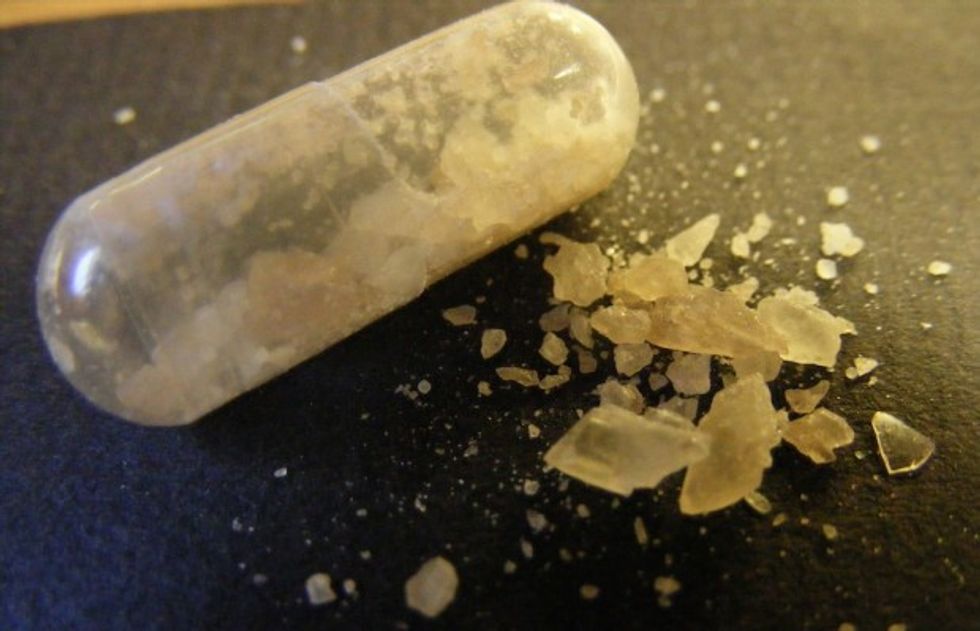 Image source: Police Scotland

"Any drug can be dangerous and MDMA in crystalline form is likely to be far more concentrated," Detective Inspector Michael Miller, the national drug coordinator for Police Scotland's National Drug Coordinator said in a statement. "These incidents highlight the dangers of taking MDMA in both its crystalline and pill form. These drugs are potent and you are putting your health at risk if you take ecstasy. I cannot emphasise enough that consuming MDMA with alcohol or any other drug increases the risks significantly."
Dr. Adam Brodie, clinical director for addictions with the NHS Lanarkshire, added that even while a drug might be sold as MDMA, it could be "nothing of the sort, and may be more dangerous."
"Users should also be aware that should they develop symptoms, the onset of which can be very rapid, such as severe confusion, fitting and unconsciousness, rapid heart-beat with chest pain and very high temperatures, they should seek medical advice immediately," Brodie said in a statement.
According to the U.S. National Highway Transportation Safety Board, MDMA was originally patented to suppress a person's appetite.
"There is currently no legitimate medical use in the U. S. MDMA is recreationally used as a party, rave or dance drug for its stimulant, mild hallucinogenic, and empathogenic properties," NHTSB stated.
(H/T: Daily Mail)