Speaking to military service members Friday, President Barack Obama called for Congress to get rid of sequester cuts to better fund the military.
"Our political system is not always serving people the way it should. One of the things we haven't had a chance to talk about his that Congress has a budget that is supposed to be passing by the end of this month," Obama said at a town hall with members of the military that was broadcast to bases and even Navy ships across the world.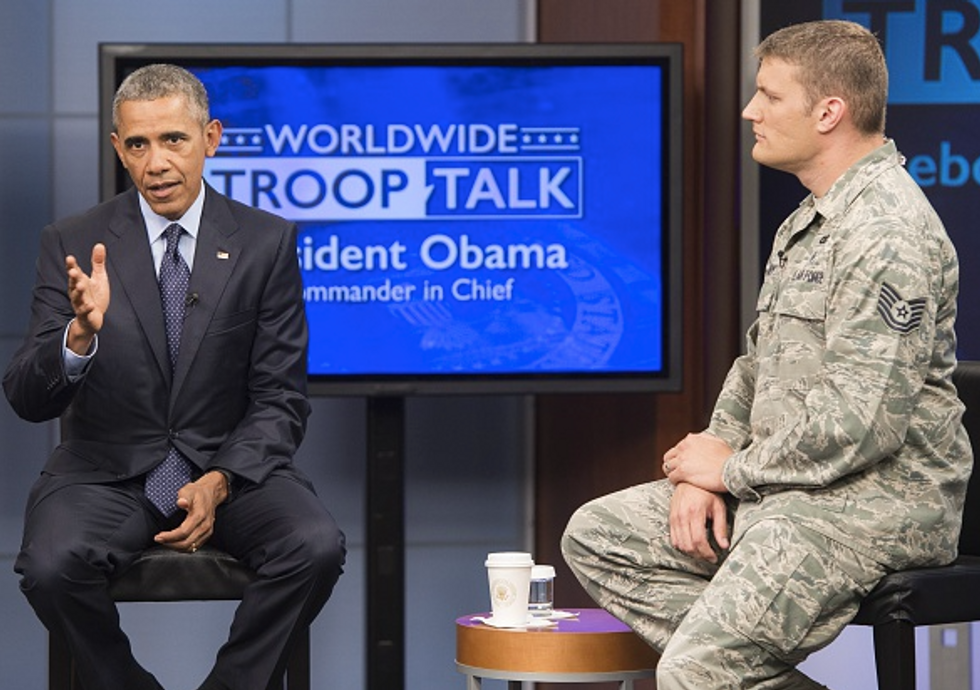 President Barack Obama speaks alongside moderator Tech Sgt. Nathan Parry (R) during the 'Worldwide Troop Talk,' a town hall with US members of the military around the world broadcast from Fort Meade in Maryland, September 11, 2015, on the 14th anniversary of the 9/11 attacks on the United States. AFP PHOTO / SAUL LOEB (Photo credit should read SAUL LOEB/AFP/Getty Images)
"We've been operating under what's called sequester, which is hampering our ability to finance the readiness and modernization and research and development and support for our troops that is needed," Obama said. "It's also preventing us from funding education and job training and infrastructure. I hope Congress is paying attention to how you operate and how you do your job. If they were as conscientious about and selfless about it, then that sequester would be lifted."
Republicans in Congress have been quick to point out that the White House hatched the idea of the sequester, or across the board spending cuts. It was meant to automatically take effect if Congress and the president could not reach an agreement on the debt ceiling.
—