After the Pentagon's inspector general began an investigation into reports that U.S. Central Command analysts were being manipulated into changing their intelligence reports on the Islamic State, sources now are saying that the Director of National Intelligence James Clapper has had "highly unusual" calls with a military officer.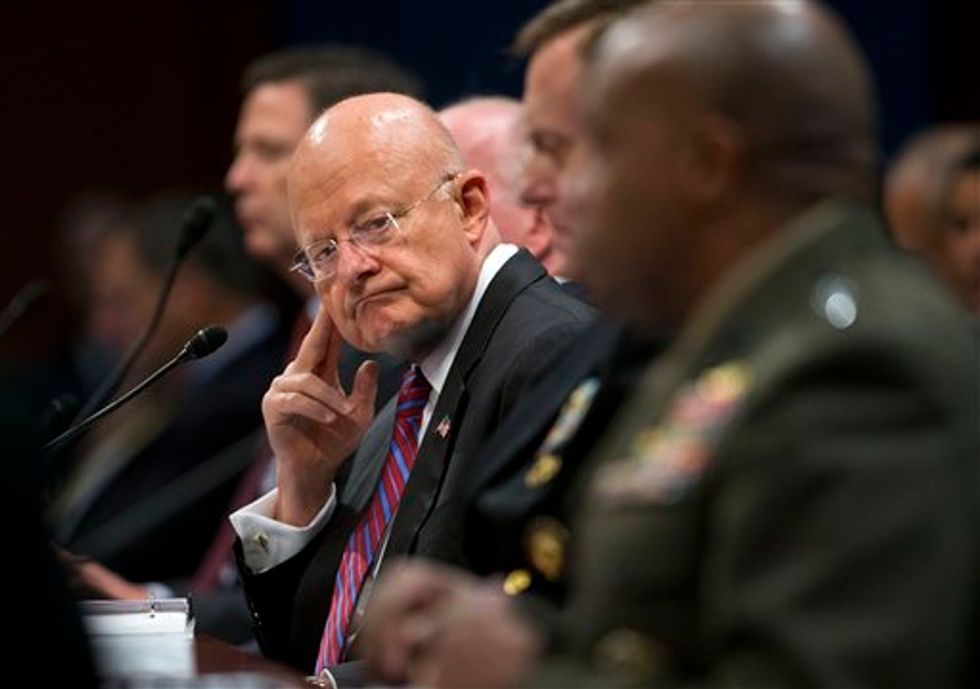 Director of National Intelligence James Clapper listens at center to testimony given by Director of the Defense Intelligence Agency, Lt. Gen. Vincent Stewart, far right, during the House Intelligence Committee hearing on Capitol Hill in Washington, Thursday, Sept. 10, 2015. From left are, FBI Director James Comey, CIA Director John Brennan, Clapper, Director of the National Security Agency Adm. Michael Rodgers and Stewart. (AP/Pablo Martinez Monsivais)
Sources speaking with the Guardian on the condition of anonymity allege that Clapper holds almost daily calls with Army Brigadier General Steven Grove, which a former intelligence official said "is highly, highly unusual." Grove, the Guardian reported, "is said to be implicated in a Pentagon inquiry into manipulated war intelligence."
Here's more from the report:
In communications, Clapper, who is far more senior than Grove, is said to tell Grove how the war looks from his vantage point, and question Grove about Central Command's assessments. Such a situation could place inherent pressure on a subordinate, sources said.

Knowledgeable former officials are doubtful that Clapper directly intends to manipulate intelligence. And they do not say that the director of national intelligence – who apologized to his Senate overseers in 2013 for publicly misleading Congress on the scope of domestic surveillance – ordered Grove or anyone else to change the command's assessment of the war.

[...]

"He can be manipulative," a former senior defense official said of Clapper. For Clapper as a senior US intelligence officer with access to assessments across the 16 US intelligence agencies to query Grove, the Central Command intelligence chief, the ex-official said, "something's wrong".
A senior intelligence official told the Guardian that the conversations between Central Command and Clapper "are strictly limited to tactical developments such as what happened on the ground overnight regarding issues affecting U.S. personnel and allied forces. They are not broad or strategic assessments."
Central Command spokesman Col. Patrick Ryder told the Guardian that the nature of the assessment process overall "guards against any single report or opinion unduly influencing leaders and decision-makers."
In addition to the an investigation from the inspector general, some members of Congress are launching investigations as well.
Defense Secretary Ash Carter Thursday reminded the Pentagon's senior intelligence corps that they are expected to give him their unvarnished views, amid allegations that the military command overseeing the war against the Islamic State distorted or altered intelligence assessments to exaggerate progress against the military group.
Pentagon press secretary Peter Cook said that after it was publicly disclosed last month that the Pentagon's inspector general was investigating allegations of skewed intelligence reports, Carter directed his top civilian intelligence officer to reinforce the need for honest assessments, including at Central Command, which oversees the war effort.
Asked about Carter's level of concern that intelligence reports reaching his desk may have been improperly changed to inflate war progress, Cook said he would await the outcome of the inspector general's investigation, which was launched after an intelligence officer at Central Command lodged a complaint in July.
A report by the Daily Beast on Wednesday said more than 50 intelligence analysts at Central Command have formally complained that their reports on the Islamic State and Al Qaeda branch in Syria were being inappropriately altered by senior officials.
Cook said he could not confirm the report, and he would not say whether Carter would punish anyone found to have skewed intelligence assessments.
"I think we're going to wait to see where the IG's investigation goes," Cook said. "I don't want to prejudge the outcome of their investigation and whether or not they find anything like that has happened."
 —
The Associated Press contributed to this report.