If your eyes were glued to the TV at just the right moment, you witnessed — in real time — a bit of history.
During Super Bowl XXXVI on February 3, 2002 — when many viewers pay as much attention to the nifty ads as to the game — Budweiser ran an ad like no other.
No narration, just images of the famous Clydesdale horses trotting across the countryside and then finding their way across the Brooklyn Bridge.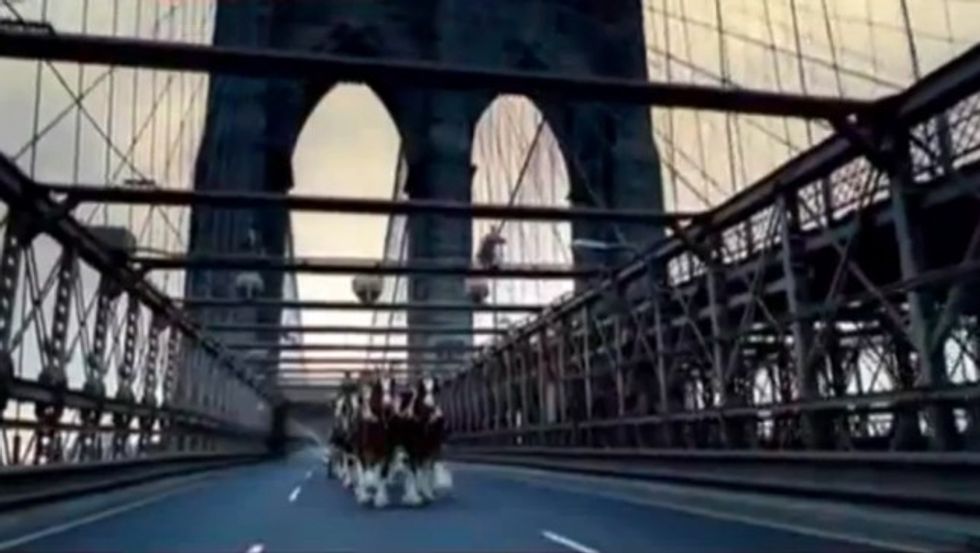 Image source: Tribune Media Services
Afterward they stopped upon a snow-covered Battery Park — and bowing together toward the Manhattan skyline, which had been without the familiar sight of the World Trade Center twin towers since September 11, 2001.
If you didn't see the commercial at that time, you later hoped someone you knew taped it — because it never aired again.
Turns out Anheuser-Busch went to great lengths to get the commercial created, even having to get approval from members of Congress, the advertising community and from New York Mayor Rudy Giuliani, Tribune Media reported.
"We filmed in New York City," Bob Lachky, former executive vice president of Anheuser-Busch Global Creative, told the outlet. He also said it was a "risk."
"We had a helicopter going over the Brooklyn Bridge," he recalled. "Mayor Giuliani let us into the city ... the only film company of any sort right after 9/11 to actually come into air space with our helicopter to film the Clydesdales ... the hitch coming into Battery Park and it was amazing, just amazing."
The wintertime scene meant that 9/11 was still fresh on everyone's minds, having occurred just a few months before filming.
"The police were very, very nervous about everything that was going on in the city at that time," Lachky said.
Budweiser aired an updated spot of the Clydesdales' commercial on the 10th anniversary of 9/11 — and in it the horses stop and bow on grass before a Manhattan skyline featuring the new skyscraper.
"We feel our 9/11 Clydesdales tribute ad is very special," Paul Chibe, VP-marketing at Anheuser-Busch, said in a statement regarding the 2011 commercial. "We were proud to re-air the spot on Sunday, the 10th anniversary, as a way to help raise awareness of the fundraising campaign for the National September 11 Memorial & Museum. The subtle changes in the ad were intended to reflect the passing of time, and the most important point, that we should never forget those lost and affected by 9/11."
Here's the 2002 commercial that aired just one time:
—
Follow Dave Urbanski (@DaveVUrbanski) on Twitter