Wounded Army veteran Staff Sgt. Shawn Whitmore was with his family at the Myrtle Beach Pelicans baseball game in Myrtle Beach, South Carolina, on Thursday when he heard something over the loudspeaker that he'll never forget.
Whitmore was presented with a mortgage free house from the Georgia-based home-building company, Pulte Homes, Inc., on behalf of the Myrtle Beach Pelicans team.
"We'd also like to thank you for service to protect our freedoms. Because of your sacrifices, Pulte Homes... will be providing you with a mortgage free home in the Pulte Homes Berkshire Forest community just a few minutes from the stadium," a voice over the loudspeaker said.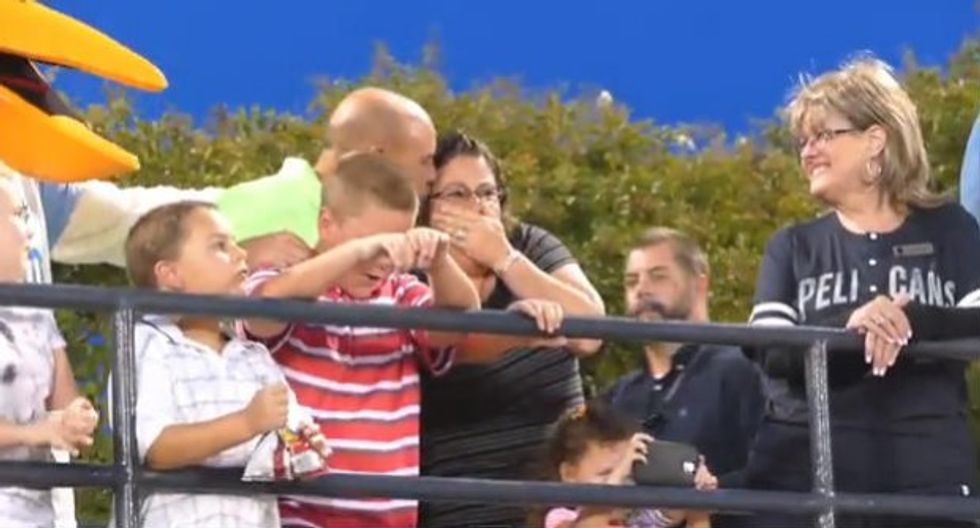 Image source: YouTube
The Myrtle Beach Sun News reported that the house is being built as part of the PulteGroup's Built to Honor program, an initiative that builds homes for wounded veterans and their families all across the country. The PulteGroup Built to Honor program is in partnership with Operation FINALLY HOME.
The organization has built 30 new homes worth more than $30 million since 2013.
"Since 2001, more than two million soldiers have valiantly served our country in Iraq and Afghanistan. More than 6,500 have made the ultimate sacrifice defending our freedom, while many more have suffered the serious wounds of war," the program's website states.
"And often when these heroes return home, their fight is not over. Instead, many continue to face unbearable challenges related to their injuries, as well as joblessness and homelessness" it goes on to state.
"From Michigan to Texas and Washington D.C. to California, our hope is that together we can make a difference assisting our veterans and their families as they rebuild their lives here at home."
See the Whitmore family's reaction below:
(H/T: Myrtle Beach Sun News)
–
Follow Jon Street (@JonStreet) on Twitter