Two abortion clinics in South Carolina have had their licenses suspended less than a month after Republican Gov. Nikki Haley requested a probe into the practices of the state's  three abortion clinics.
Health regulators on Friday suspended two of the state's three abortion clinics in Greenville and Columbia as criminal investigators will review their findings further, according to The State newspaper.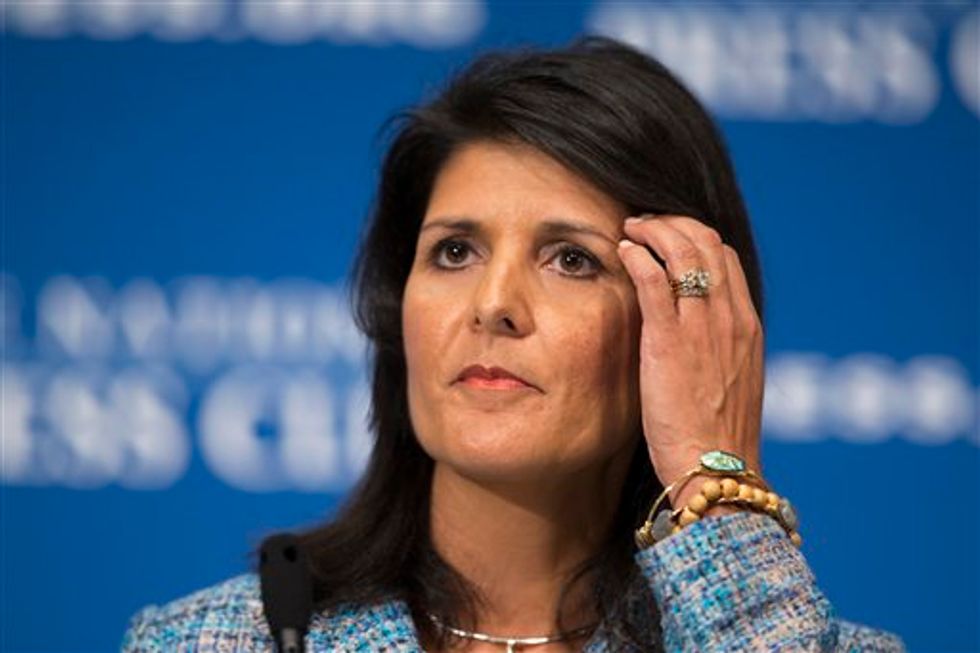 Gov. Nikki Haley, R- S.C., delivers a speech on "Lessons from the New South" during a luncheon at the National Press Club, on Wednesday, Sept. 2, 2015, in Washington. (AP Photo/Evan Vucci)
South Carolina's Department of Health and Environmental Control investigators found 21 violations at the Columbia clinic, a Planned Parenthood South Atlantic facility. That clinic was fined $7,500. Those violations included failure to maintain proper paperwork, having expired medicines and storing sterile gloves with non-sterile material, according to documentation from the state agency.
The Greenville Woman's Clinic was cited with six violations by DHEC, including non-compliance with the Woman's Right to Know Act, incomplete medical record documentation and improper infectious waste disposal practices, according to DHEC's report. 
Both clinics were also cited with sterilizing fetuses with steam before taking them to a landfill despite the law requiring them to be incinerated or buried. Both abortion clinics also were cited with performing abortions sooner than 60 minutes after an ultrasound.
According to DHEC's reports, investigators made unannounced visits to the facilities where they conducted interviews with staff.
"This is completely unacceptable," Haley said in a statement. "I fully support DHEC's actions, including its referral of the matter to [State Law Enforcement Division]. South Carolina is a compassionate state, and we are a state of laws. We will not tolerate law breaking of any kind, particularly as it relates to the callous treatment of human life."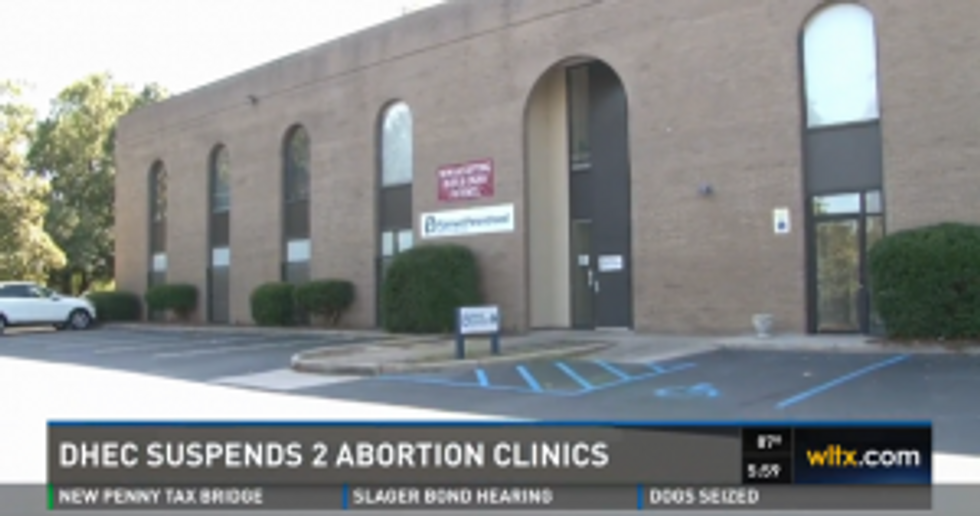 Columbia, South Carolina's Planned Parenthood South Atlantic facility. (Image source: WLTX-TV)
Haley, like other Republican governors across the country, requested DHEC to review the state's abortion clinics on Aug. 18, calling special attention to South Carolina's Planned Parenthood facility. Haley's request came after a series of undercover edited videos were released by an anti-abortion group that appear to show Planned Parenthood officials discuss the sale of aborted fetal tissue to research companies.
South Carolina's third abortion provider in Charleston was cited with four minor documentation violations. Charleston Women's Medical Center will have to produce a plan of action to DHEC within 15 days, but it was allowed to keep its license.
"We are deeply concerned that this investigation is politically motivated and that this political interference could prevent some women from getting high-quality care," Jenny Black, CEO of Planned Parenthood South Atlantic, said in a statement to TheBlaze Saturday morning.
Black's statement said the Columbia clinic had been inspected less than one year ago and found to be 100 percent compliant with all state regulations.
"The reported administrative and operational issues do not rise to the level of shutting down health centers," Black said. "We are reviewing all of the issues that were raised in these inspections and will of course comply with all state requests."
As The State reported, it's unusual that DHEC decided to suspend the licenses of the two abortion providers so quickly as the organization is oftentimes criticized for its slow pace. 
Both facilities could close as DHEC's order is finalized on Sept. 28 unless a review by the DHEC Board is requested or the facilities meet the terms of the order, according to Greenville's WYFF News.
Black said in the statement that the Planned Parenthood South Atlantic clinic "will quickly take all necessary steps to resume normal operations."
This story has been updated to include the statement from Planned Parenthood South Atlantic's CEO, Jenny Black.