Islamic extremists in Germany are working to recruit Syrian and other asylum seekers arriving by the tens of thousands, a German intelligence services spokesman said.
The jihadists "want to take advantage of the insecurity and distress of the refugees," a spokesman for the intelligence service in the southern state of Bavaria told the German news agency DPA.
According to the official, the outreach efforts begin almost immediately upon the migrants' arrival. They are being approached around refugee reception centers and at the Munich rail station.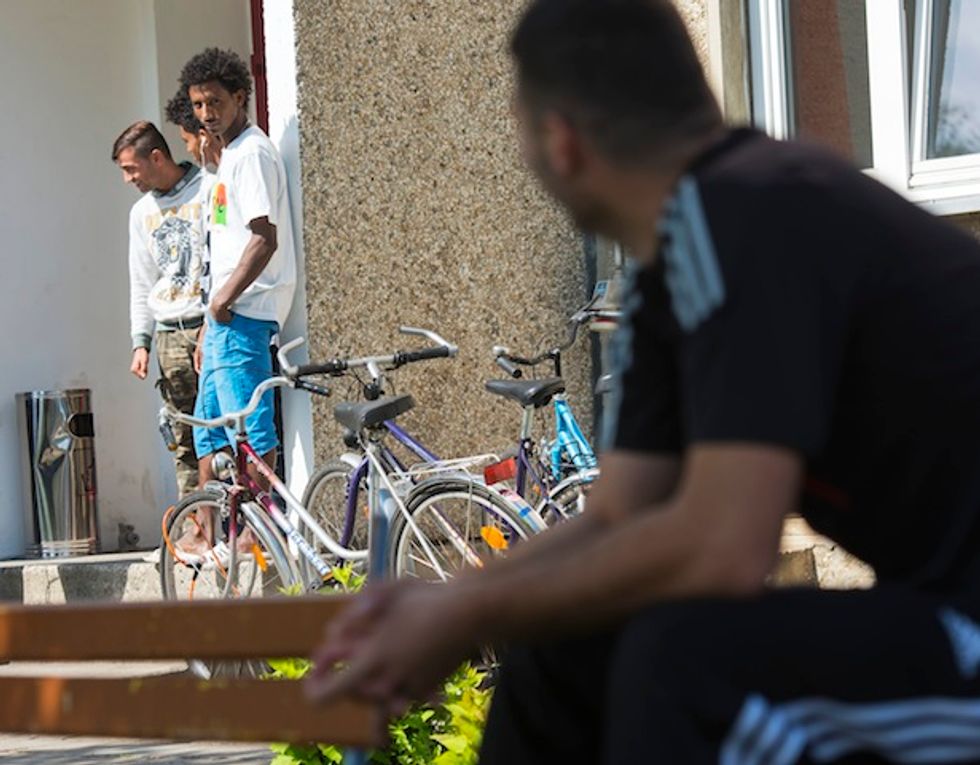 Refugees stand in front of the accommodation for refugees and migrants in Hohenmoelsen, central Germany, Thursday, Sept. 10, 2015. (AP Photo/Jens Meyer)
The militant Islamists "are trying to approach the young unaccompanied refugees, who arrive in our country without their families and are particularly looking for contacts and support."
"According to our findings, Salafists have in individual cases tried to establish contact with refugees on the pretext of alleged offers of help," an unnamed spokesman for the Office for the Protection of the Constitution (BFV), Germany's domestic security agency, told the Welt newspaper, the Telegraph reported.
Some of those offering help are connected to fake charities, Agence France-Presse reported, quoting intelligence services.
Security officials have asked refugee shelter staff to be alert to the recruitment efforts.
"The staff recognize the behavior, codes and clothing of the Salafists, and report the incidents," the official said.
According to AFP, Germany may get as many as 800,000 asylum seekers this year.
A spokesman for the state government of North Rhine-Westphalia told Germany's Catholic News Agency that the recruitment is "not a mass phenomenon."
However, spokesman Jorg Rademacher said there has been "clear proselytising" by Islamists against Western values.
A Polish official coordinating the arrival of Syrian asylum-seekers last month expressed concern that the Islamic State group could exploit the generous European asylum system to infiltrate into Europe.
"They can be a threat to Poland. I think it is a great way for ISIS to locate their troops ... all around Europe," Miriam Shaded, head of the Polish foundation Estera, told the Financial Times last month.
Further fueling fears that the Islamic State and other jihadist groups could establish a foothold in Europe was a recent report suggesting Islamic State group supporters have been quietly buying land in a remote Bosnian village.
(H/T: AFP)