A South Carolina high school student said she was pulled out of class and sent to the front office where she was told she could either change her shirt or go home.
The shirt in question was emblazoned with bold white lettering that read, "Nobody knows I'm a lesbian."
"I've worn this shirt before and nobody's ever said anything," Chesnee High School senior Briana Popour told WSPA-TV.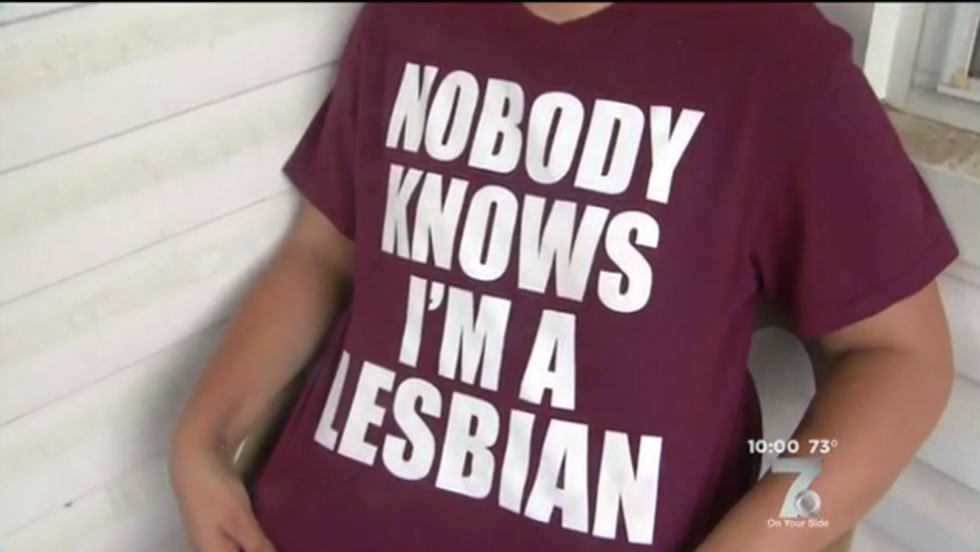 Image source: WSPA-TV
The openly gay student said she was told that her shirt which got her suspended was "disruptive." Popour also told WSPA that there is nothing in the Chesnee High School handbook that explicitly bans displaying sexual orientation on clothing in the dress code section.
"When I said something to him about the handbook, he said 'well, not everything is in the handbook,'" Popour said a school administrator told her.
In a statement to WSPA, Spartanburg School District 2 called the student's shirt "offensive and distracting." The statement also included a link to the school's dress code policy.
"Clothing and/or hair should not be so extreme or inappropriate to the school setting as to disrupt the educational process," the dress code states. "Therefore, clothing deemed distracting, revealing, overly suggestive or otherwise disruptive will not be permitted."
The dress code also explicitly bans attire that with gang symbols, alcoholic beverages, illegal drugs or paraphernalia.
"Attire must not be immodest, obscene, profane, lewd, vulgar, indecent or offensive," the dress code states.
The policy says that if a student breaks the dress code and does not immediately remedy the violation, the student will be sent to ISS — in-school suspension.
"Isn't that what school is supposed to teach you? To be happy with who you are," Popour told WSPA. "Maybe people will be more comfortable with showing who they are because you should be able to wear what you want to wear."
(H/T: WSPA-TV)