The wife of Harris County Sheriff's Deputy Darren Goforth, the Texas officer who was gunned down at a gas station in August, released a touching video depicting how she is honoring her late husband with new tattoos.
Kathleen Goforth's video shows her having a Latin phrase, a semicolon to honor those who struggle with mental illness or addiction, the phrase "be the change" and "1984"—her husband's badge number—tattooed on her left arm.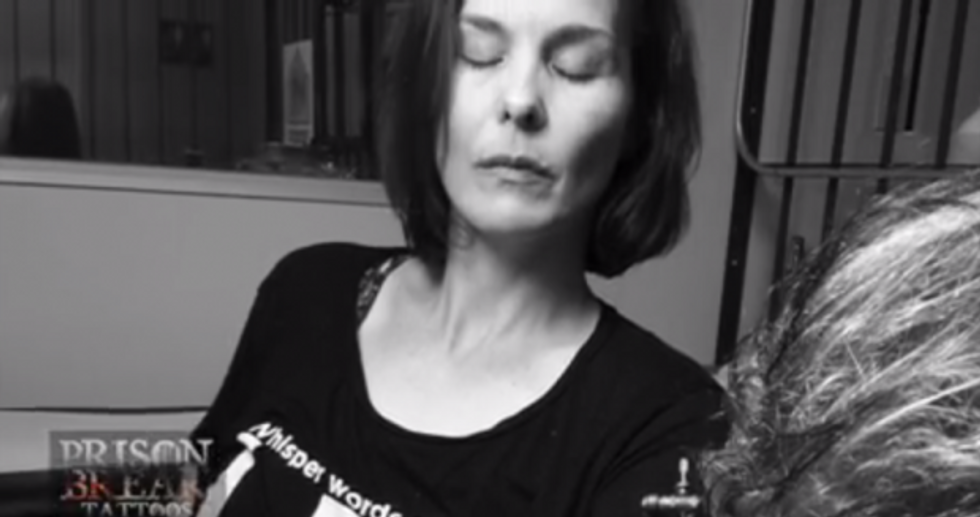 Screengrab via Facebook video
"I love you, Darren. Always," Goforth said at the beginning of the video.
"I'm getting this tattoo, not just for you, Darren, but for all the men and women in uniform that serve and what they do and what they sacrifice, to honor them," she said. "Whatever deed or evil act is done. Whether we know about it on Earth or not. It will be punished. It will be rectified. It will not go unnoticed."
Goforth pointed to the spot on her arm that now reads, "be the change," and said it was just part of the famous Ghandi quote "be the change you want to see in the world."
"And what I want to see in the world is our men and women in uniform revered and honored," she said.
The new Latin-phrase tattoo, "nemo me impune lacessit," translates to "no one provokes me with impunity."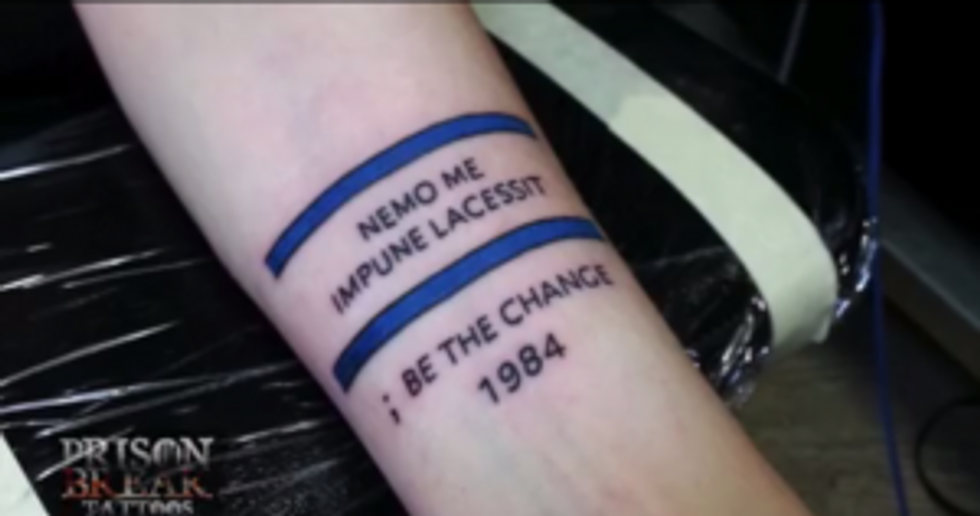 Screengrab via Facebook video
According the the video, Prison Break Tattoos donates a part of its profits to local organizations such as the local fire and police departments.
BK Kiev, who posted the video to Facebook, said in the post that the video was his own tribute to Godfrey's husband.
"I was truly honored when I received the phone call. That one call changed my life forever," Kiev wrote. "Knowing that I had the ability to provide someone with a life long memory during the worst days of their life was heart-wrenching. During my time with Kathleen we cried, we hugged, then we cried again."
"The one thing you have that nobody else has is you. Your voice, your mind, and your story," Kiev said.
Watch the touching tribute video below.
Sometimes when you think you are done.... it is just the edge of beginning..These are HER words....in HER voice. When...

Posted by BK Klev on Sunday, September 13, 2015