ST. PAUL, Minn. (AP) -- Two Republican lawmakers whom a park ranger cited for making out in a public park apologized Monday for accusing that ranger of lying and stepped down from a Minnesota House ethics panel in an apparent effort to head off a complaint from Democrats.
In separate statements, Reps. Tara Mack and Tim Kelly made little reference to the Aug. 25 incident in which a Dakota County park ranger said he found the pair making out in a car. The ranger wrote in his notes that Mack's pants were unzipped and pulled down.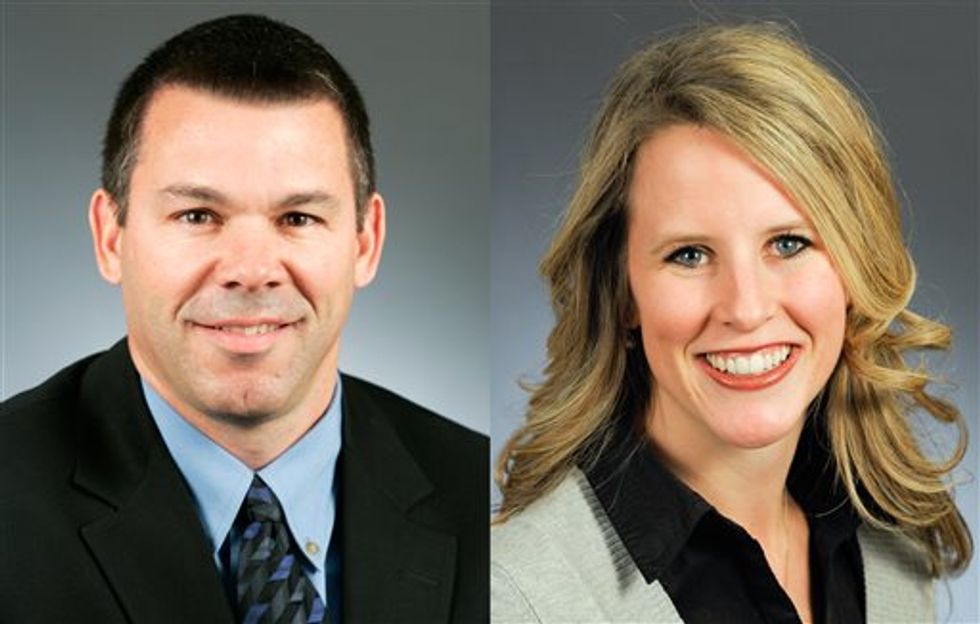 This combination of photos provided Sept. 2, 2015 by the Minnesota House of Representatives shows Rep. Tim Kelly, R-Red Wing, left, and Rep. Tara Mack, R-Apple Valley. The two Minnesota lawmakers, accused of making out in a car at a regional park, say a park ranger made up the story. They were cited Aug. 25 for causing a nuisance, a misdemeanor. (Courtesy Minnesota House of Representatives via AP)
Mack and Kelly - who are married to other people - originally called the officer's account "an absolute lie," insisting they met in Lebanon Hills Regional Park in Eagan to swap documents relating to a health insurance company. They vowed to lodge a formal complaint against the ranger.
They later backed down from that promised complaint and each paid $260 misdemeanor fines - actions the House Democrats said amounted to admissions of guilt.
Mack and Kelly spoke with Republican House Speaker Kurt Daudt over the weekend and issued apologies Monday not directed toward the park ranger, but to law enforcement in general.
Full statements from Reps. Tim Kelly, Tara Mack and House Speaker Kurt Daudt #mnleg pic.twitter.com/RbFi73AjVO

— Briana Bierschbach (@bbierschbach) September 14, 2015
"After serious reflection on the last two weeks, I can say that I am disappointed in myself for the way I handled my disagreement with a park ranger," said Kelly, who lives in Red Wing.
Mack said she has the "utmost respect" for the work of law enforcement personnel and apologized for offending any officers.
In a separate announcement, Daudt said the pair has agreed to step down from the House Ethics Committee and has been replaced by two other Republicans.
House Democrats could still use the committee - comprising three Republicans and three Democrats - as an avenue to lodge a complaint against Mack and Kelly, who are both powerful committee chairs in the state House, where they've served since 2009. If they had remained on the panel, a complaint would have forced their recusal and weighed the panel heavily on the Democrats' side.