Arnold Schwarzenegger will replace billionaire businessman turned presidential candidate Donald Trump as host of the hit reality TV show, "The Celebrity Apprentice," NBC announced Monday.
"I have always been a huge fan of 'The Celebrity Apprentice' and the way it showcases the challenges and triumphs of business and teamwork," the former two-term California governor and Hollywood actor said, according to Variety.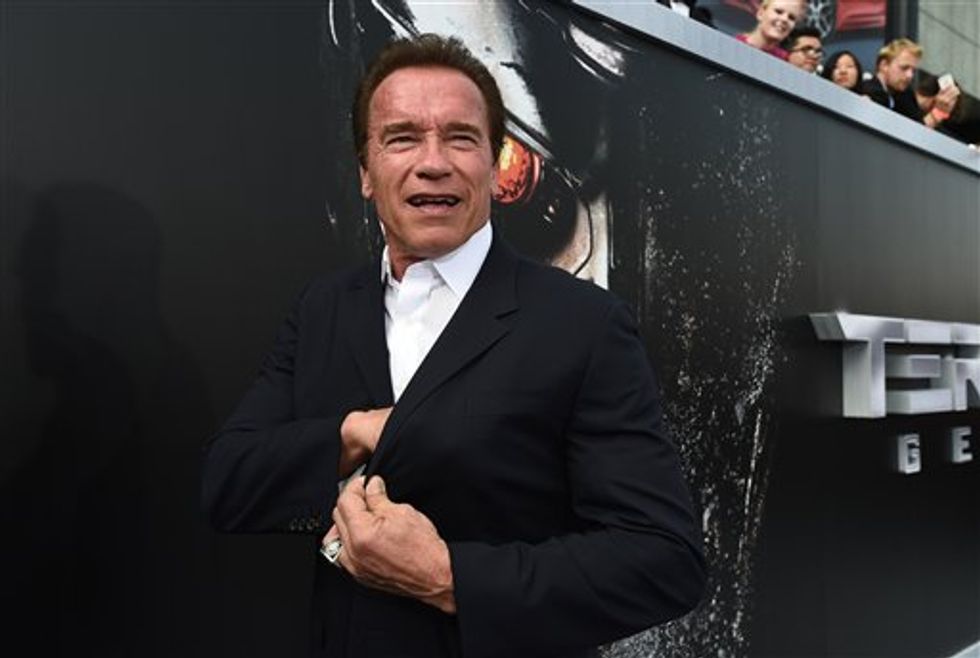 Arnold Schwarzenegger arrives at the LA Premiere of "Terminator Genisys" at Dolby Theater on Sunday, June 28, 2015 in Los Angeles. (Photo by Jordan Strauss/Invision/AP)
The announcement came just a few months after Trump was forced to bow out because of his newly announced candidacy for president. Executive producer Mark Burnett said Trump made it clear upon his departure from the show that he wanted the program to go on, leaving NBC executives to answer one crucial question: "Who will replace Trump?"
And as Paul Telegdy, president of alternative and late-night programming for NBC told Variety, "It was Arnold's personal passion for the format that Mark Burnett and Donald Trump built over the last decade, as well as his fresh take on how to take it to new heights for today's audiences, that made him the man to hire."
"Gov. Schwarzenegger will use his vast and highly successful business, political and media experience to drive this hit franchise to new heights," Burnett told Variety.
NBC will begin airing new episodes in the 2016-2017 season.
Wow. I'm blown away and honored by all your tweets. I can't wait to bring my experience to the board room & raise millions for charity.

— Arnold (@Schwarzenegger) September 14, 2015
The popular show debuted as "The Apprentice" in January 2004 with everyday people competing for jobs at the Trump organization but eventually morphed into "The Celebrity Apprentice" in March 2010 with athletes, actors, performers and others duking it out for thousands, sometimes millions, for their chosen charities.
The Associated Press reported that the show has so far raised more than $15 million for a number of different charities.
(H/T: Mediaite)
–
Follow Jon Street (@JonStreet) on Twitter