Wisconsin Gov. Scott Walker invoked Ronald Reagan – and Franklin Roosevelt – as he spoke about "pro freedom, pro worker" reforms to reign in abuses by both public and private sector unions, while speaking in one of the early voting states.
"Any economic plan that does not bring our federal labor laws into the 21st Century is incomplete," Walker said in Las Vegas Monday. "To grow the economy at a higher rate, requires a comprehensive approach and reform of the labor unions is a key part of the plan."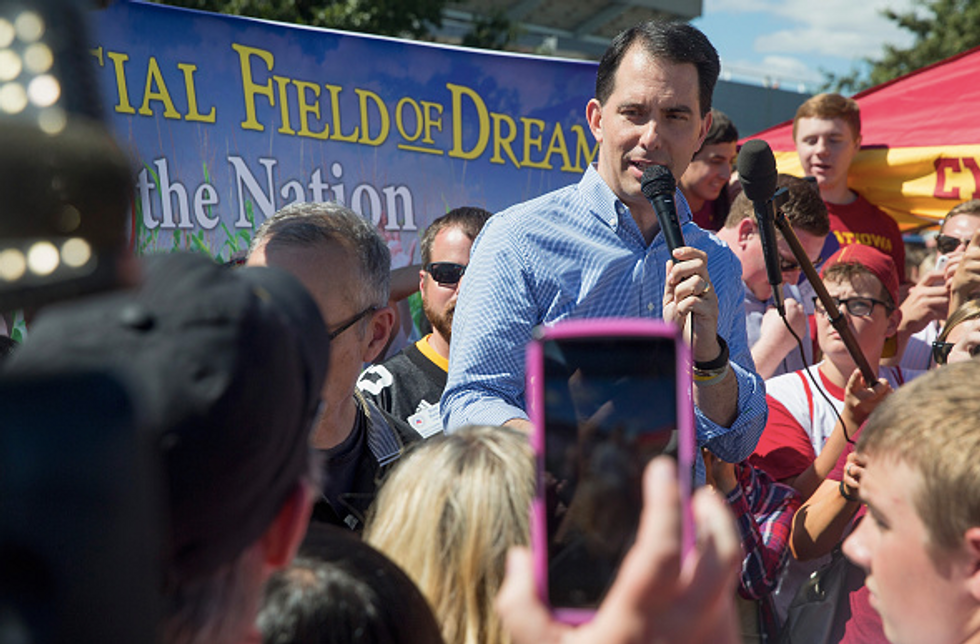 Republican presidential candidate, Wisconsin Gov. Scott Walker speaks to fans tailgating outside Jack Trice Stadium before the start of the Iowa State University versus University of Iowa football game on September 12, 2015 in Ames, Iowa. Several GOP candidates campaigned at the event. (Photo by Scott Olson/Getty Images)
If elected president, Walker intends to eliminate compulsory union dues payments for federal employees, and eliminate the National Labor Relations Board, a government agency he said has show a pro-union bias in recent years. It was part of the plan he released Monday.
Walker, once a leading Republican presidential candidate, hopes to reverse his slide in the polls by delivering major policy speeches. Nevada is an early caucus state in the 2016 GOP nominating process.
It was his battle with public employee unions in Wisconsin that made him a national figure, as he led sweeping reforms of the public pension and merit systems in the face of intense pressure, and convincingly triumphed over opponents in a recall attempt.
"Just like President Reagan, I believe we need to drain the swamp in Washington, D.C.," Walker said. "I have a plan to check the power of the big-government union bosses, empower individuals and protect taxpayers."
He later said, "President Franklin D. Roosevelt said it best when he stated that union bargaining 'cannot be transplanted into the public service.'"
Walker told the crowd he doesn't plan to waste time.
"On day one, I will stop the big government union bosses from taking money out of the paychecks of federal employees for union dues spent on political activities,"
In just the last year, the NLRB has supported what has come to be known as "ambush elections," or shortening the time for union elections at companies and made sweeping changes to franchise rules and labor negotiations, among other controversial actions.
"We need to address the National Labor Relations Board which has become a one-sided proxy for the big union bosses - often at the expense of taxpayers and workers," Walker said. "For example, the NLRB's actions initially stood in the way of Boeing bringing good jobs into South Carolina."
"Our plan gets rid of the NLRB - and reassigns the few necessary responsibilities to more fair and balanced areas of the government," Walker continued.
Walker went on to point out that in 2012, U.S. taxpayers covered the $156 million cost of 3.3 million hours of "official time" for federal employees to engage in union lobbying,
"While the IRS was busy harassing conservative organizations they also had more than 200 federal employees whose only work was for the big government union bosses. Wouldn't it be nice if they were working to help taxpayers?" Walker said. "Or how about the Department of Veterans Affairs? While more than 600,000 veterans were facing delays for medical care in the VA system, more than 250 federal employees - including nurses, pharmacists and rehabilitation experts - worked 100% of their time for the big government union bosses. Wouldn't be nice if they were working to help our veterans?"
It's not only public unions, as Walker said he would back a national right to work law. He signed a right to work law in Wisconsin, which prohibits compulsory union dues in the private sector.
"Our plan calls for national Right to Work. Specifically, we set a presumption that every employee in America - public and private sector - has the freedom to choose whether they want to be in a labor union or not. This is pro-freedom and pro-worker.