President Barack Obama said liberal college students, one of his key constituencies, shouldn't be "coddled" from conservative ideas, books or speakers on campus.
"I've heard of some college campuses where they don't want to have a guest speaker who is too conservative, or they don't want to read a book if it had language that is offensive to African Americans, or somehow sends a demeaning signal towards women," Obama said Monday while speaking at a town hall meeting at North High School in Des Moines. "I've got to tell you, I don't agree with that either, that you when you become students at colleges you have to be coddled and protected from different points of view. Anybody who comes to speak to you and you disagree with, you should have an argument with them, but you shouldn't silence them by saying you can't come because I'm too sensitive to hear what you have to say."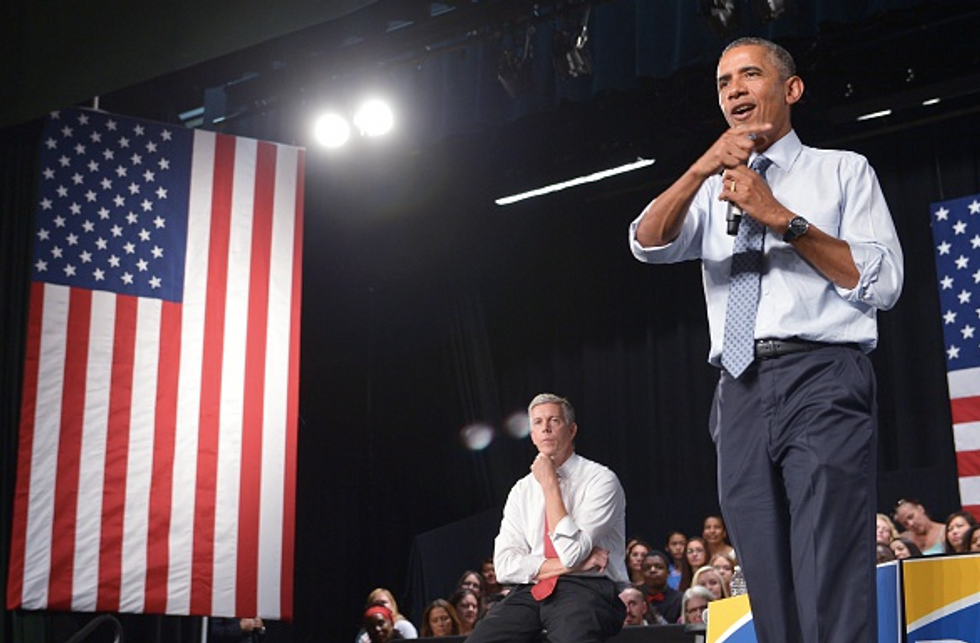 President Barack Obama (R) speaks next to Education Secretary Arne Duncan during a town hall meeting on college accessibility on September 14, 2015 at North High School in Des Moines, Iowa. AFP PHOTO/MANDEL NGAN (Photo credit should read MANDEL NGAN/AFP/Getty Images)
Obama and Education Secretary Arne Duncan were fielding questions from students and teachers.
Duncan said, "Amen," to Obama's comments.
Iowa, where the first presidential caucus is being held, is the state that helped propel Obama to the presidency in 2008, largely with the support of college students.
Obama's comment came in response to a question about an idea floated by Republican presidential candidate Ben Carson over the summer about restricting federal funding to politically biased colleges. A student asked Obama about the idea without mentioning Carson's name. Obama didn't seem to know about the proposal – but mocked it immediately.
"I didn't hear this candidate say that. I have no idea what that means. I suspect he doesn't either," the president said to laughter.
In June, the Des Moines Register reported that Carson said, "The other function I would give to the Department of Education is monitoring our institutions of higher learning — colleges and universities — for extreme political bias. If it exists, they get no federal funding."
Obama said one role of college is to expand the minds of students.
"The idea that you would have somebody in government making a decision about what you should think ahead of time or what you should be taught, and if it's not the right thought or idea or perspective or philosophy, then they wouldn't get funding, that that's contrary to everything we believe about education," Obama said. "I mean, I guess that might work in the Soviet Union. But it doesn't work here. That's not who we are. That's not what we're about."
But, Obama also acknowledged political correctness on campuses.
"Sometimes there are folks on college campuses who are liberal and maybe even agree with me on a bunch of issue who sometimes aren't listening to the other side. That's a problem too," Obama said.