Democratic presidential candidate Bernie Sanders scolded a Fox News producer for conducting an ambush interview in new footage that aired during the "O'Reilly Factor" Monday evening.
Producer Jesse Watters was sent by host Bill O'Reilly to interview Sanders after claiming the Vermont senator had recently stopped responding to requests to appear on his program.
"Bernie Sanders used to appear on 'The Factor' without a problem, but he has been dodging us," O'Reilly explained before showing the footage. "So we sent Watters to see him in Washington."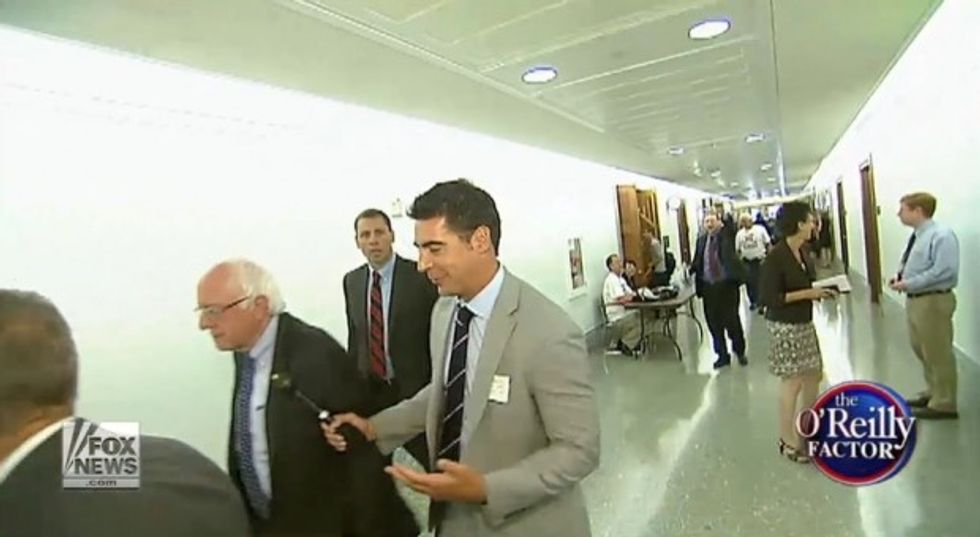 Image source: Screen grab via Fox News
Sanders was not too pleased to be ambushed in the halls of the U.S. Capitol.
"Excuse me. I don't do ambush interviews. If you want to talk to us, there's my press secretary," Sanders told the Fox News producer.
Watters wasn't finished just yet, however.
"Excuse me, senator," he said before Sanders interjected.
"Don't push me!" the senator shouted. "You pushed me."
"I'm not pushing you," Watters shot back before continuing with the interview.
Watch the ambush interview (relevant portion starts about 3:45 minutes in):
"Bill is upset because you haven't done the show and we feel like you used to be a friend of the show. You aren't so big time now that you forget about your friends, right?" the producer asked.
Sanders ignored the question and continued ignoring Watters as the Fox News producer peppered him with questions.
After airing the footage, O'Reilly again noted that his team had reached out to Sanders several times before ambushing him.
—
Follow the author of this story on Twitter and Facebook: