Following a  Ohio school district's decision to allow a transgender student to use the restroom that correlates with the gender the teenager identifies with, parents and community members met to discuss the school's transgender policies.
Troy City Schools held the forum Thursday to field questions from parents and offer an informal presentation from Dr. Lee Ann Conrad, director of the Transgender Clinic at Cincinnati Children's Hospital.
"I think the biggest thing is that [parents are] afraid that that child is a sexual deviant of some sort. So they're afraid that child is going to come into the school and take advantage of their child," Conrad told WDTN-TV. "And in reality, that just isn't the case."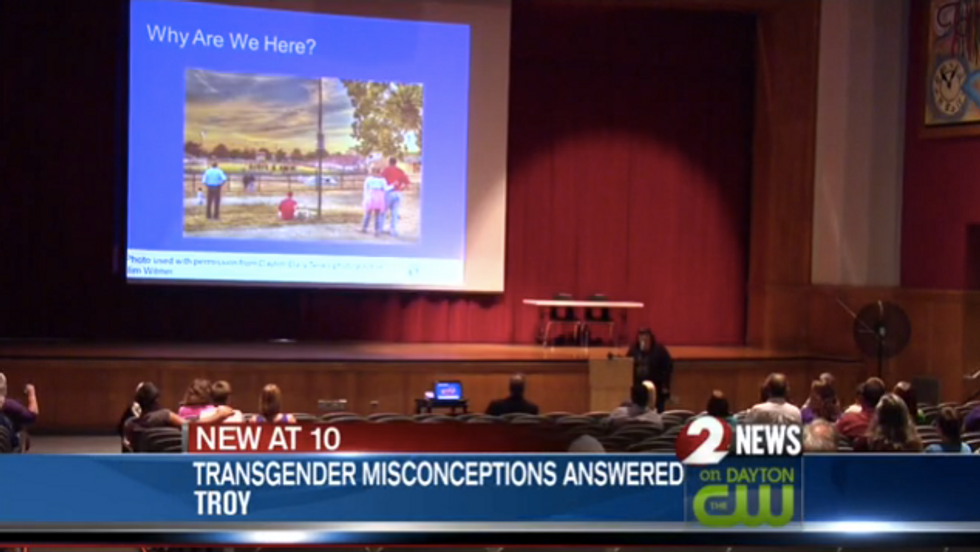 Image source: WDTN: TV
While WHIO-TV reported that the school district has allowed the student — who was born female but identifies as a male — to use the men's restroom for weeks, gender-neutral restrooms are available for students who may feel uncomfortable. However, according to WHIO, transgender students are not allowed to use the locker room that correlates with their gender identity. Instead, students are issued a private changing space.
Conrad told WDTN that she believes gender-neutral restrooms are not an appropriate solution for the school district as it can be psychologically damaging to students who simply want to use the restroom that matches their gender identity. Her idea didn't sit well with some parents.
"I think that gender-neutral restrooms should be provided for all students who don't want to go into one or the other, but my children, my sons, should not have to worry about a female walking into the restroom with them, and my daughters should not have to worry about a male walking into the restroom with them," Bryan Kemper, a Troy parent, told WDTN.
"She's got girl parts. They have boy parts. She has no business being in there," a grandparent of a male student told WHIO. "She walked in, somebody walked in, on my grandson the other day while he was using the urinal."
However, other parents aren't concerned about the transgender student using the men's restroom. According to a friend of the student's family, he's "very upbeat, very positive about this."
"I think if parents would educate their children, be open, be honest, we wouldn't have this problem," he told WHIO.
The school district told WHIO that they've had an anti-sexual discrimination policy in place for some time now, and the policy hasn't changed. When reviewing concerns and suggestions from parents regarding transgender students and restrooms, the school district said it takes into consideration whether that gender is consistently and uniformly adopted by a student, legal and medical evidence, ensuring equal access to all students, student safety and comfort, protecting student privacy and minimizing stigmatization.
Watch the news video below.