© 2023 Blaze Media LLC. All rights reserved.
14-Year-Old Muslim Student Detained, Interrogated on Charges of Making 'Hoax Bomb' — He Says There's Much More to the Story
"It made me feel like I wasn't human."
A 14-year-old high school student was arrested Monday for bringing what was labeled a "hoax bomb" to school, but he says he just wanted to show off his love of inventing to his new teachers.
Ahmed Mohamed said he was encouraged by his father to take a homemade electric clock he constructed over the weekend to MacArthur High School in Texas on Monday in order to show off his skills to his engineering teacher. According to KXAS-TV, the clock began to ring while in Mohamed's backpack during a different class later in the day. That teacher then had Mohamed show her the clock after other students left the room and confiscated it.
"She said, 'Well it looks like a bomb. Don't show it to anyone else,'" Mohamed, who aspires to be an inventor, told KXAS-TV. "And she decides to take it from me."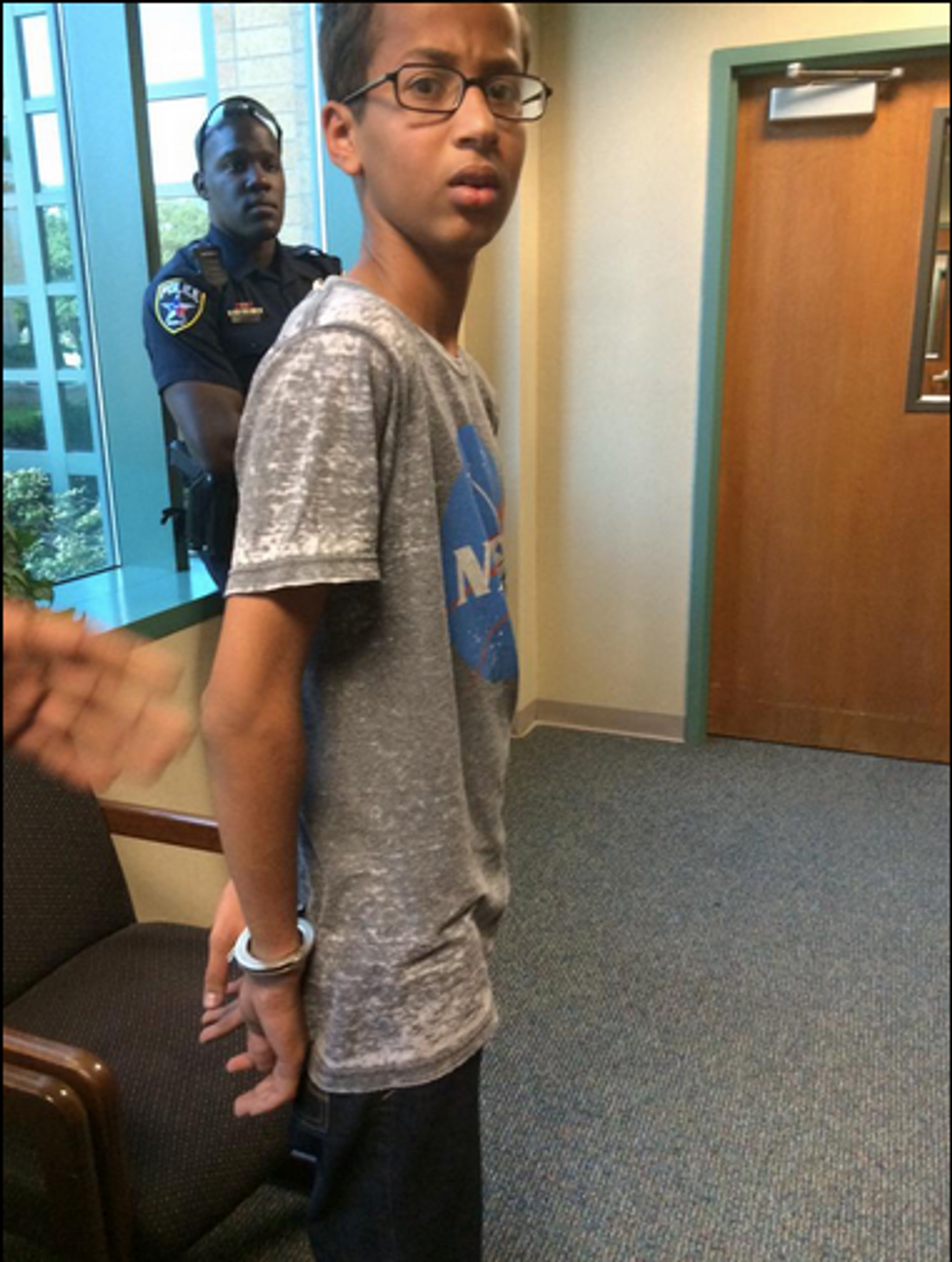 Image via Twitter @anildash
Police later showed up at the high school and handcuffed and arrested Mohamed.
"I really don't think it's fair at all because I just brought something to school that wasn't a threat to anyone, it didn't do anything wrong. I just showed my teacher something, and I end up being arrested later that day." the 14-year-old said.
Mohamed, who has been suspended from the school, told the Dallas Morning News that he was interrogated by several police officers who confiscated his tablet and his invention, which he said took him only 20 minutes to build. Mohamed said the police took mug shots and wouldn't allow him to call his parents for help.
Mohamed's parents told KXAS that they blamed discrimination for how their son was treated.
"We are in the melting pot. We are in the greatest country," his father, Elhassan Mohamed, said. "We need this trouble not to hinder us, as Muslims, as Christians, as Jews, or whatever you are."
"He just wants to invent good things for mankind," his father, who immigrated to the U.S. from Sudan, said.
The clock was built using a pencil case that was shut with a cable. Mohamed said he purposefully didn't use a lock so that it wouldn't look suspicious, but police still described the container as a suitcase or briefcase.
"It made me feel like I wasn't human," he said. "It made me feel like I was a criminal."
Irving Police Officer James McLellan told KXAS-TV that school officials called law enforcement because they thought the device was suspicious and wanted to exercise caution.
"A lot of these details that the family and he have provided to you were not shared with us yesterday," McLellan said. "He was very much less than forthcoming."
McLellan told the Morning News that Mohamed "kept maintaining it was a clock, but there was no broader explanation."
In a press conference Wednesday, Irving police said they will not pursue charges against Mohamed.
"We have no evidence that there was an intention to create alarm," Irving Police Chief Larry Boyd said. "I couldn't speak to whether [the device] works for sure, but it's not an explosive device."
An Irving Independent School District spokesperson declined to discuss specific details of the situation, but released the following statement to KXAS:
"Around 3 p.m. yesterday, a MacArthur High School student was arrested on campus by the Irving Police Department. School officials have been cooperating fully with the police investigation, and while privacy laws prevent us from sharing specific details about student discipline, we can assure everyone that school administrators are handling the situation in accordance with the Irving ISD Student Code of Conduct and applicable laws.

We always ask our students and staff to immediately report if they observe any suspicious items and/or suspicious behavior. If something is out of the ordinary, the information should be reported immediately to a school administrator and/or the police so it can be addressed right away. We will always take necessary precautions to protect our students and keep our school community as safe as possible."
Mohamed told the Dallas Morning News that he does not plan to take one of his inventions to school ever again.
"This all raises a red flag for us: how Irving's government entities are operating in the current climate," Alia Salem, director of the Council on American-Islamic Relations' North Texas chapter said. "We're still investigating, but it seems pretty egregious."
Besides the Council on American-Islamic Relations, Mohamed has garnered support from many strangers nationwide who took to social media to protest how the teenager was treated. On Wednesday morning the hashtag "#IStandWithAhmed" was the number one trending topic on Twitter in the U.S. with celebrities weighing in.
I expect they will have more to say tomorrow, but Ahmed's sister asked me to share this photo. A NASA shirt! pic.twitter.com/nR4gt992gB

— Anil Dash (@anildash) September 16, 2015
Assumptions and fear don't keep us safe—they hold us back. Ahmed, stay curious and keep building. https://t.co/ywrlHUw3g1

— Hillary Clinton (@HillaryClinton) September 16, 2015
#IStandWithAhmed — stay strong little brother. you are a genius and we all support your incredible passion for innovation + technology.

— Russell Simmons (@UncleRUSH) September 16, 2015
My brave 8 year old Daughter made this. #IStandWithAhmed pic.twitter.com/QGeJKjkKJu

— Hanif J. Williams (@HanifJWilliams) September 16, 2015
We have failed this child. We should encourage children to create, to innovate, to dream. Not to fear, to cower, to hide. #IStandWithAhmed

— Jen (@Pop_Reader) September 16, 2015
I feel sorry for the kid. He was just doing what he loves and doesn't deserve any of this. #IStandWithAhmed pic.twitter.com/3FCcSr8uTo

— Amir (@_BroteinSheikh) September 16, 2015
When a kid who loves robotics builds a clock & wants to show his classmates, we should celebrate him. Not arrest him. #IStandWithAhmed

— Sophia Bush (@SophiaBush) September 16, 2015
#IStandWithAhmed because I'm a physicist at MIT, and he's the kind of student we dream of having!

— Claire Lecaron (@Clairouux) September 16, 2015
Calling the cops on a science project should be a career-ending mistake. Heads must roll in @journeyirving and @IrvingISD #IStandWithAhmed

— Ben Keller (@malzraa) September 16, 2015
Arresting a kid for bringing a clock he made to school is a great way to discourage kids from pursuing knowledge. #IStandWithAhmed

— Noël Duan (@noelduan) September 16, 2015
As the mother of a boy who dearly wants to be a scientist, and also happens to be Arab American, #IStandWithAhmed.

— Farran Nehme (@selfstyledsiren) September 16, 2015
This story has been updated to include information from Wednesday's press conference with Irving police.
Want to leave a tip?
We answer to you. Help keep our content free of advertisers and big tech censorship by leaving a tip today.
more stories
Sign up for the Blaze newsletter
By signing up, you agree to our
Privacy Policy
and
Terms of Use
, and agree to receive content that may sometimes include advertisements. You may opt out at any time.