The newly elected leader of Britain's Labour Party, Jeremy Corbyn, has caused a media firestorm in the U.K. following his apparent refusal to sing the national anthem, "God Save the Queen," at a memorial Tuesday for British pilots who fought the Nazis during World War II.
But beyond Corbyn's public opposition to the monarchy, the new leader of the British opposition has also raised eyebrows over his public statements seemingly sympathizing with the terrorist groups Hamas and Hezbollah, comparing the U.S. military to the Islamic State and more.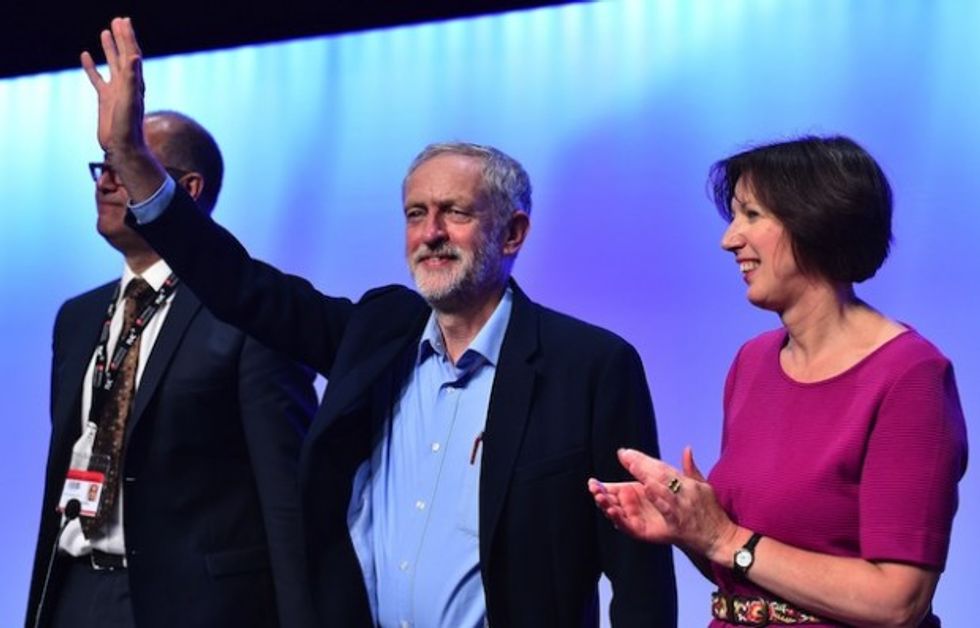 British opposition Labour Party leader Jeremy Corbyn (C) stands alongside Trades Union Congress General Secretary Frances O'Grady (R) as he acknowledges the applause after speaking at the TUC in Brighton, south-east England, on Sept. 15. (Ben Stansall/AFP/Getty Images)
Here are five of Corbyn's more controversial appearances that have many people in the U.K. concerned:
• Comparing U.S. Forces to the Islamic State:
In an appearance on Russia Today television last year, Corbyn likened the jihadist militants to U.S. forces serving in Fallujah a decade ago: "Yes they are brutal, yes some of what they have done is quite appalling, likewise what the Americans did in Fallujah and other places is appalling."
• 'Our Friends' Hamas and Hezbollah:
In a 2009 speech, Corbyn referred to the terrorist organizations Hamas and Hezbollah as "our friends" and invited their representatives to speak at the House of Commons.
"Tomorrow evening it will be my pleasure and my honor to host an event in parliament where our friends from Hezbollah will be speaking," Corbyn said, as seen in a video taken of the speech.
"And I've also invited friends from Hamas to come and speak as well. Unfortunately the Israelis would not allow them to travel here," he said.
Corbyn explained his remarks in an interview with Britain's Channel 4 this past July in which he said that he had used the word "friends" in a "collective way" and that he did not agree with the militant groups.
"I'm saying that people I talk to, I use it in a collective way, saying our friends are prepared to talk," he said.
"Does it mean I agree with Hamas and what it does? No. Does it mean I agree with Hezbollah and what they do? No," he added. "What it means is that I think to bring about a peace process, you have to talk to people with whom you may profoundly disagree."
• Bin Laden's Killing Was a 'tragedy':
In a 2011 interview, he appeared to describe Osama bin Laden's killing as a "tragedy."
"There was no attempt whatsoever that I can see to arrest him, to put him on trial, to go through that process," Corbyn said during a roundtable discussion on PressTV. "This was an assassination attempt, and is yet another tragedy, upon a tragedy, upon a tragedy."
"The World Trade Center was a tragedy, the attack on Afghanistan was a tragedy, the war in Iraq was a tragedy. Tens of thousands of people have died. Torture has come back on to the world stage, been canonized virtually into law by Guantanamo and Bagram," he said.
• Praised Muslim Leader Who Has Spewed Anti-Semitism:
Corbyn has also appeared in a video praising a prominent Muslim leader in Israel, Raed Salah, who has accused Jews of using children's blood in religious rituals.
The Labour leader called Salah an "honored citizen" and invited him to tea in the House of Commons.
• Hosted a Show on Iran's PressTV:
Corbyn once hosted a call-in show on the Iranian government's English-language propaganda channel PressTV.
Beyond the foreign policy statements, Corbyn's economic platform, which advocates printing money to expand government spending, instituting a national maximum wage to cap the salaries of the highest income earners while also imposing higher taxes on the rich, renationalizing the railway and energy companies and reintroducing rent control, has riled some in the U.K. media.
His economic platform, nicknamed "Corbynomics" was explained by the British newspaper the Independent as follows:
Corbynomics mixes old left ideas — like giving workers control over industry — with brand new ones, like people's quantitative easing.

Sorry, people's what?

People's quantitative easing is Corbyn's take on the Bank of England's quantitative easing program. Between 2009 and 2012, the Bank of England issued £375 billion electronically to buy bonds, gilts and other debt to prop up the economy after the financial crash.

Corbyn has reimagined this cash injection as one for the people, rather than the banks. He has proposed the creation of a state investment bank, funded by the Bank of England, to invest in housing, energy, transport and digital projects.
On the national anthem controversy, Corbyn, who believes in the abolition of the monarchy, insisted he had shown respect at Tuesday's event even though he did not sing the anthem.
Media personality Piers Morgan issued scathing criticism of the Labour leader's behavior:
Corbyn will kneel in front of Queen, swear oath of allegiance & kiss her hand, to join Privy Council. But won't sing anthem. #hypocrite

— Piers Morgan (@piersmorgan) September 16, 2015
You realise it's called 'Her Majesty's Government', Mr Corbyn?

— Piers Morgan (@piersmorgan) September 16, 2015
Jeremy Corbyn's a very inspiring public speaker. He inspires me to vomit.

— Piers Morgan (@piersmorgan) September 15, 2015
Unnamed Labour Party officials told the BBC Wednesday that Corbyn would sing the national anthem at future official events instead of opting to remain silent.