Businessman Donald Trump declined to name his favorite Bible verse when a reporter pressed him on the issue last month, but the 2016 Republican presidential candidate struck a very different tone in a CBN News interview on Tuesday.
Trump seemingly had no problem diving into his stance on the holy book in an exchange with reporter David Brody, explaining why he believes that it's such a great work of art.
"There's so many things that you can learn from [The Bible]. Proverbs, the chapter 'never bend to envy' —  I've had that thing all of my life where people are bending to envy," Trump said. "Actually, it's an incredible book. So many things you can learn from the Bible and you can lead your life and I'm not just talking in terms of religion — I'm talking in terms of leading a life even beyond a religion."
It is unclear where this "envy" chapter is in Proverbs, as Trump did not cite a specific verse. That said, the subject is dealt with a number of times throughout Proverbs, as Brody noted.
Trump wasn't done there, though, sharing his belief that the Bible is "special" and that it becomes more incredible the more times an individual reads it. He then compared reading it to watching a "great movie."
Watch Trump's comments below:
"The more you read it, the more incredible it is. I don't like to use this analogy, but like a great movie, a great, incredible movie," Trump said. "You'll see it once. It will be good. You'll see it again. You can see it 20 times and every time you'll appreciate it more."
As TheBlaze previously reported, Trump has expressed his appreciation of the Bible in the past, revealing in an interview back in 2011 that fans frequently send him copies and that he's come to collect these holy books.
"I get sent Bibles by a lot of people. We keep them at a certain place. A very nice place," Trump said at the time. "But people send me Bibles. And you know it's very interesting. I get so much mail and because I'm in this incredible location in Manhattan you can't keep most of the mail you get."
Trump has faced some recent questions surrounding his church attendance status, with TheBlaze's Mike Opelka reporting that the church that Trump said he attends has publicly stated that he is not actually an active member.
The claim came after Trump was asked which church he goes to while campaigning in South Carolina last month.
"I am Presbyterian, Protestant. I go to Marble Collegiate Church. The church I was originally with was the First Presbyterian Church in Jamaica, which is out in Queens, New York," Trump responded. "And I've had just great experiences in church, whether it's Sunday school or whatever it may be. But, now I go to Marble Collegiate Church."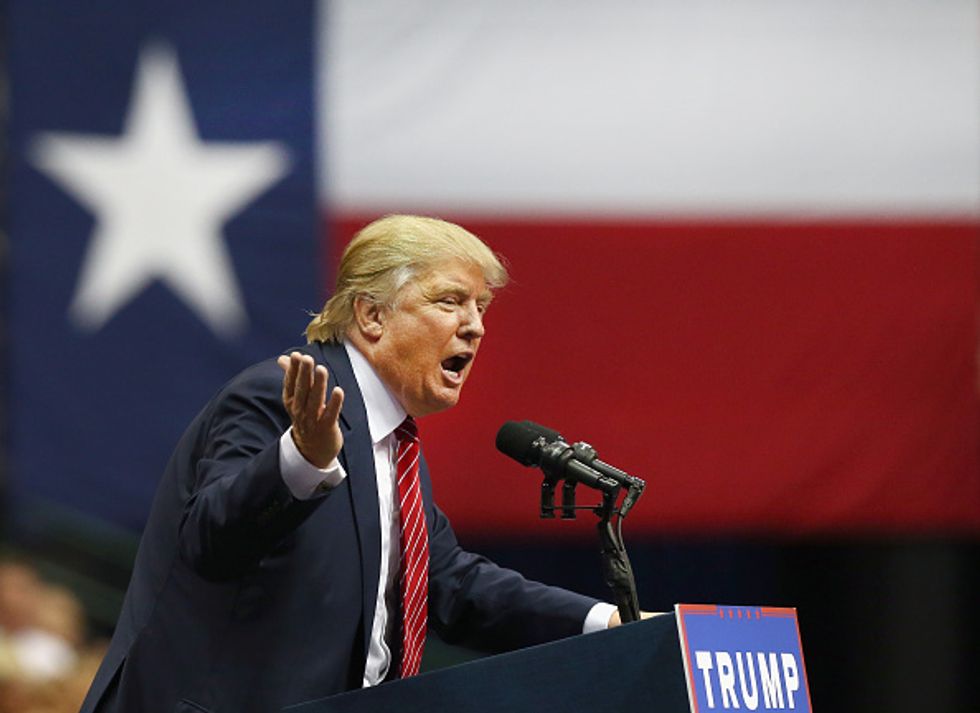 Republican presidential candidate Donald Trump speaks during a campaign rally at the American Airlines Center on September 14, 2015 in Dallas, Texas. (Photo by Tom Pennington/Getty Images)
Asked how often he attends, Trump replied, "As often as I can, a lot. And I do, because I travel so much, I go around the county."
But Marble Collegiate Church told TheBlaze that, while Trump has a "longstanding history" there as it is "where his parents were for years active members and one of his children was baptized," he is not an active member.
Comments Trump made about communion earlier this summer also raised some eyebrows.
(H/T: CBN/Brody File)