President Barack Obama told CEOs on Wednesday that the American economy is strong and would be stronger if not for Republican gridlock in Congress.
"There's not a country out there, including China, that wouldn't look at us with envy right now," Obama told members of the Business Roundtable in Washington. "Our problem is not that China will out negotiate us or [Russian President Vladimir] Putin will out-strategize us. Anybody take a look at the Russian economy lately? That's not our problem. Our problem is us, typically."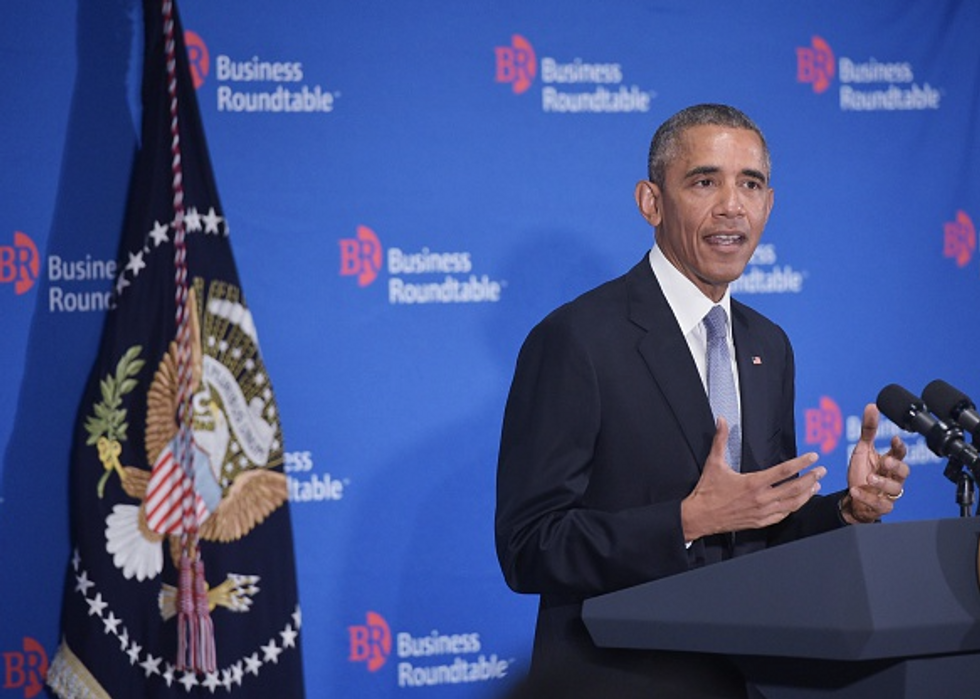 President Barack Obama speaks to members of the Business Roundtable at their Washington headquarters Sept. 16, 2015. (MANDEL NGAN/AFP/Getty Images)
He went on to qualify "us" and "we."
"We engage in – I'm being generous when I say we – we engage in self-inflicted wounds like this government shutdown," Obama said.
He went on to criticize some Republicans for opposing the extension of the Export-Import Bank, infrastructure projects and other initiatives he said should be bipartisan.
"The notion that we are not doing them right now is primarily because a faction within one of our parties has gone off the rails and sees a conspiracy around everything, or simply is opposed to everything I've proposed even if they used to propose it, that's a problem," Obama said. "I think it's important for you to step back and take a look at because you still have influence on at least some of those folks."
With a budget due by the end of the month, Obama warned against another government shutdown.
"Democrats are willing to work with Republicans right now as we speak, but it should be over legitimate questions of spending and revenue not on unrelated ideological issues," Obama said. "You'll recall two years ago, Republicans shut down the government because they didn't like Obamacare. Today, some are suggesting the government should be shut down because they don't like Planned Parenthood. That's not good sense. That's not good business."
"The notion that we play chicken with an $18 trillion economy in global markets that are already skittish all because of issues around a woman's health provider that receives 20 cents out of every $1,000 in the federal budget — that's not good policy," Obama added.
At several points in the address, Obama referenced Republican candidates seeking to succeed him, though none by name. He said, "America is great right now," and later warned against "name-calling" in negotiations with China, a near-certain reference to GOP presidential candidate Donald Trump.
He also made an indirect reference to Trump and former Florida Gov. Jeb Bush, both of whom support closing tax loopholes, which Obama has long supported.
"You've got two leading candidates on the Republican side who said we should eliminate the carried interest loophole. Now, there is disagreement in this room about that, but I will tell you that keeping this tax loophole, which leads to folks who are doing very well paying lower rates than their secretaries, is not in any demonstrable way improving our economy," Obama said. "On the other hand, if we close the tax loopholes, we could double the number of workers in America's job training programs, we could help another 4 million students afford college. These are sensible choices if you were running your business and took a look at it, you'd make that decision."