© 2023 Blaze Media LLC. All rights reserved.
Woman Parades 2-Year-Old Daughter Around Topless to Panhandle in Time Square — and Police Admit There's Nothing They Can Do About It
"I'm pretty upset about it, as I think any parent would be."
When a painted lady brought her topless young daughter with her to panhandle in Times Square, police asked the mother to put a shirt on the girl — but not because of propriety's sake.
According to the New York Post, New York City Police Commissioner Bill Bratton said police officers were able to tell the mother, who the Post identified as Maria Diaz to cover up her daughter because it was cold outside. The young girl reportedly looked to be approximately 2-years-old, and Bratton said police officers plan to speak to the city's child welfare workers about the situation.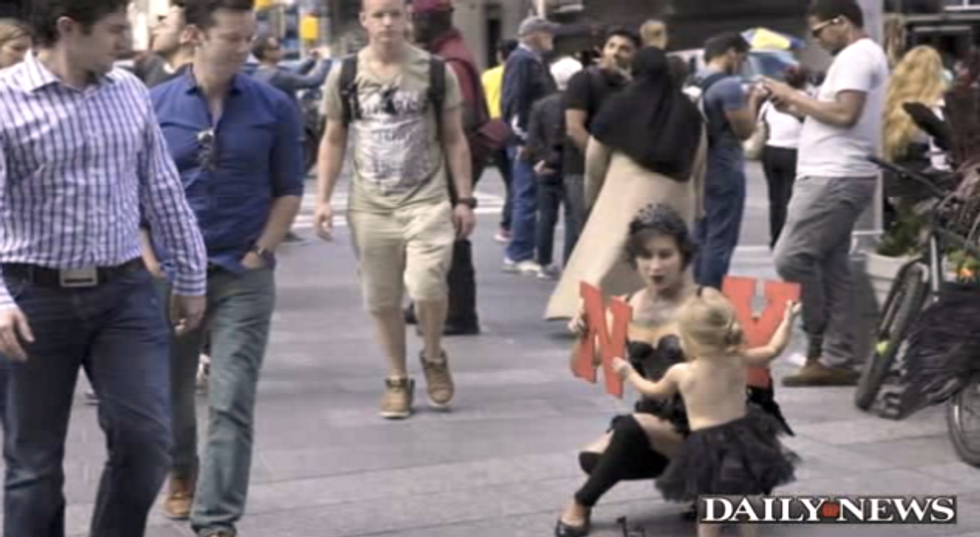 Image source: New York Daily News
"That's the craziness of this issue of 'artistic freedom' when it goes to the extent of [the mother] — if, in fact, that was the mother — exploiting that young child for whatever purpose in the square there,'' Bratton told the New York Post. "My understanding of the [cop's] request or the demand to put the shirt on the child had nothing to do with the idea of the artistic expression, but rather just concern about the child's welfare, that it was getting cold in Times Square."
"I'm pretty upset about it, as I think any parent would be, about using a child in that fashion," he said.
Both Diaz and her young daughter were topless in Times Square with a black heart painted across their chests. They were also holding up the letters "N" and "Y."
The New York Post reported that the pair left shortly after being approached by the police officer. The mother had the young girl put a shirt on after speaking to the officer.
"Nobody wanted to take any pictures [with them]," José Escalona-Martinez, who was dressed on Monday as the Caped Crusader, told the New York Post.
"I think she should be covered. The baby doesn't understand what's going on," Stef Watakins, a tourist from Louisiana, told the New York Daily News. "There are strange people in the world, and this is Times Square."
The high for Monday in New York City was 75 degrees, and the low was 59 degrees.
Want to leave a tip?
We answer to you. Help keep our content free of advertisers and big tech censorship by leaving a tip today.
more stories
Sign up for the Blaze newsletter
By signing up, you agree to our
Privacy Policy
and
Terms of Use
, and agree to receive content that may sometimes include advertisements. You may opt out at any time.