© 2023 Blaze Media LLC. All rights reserved.
See the Heart-Tugging Moment Between an Ex-Convict and a Texas Cop That's Captivating the Internet
"We should be seeing more of this in America."
A photo of a Texas police officer and an ex-convict is going viral for all the right reasons.
Edward "Doc" Amey has been to prison three times. He has a rap sheet that's several pages long, including six felonies and a number misdemeanors. But while just a few years ago Amey was running from the cops, today he's running to them.
"The last week and a half, God has really been giving me the urge to pray for police officers," Amey, who became a Christian last weekend, told KBMT-TV.
So when Amey ran into officer Salvador Chapa with the Texas City Police Department, he acted. Chapa is the same officer who once arrested him on a gun charge, which landed him behind bars.
But this time, Amey and Chapa's encounter was much different.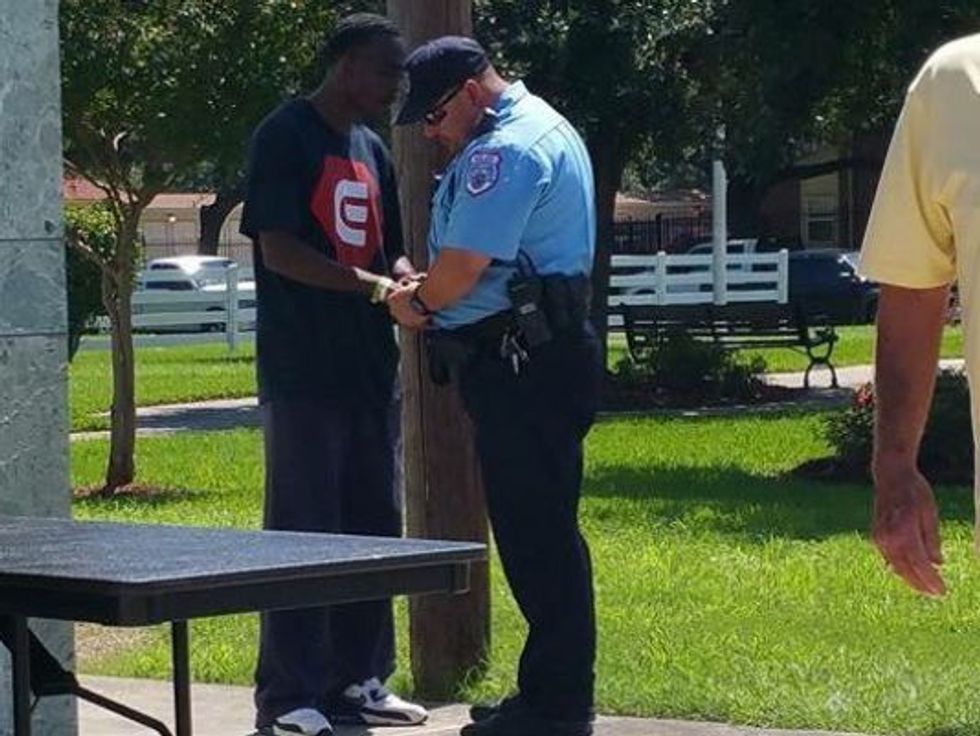 Image source: Facebook
"I pray that you continue to watch over him," Amey said he prayed with the officer. "Continue to guide him and lead him in the way that you may have him go, Lord."
Kevin Woods,a friend of Chapa's, witnessed the moment and took a photo with his phone, posting it on Facebook. The Texas City Police Department later shared the photo, along with Woods' comment:
I got to watch something so amazing I'm speechless. We are at a cook off and I see Sal Chapa get pulled away. I look over and they are in prayer. Sal arrested this guy about 8 years ago on a gun charge. The young man got a 5 year sentence. While he was in prison he said "God if you are real turn my life around". He got out after serving a year and half. Has graduated bible college with perfect attendance and his strong in his church. This man wanted to pray for the officers safety. We should be seeing more of this in America. There shouldn't be race involved and this is living proof that color doesn't matter. This is a prime example.
The police department's post has garnered more than 26,000 "likes" on Facebook.
(H/T: KBMT-TV)
–
Follow Jon Street (@JonStreet) on Twitter
Want to leave a tip?
We answer to you. Help keep our content free of advertisers and big tech censorship by leaving a tip today.
more stories
Sign up for the Blaze newsletter
By signing up, you agree to our
Privacy Policy
and
Terms of Use
, and agree to receive content that may sometimes include advertisements. You may opt out at any time.