Nicholas Sierra wears the sash of a school crossing guard and takes his duty of keeping other kids safe very seriously.
On Thursday afternoon, this 10-year-old from Hillsborough County, Florida, went above and beyond what would usually be expected of him.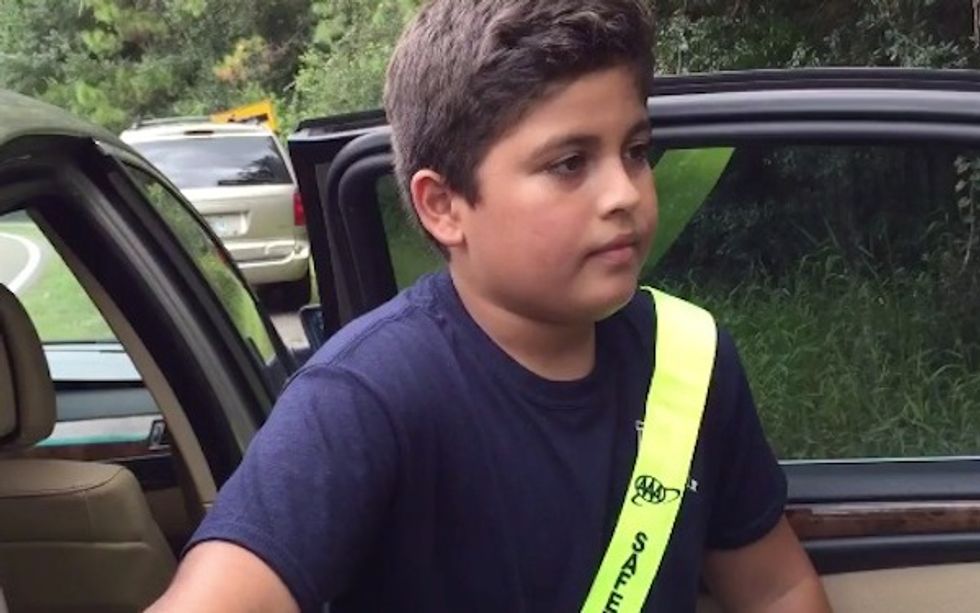 Nicholas Sierra helped carrying children younger than him to shore when his school bus crashed into a neighborhood pond. (Image source: Twitter video)
According to the Tampa Bay Times, Sierra was one of 27 kids on a school bus that went off the road and crashed into a neighborhood pond.
"Kids were crying and screaming so I grabbed a kindergartner's arms and put them around my neck and brought her to land," the fifth grade student recounted of the incident to one of the newspaper's reporters. "And then I went back into the bus and grabbed two other kindergartners and also brought them to land."
Watch Sierra's account:
Here's part of his account. Went back to bus after bringing kids out to rescue more. Oh and he's 10. @TB_Times pic.twitter.com/owEcqp9vUG

— Michael Majchrowicz (@mjmajchrowicz) September 17, 2015
Though it is not officially known what went wrong with the bus yet, Sierra said the brakes weren't working.
"The bus was out of control and I looked at the brakes, and when he kept on stepping on them, they wouldn't work," Sierra told WTVT-TV.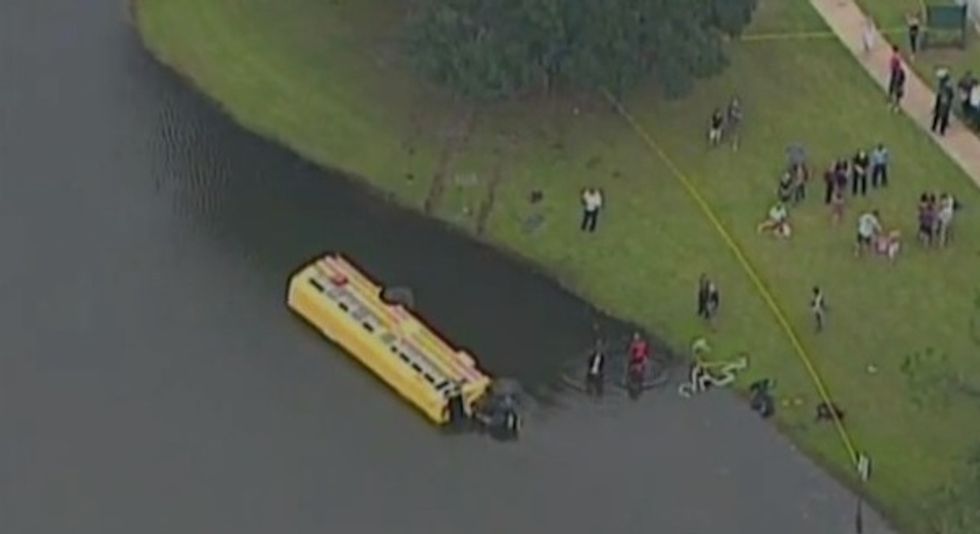 An investigation into the situation is still underway, but some say the brakes on the bus just weren't working. (Image source: AP/YouTube)
"He has a good heart and always wants to help people around him," Deborah Sierra, the boy's mother, told the Times. "I think we're going to give him a homework pass for the night."
Watch the Tampa Bay Times's video showing the bus in the water:
Mother Marlene Smith who was waiting for her child to be dropped off from school on the bus, said she "couldn't run fast enough" to the scene when she had heard what happened.
"I just wanted to swim faster, and all I could hear all the voices and all I could think was, 'I have to get every kid off this bus,'" she told WTVT.
Cynthia Faulkner, another mother, told WTVT they worried also because there are alligators up to 12 feet long live in that pond.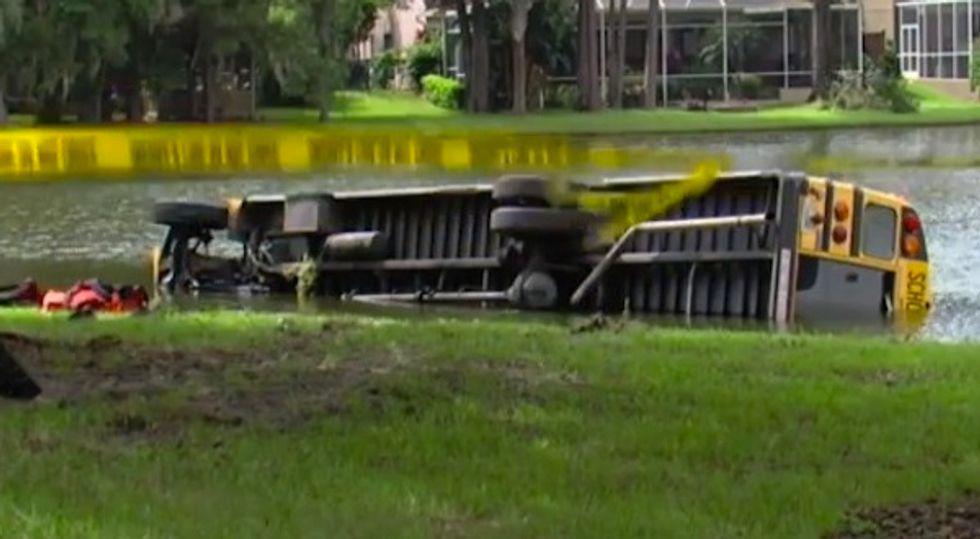 The bus was eventually dragged out of the pond. (Image source: AP/YouTube)
According to the new station, there were no serious injuries in the incident, but one student suffered a small cut.
Here's more footage of the scene and other accounts from children on the bus:
The bus' driver, 54-year-old Lenior Sainfimin, is not currently facing charges, according to the Tampa Bay Times, but is suspended with pay, pending the results of a toxicology test and the overall investigation into the incident. This, the school district told the newspaper, is standard procedure.
The bus itself is also under investigation. According to the Tampa Bay Times, the bus is 21 years old and was not the usual bus used on this route; that bus was being repaired Thursday.
In Houston, two students died this week and several others were hurt after a school bus overturned on the highway.