Glenn Beck on his Thursday program revealed the individuals he would like to see in a dream presidential cabinet.
Recording his show in front of a live-studio audience, Beck said he would want Sen. Ted Cruz (R-Texas) to serve as president with former Hewlett-Packard CEO Carly Fiorina in the slot of vice president.
Beck suggested Sen. Rand Paul (R-Ky.) serve as secretary of the treasury with former Pennsylvania Senator Rick Santorum being selected for the job of secretary of state.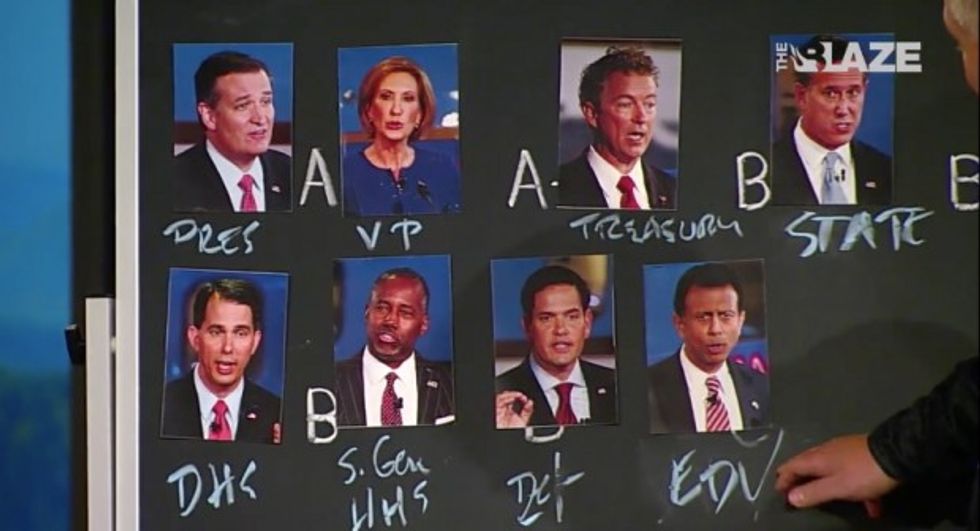 Image source: TheBlaze TV
In his fantasy cabinet, retired neurosurgeon Ben Carson would be the surgeon general and Sen. Marco Rubio (R-Fla.) would be the secretary of defense.
Beck said he would nominate Wisconsin Gov. Scott Walker to head the Labor Department and Louisiana Gov. Bobby Jindal to head the Department of Education, but noted that he would dissolve both agencies as president.
Beck said he would not place Sen. Lindsey Graham (R-S.C.) or real estate tycoon Donald Trump in a cabinet.
"I don't want to see any progressive influence in there at all," he explained.
Beck's comments came after he said earlier in the day that a Rubio/Fiorina ticket "would be gangbusters." Throughout the 2016 campaign cycle, Beck has expressed support for Cruz, but noted that he is also considering Paul and Rubio, along with others.
Complimentary Clip from TheBlaze TV
The full episode of The Glenn Beck Program, along with many other live-streaming shows and thousands of hours of on-demand content, is available on just about any digital device. Click here to watch every Glenn Beck episode from the past 30 days for just $1!
—
Follow the author of this story on Twitter and Facebook: