Pope Francis will become the first pontiff ever to address a joint meeting of the House and Senate in Washington, D.C., next week, and when he does so, there's a traditional gesture that Congressional leaders are asking their fellow lawmakers to avoid: glad-handing.
The joyous handshaking that typically takes place at various political events is being phased out during the pontiff's visit, with House Speaker John Boehner, Senate Majority Leader Mitch McConnell, House Democratic Leader Nancy Pelosi and Senate Democratic Leader Harry Reid sending a letter to members of Congress asking that politicians avoid doing so when Pope Francis enter's the room, Reuters reported.
"Out of respect for the pope's schedule and the expectation of a timely address, we respectfully request that you assist us by refraining from handshakes and conversations along and down the center aisle," the letter read.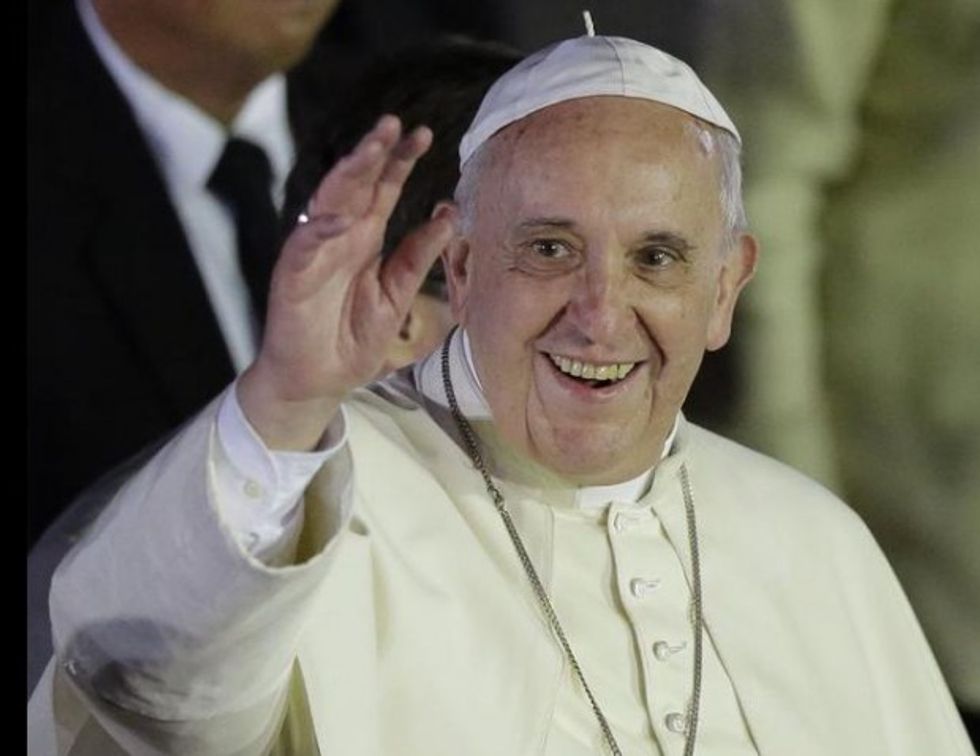 Pope Francis waves to well-wishers upon arrival from Sri Lanka, Thursday, Jan. 15, 2015 at suburban Pasay city, south of Manila, Philippines. (AP/Bullit Marquez)
This poses a stark difference to the guidelines that generally surround the presidential State of the Union address each year, during which fellow politicians shake hands with and often hug the president after he enters the room and makes his way to the lectern.
Leading up to the issuance of the letter, politicians were expected to receive guidance regarding how to behave when Pope Francis arrives on Capitol Hill on September 24, with the Hill previously reporting that lawmakers who spoke to the outlet expect that no one on the Democratic or Republican side will cheer in response to the pontiff's statements, either.
Since it isn't a political event, respectful silence on these matters is expected.
State Department guidelines also asked that lawmakers refrain from hugging the pontiff and only shake his hand if Pope Francis initiates it. Additionally, the guidelines call for conservative dress and the wearing of dark colors.
In the event that Pope Francis does reach out to lawmakers as he enters the chambers, they are advised to shake his hand or, if they are Catholic, they are permitted to kiss his ring, which is worn on his right hand, Bloomberg reported.
Read more about what's expected of lawmakers here.
(H/T: Reuters)
Follow the author of this story on Twitter and Facebook: