© 2023 Blaze Media LLC. All rights reserved.
Mother's Video Message to College Son Finally Gets Him to Call Her Back: 'Remember Me? I'm Your Mommy. I Gave Birth to You.
"We used to use them when we were younger in the generation that respected their parents."
She birthed him, bathed him, diapered him, fed him. She paid for his schooling, drove him to-and-fro, taught him right and wrong and finally sent him off to college.
Then, nothing. Hear the crickets?
That's right, it's a few weeks into the fall semester for most college students and the Pennsylvania mother of one freshman who hadn't heard from her son in a while felt it was time to "call him out!"
Ann Pinto McCarney posted a hilarious, nearly five-minute video, tagging her son Liam McCarney, on Facebook this week.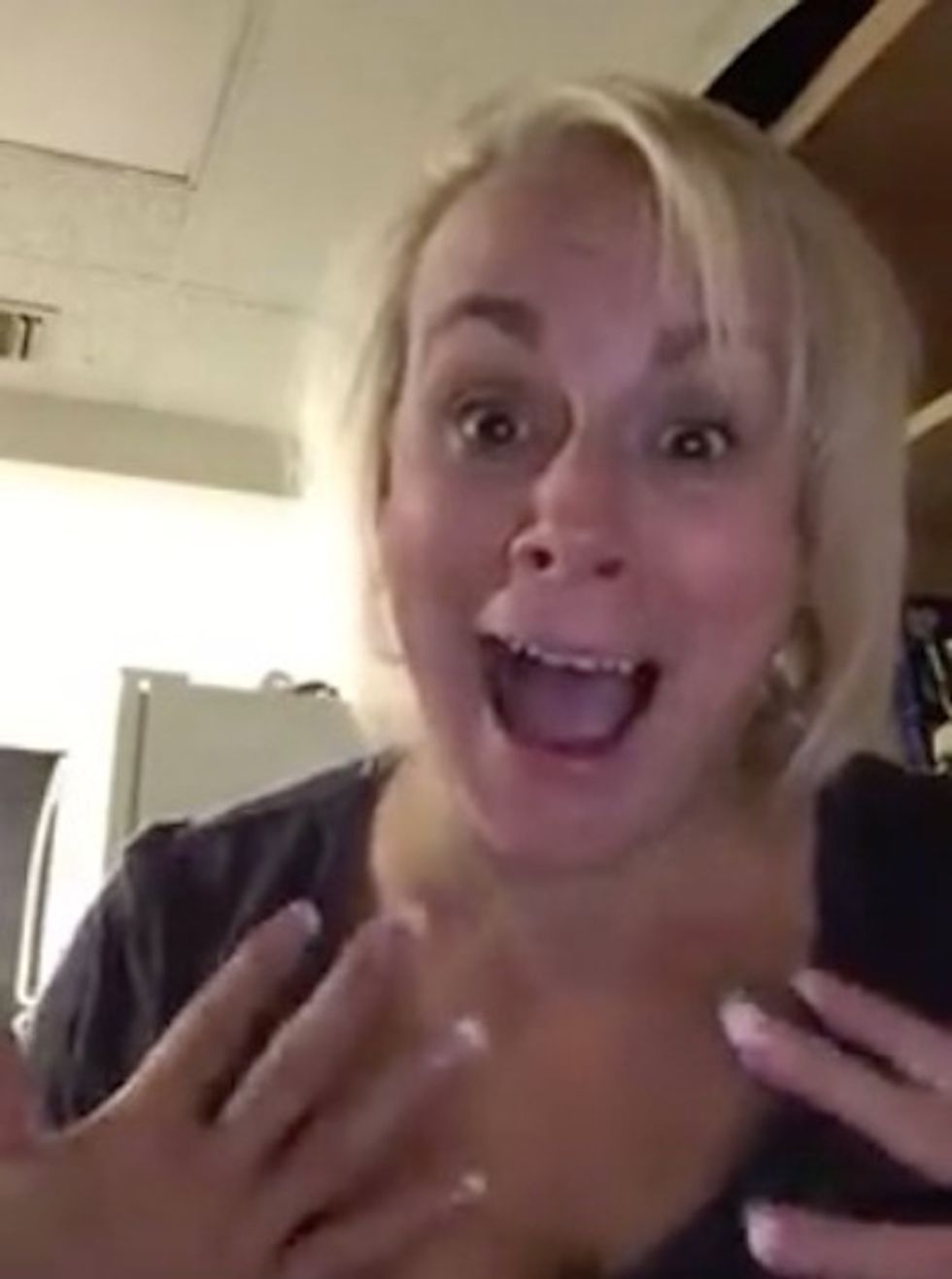 "That was me." (Image source: YouTube)
"Hi, Liam. Remember me? I'm your mommy. I gave birth to you," the mother began. "Well, actually, I didn't quite give birth. I had to have a C-section to get you out. A big scar and hurt like hell, but that's OK. Do you remember that it was me that gave you life?"
The mom who posted this video message said she was ready to remind him who she was just in case he forgot.
"Let me joggle your memory a little bit. Remember those first two years of your life, there was this woman and you were always on her hip, you, like, never wanted to get put down. Do you remember that? I'm that woman!" she said. "I was the person who always had you on my hip."
"When you're in your dorm at night, do you lay there and think 'Wow, I wonder who fed me for the first 18 years of my life?' Well, I don't want to brag but that was me. I was, like, breakfast, lunch dinner. ... Daddy helped you. Do you remember daddy?"
"The both of us, we would take you to your activities and drive you back and forth to karate."
The mom then reminded her son that she's the one who signed the checks to send him to private school for 12 years.
The mom also joked that maybe her son hadn't forgotten her but how to use a phone.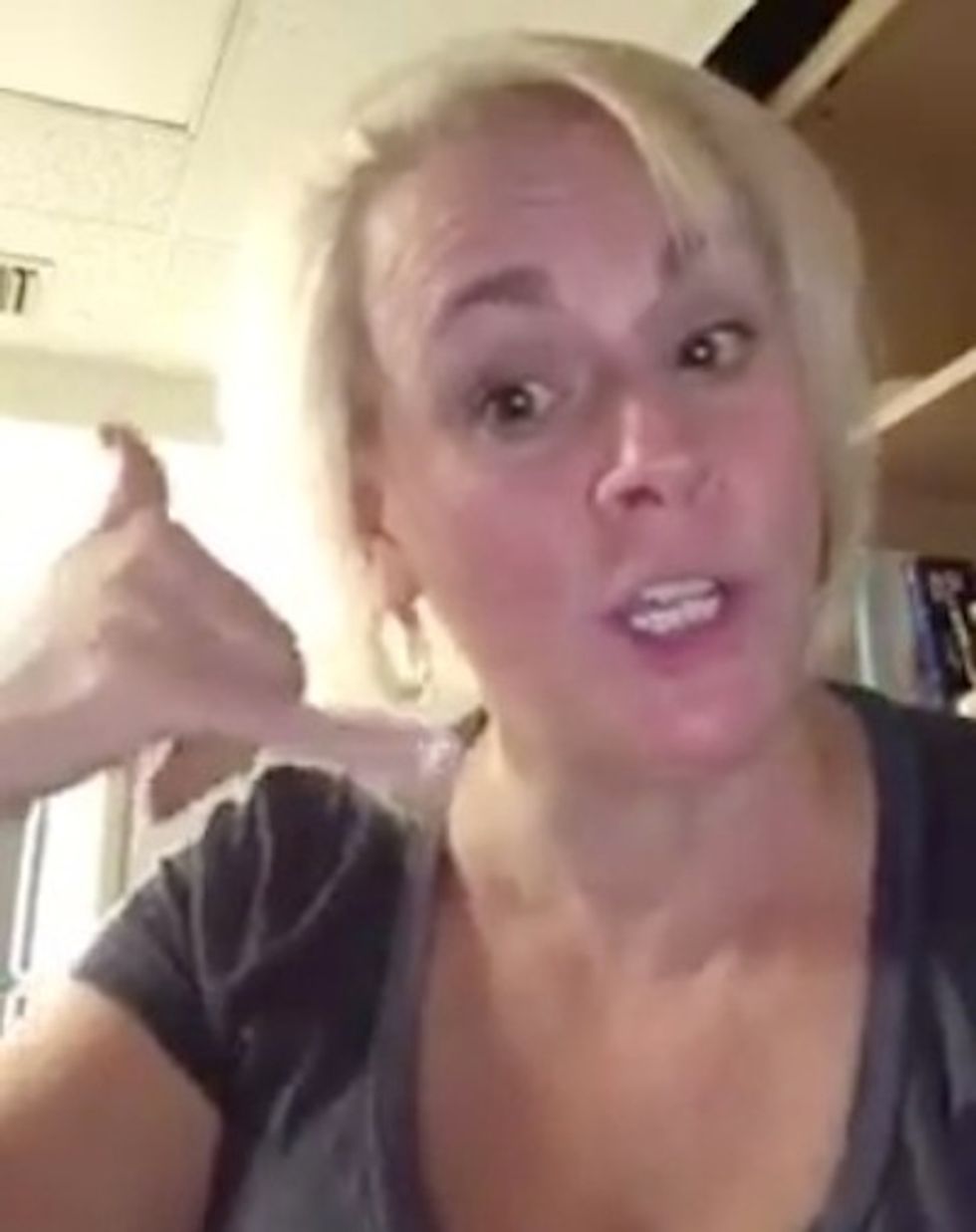 "What you want to do is..." (Image source: YouTube)
"Basically, what you want to do is you want to grab the phone — you know, the one that mommy and daddy bought you — and unlock the phone. I know that you know what that passcode is because I know someone texts his girlfriend every day, doesn't he?" she said with a tight smile and wink. "So unlock your phone and at the bottom you're going to see four little icons ... a handset, I don't know what they were call, but we used to use them when we were younger in the generation that respected their parents. So you want to use that little icon, push the button, it brings up a little note pad and I know that I know my phone number because I pounded that into your head because I was always so worried about you getting lost or stolen."
"Then, don't be afraid, you're going to put it up to your ear and you'll hear this ringing noise. It's going to sound a little strange to you because I know you haven't heard it in a while."
"Here's the magical part bud," she went on. "It's going to ring on my end and it's going to say my baby boy is calling me. And I'll pick up the phone put it to my ear just like you."
"That's how that works. You are welcome! So now I know I'm going to hear from you especially before your mother and father have to pay the next installment for your tuition in November."
Watch the whole video:
Well guess it's safe to say that Liam McCarney is well adjusted at college! That being said a Mammas gotta call him out!

Posted by Ann Pinto McCarney on Wednesday, September 16, 2015
McCarney, a theater teacher who recently opened the Limelight Performing Arts Center in West Chester, Pennsylvania, told WCAU-TV that funny videos, like this, are things she has produced before.
"I did a lot of videos with my son when we were on a college road trip, and they were pretty funny, because he wanted no parts of the videos," McCarney told the news station. "As soon as I gave birth and got stretch marks, I figured I had a right to torture him as much as I want."
McCarney added that she thinks other parents of college kids are going through about the same thing right about now.
"He's not the exception to the rule. He's the norm," she told WCAU. "He's really not doing anything that 50,000 other college kids aren't doing.
So, in the end, did MCarney's video work? Yes, on Thursday, Liam McCarney made good use of her directions on how to use the phone and gave her a ring.
This post has been updated.
Want to leave a tip?
We answer to you. Help keep our content free of advertisers and big tech censorship by leaving a tip today.
more stories
Sign up for the Blaze newsletter
By signing up, you agree to our
Privacy Policy
and
Terms of Use
, and agree to receive content that may sometimes include advertisements. You may opt out at any time.