MANCHESTER, N.H. (AP) — Hillary Rodham Clinton attempted to rally thousands of influential New Hampshire Democrats on Saturday with a fiercely partisan message, as she struggled to regain her footing in the primary contest.
Calling viewers of the three-hour Republican debate and two-hour undercard on Wednesday night "gluttons for punishment," Clinton accused Republicans of focusing on problems the country faces rather than solutions.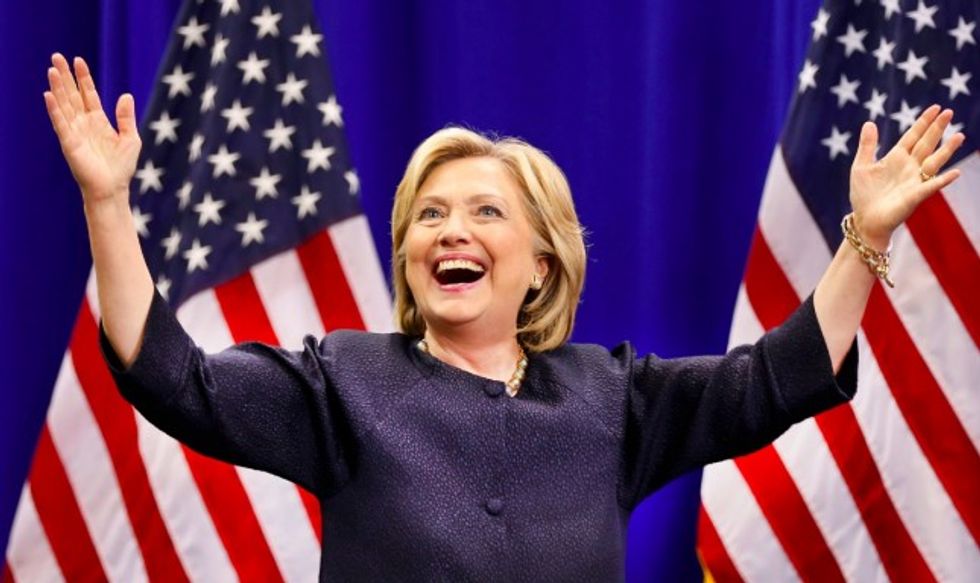 Democratic presidential candidate Hillary Rodham Clinton arrives to a cheering crowd during the state's annual Democratic convention Saturday, Sept. 19, 2015, in Manchester, N.H. (AP Photo/Jim Cole)
"Fifteen candidates, five hours and not a single fighter for the middle class," she told more than 3,500 party activists and elected officials gathered for the state party's annual convention. "Republicans are not just deeply inaccurate, they're increasingly out of touch and out of date."
Her fiery, nearly 45-minute address marked Clinton's effort to turn the focus of her party beyond primary divisions, casting herself as the strongest contender for Democrats eager to maintain control of the White House. She vowed to combat attacks from "the super PACs and the Koch brothers" and promised to fight for causes that have rallied the Democratic base like gun control, criminal justice reform and paid family leave.
But she saved her toughest critique for front-runner Donald Trump, whom she accused of "trafficking in prejudice and paranoia." Clinton has repeatedly sought to link Trump's controversial statements to the rest of the GOP field, arguing there's little difference between his views and those of the Republican Party.
"By the way Donald, when you say you cherish women, that really doesn't make it any better," she said. "Why don't you stop cherishing women and start respecting women."
Clinton remains the front-runner nationally, with tens of millions in her campaign account, endorsements from top party officials and hundreds of paid staff at her Brooklyn headquarters. But though she still leads in early national polls, she's no longer out front in surveys taken in the first two states to vote: Iowa and New Hampshire.
In recent weeks, her message of middle-class prosperity has been overshadowed by interest in her use of a private email account and server while she was secretary of state. In the meantime, Sanders' anti-establishment campaign seems to be resonating with rank-and-file Democrats. Speculation is also growing that Vice President Joe Biden may jump into the race, a possibility that would scramble the primary field and only complicate Clinton's prospects.
Though Clinton has repeatedly declined to comment on Biden's presidential aspirations, she's portrayed herself as the clear successor to President Barack Obama, praising his signature achievements and arguing that she would continue much of his work.
"I will proudly carry forward this record of Democratic achievement," she told the party activists on Saturday. "We know what works and what doesn't."
Most Clinton backers left after her address, leaving an audience of raucous Sanders supports behind for his speech.
Sanders, a longtime liberal fighter, highlighted his fidelity to progressive causes. He stressed his opposition to the war in Iraq, a contrast with Clinton whose support for the invasion undermined her 2008 primary bid.
"I am a proud progressive," he said. "That is what I did yesterday, that is what I did 25 years ago, that is what I'll do tomorrow and that is what I'll do if elected president of the United States."
And like Clinton, Sanders spent a fair amount of time going after his would-be Republican challengers on a long list of issues. It "really hurts," he said, to hear "so many of his Republican colleagues" talk about entering a war with Iran. He charged that GOP "family values" are simply code for opposition to abortion rights and gay marriage. And he accused them of sabotaging future generations to keep corporate dollars flowing from fossil fuel companies opposed to tacking climate change.
"They're more worried about their campaign donations than their kids or their grandchildren," he said.
Former Maryland Gov. Martin O'Malley struggled to capture air in the Democratic primary field dominated by Clinton and Sanders. He reminded convention Democrats of his 15 years' executive experience as Baltimore's mayor and Maryland's governor, experience his rivals lack. O'Malley pledged to fight for stricter gun control, higher minimum wage and holding down college costs.
—
Follow Dave Urbanski (@DaveVUrbanski) on Twitter