Hillary Clinton said she should be considered more of an "outsider" presidential candidate because she's a woman.
Appearing on CBS' "Face the Nation" Sunday morning, Clinton said parents bring her placemats with all of the presidents' faces on it and have their daughters ask her why there is not a woman's face included. The Democratic presidential contender said because she's a woman, she should be considered an outsider as a presidential candidate despite her tenure as secretary of state, First Lady and New York senator.
"I could not imagine anyone being more of an outsider than the first woman president," Clinton said.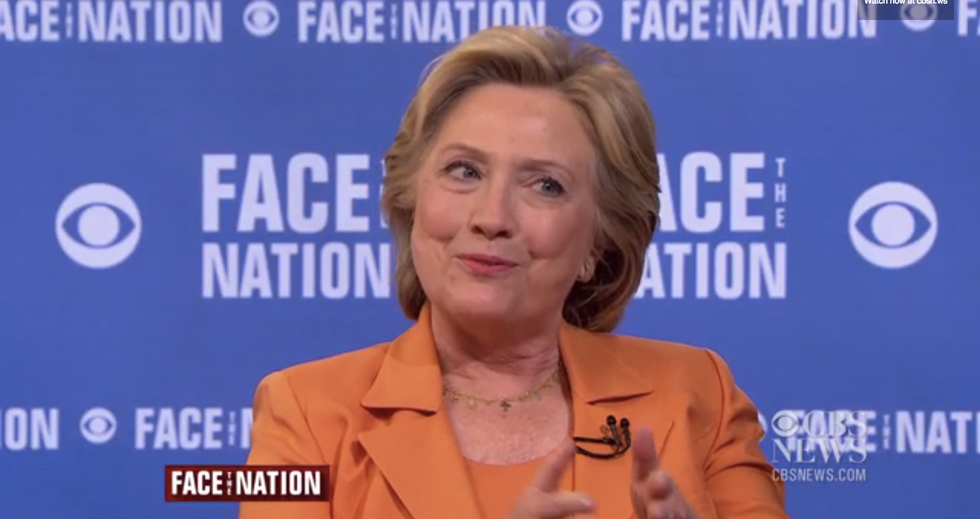 Image source: CBS News
When host John Dickerson pressed her on the question — as the top three Republican presidential candidates have not served in a political office — Clinton said he means she's not someone who has never had to make a difficult decision in the public sphere.
"I know you're asking," Clinton said. "You mean people who have never been elected to anything, who have no political experience, who have never made any hard choices in the public domain. Voters are going to have to decide that."
During the segment, Dickerson also asked Clinton to use three words to describe herself.
"Just three? I can't possibly do that," Clinton said laughing. "I mean look, I am a real person."
"I cannot imagine anyone being more of an outsider than the first woman president," says @HillaryClinton http://t.co/NZ4pwIZLVa

— Face The Nation (@FaceTheNation) September 20, 2015
Hard to pick just three words that describe herself, @HillaryClinton proclaims, "I am a real person!"

— Face The Nation (@FaceTheNation) September 20, 2015