Republican presidential candidate Donald Trump said back in June that he isn't sure that he's ever asked God for forgiveness for his sins, but that he participates in communion, which he described at the time as a "form of asking for forgiveness."
"I am not sure I have. I just go on and try to do a better job from there. I don't think so," he told moderator Frank Luntz during the Family Leadership Summit. "I think if I do something wrong, I think, I just try and make it right. I don't bring God into that picture. I don't."
Trump again discussed this subject in an interview with CBN News' David Brody last Tuesday, during which Brody asked the businessman if he believes that "it is important to ask God for forgiveness."
"Well, I do. I think it's great. I consider communion to be a very important thing. When I go to church and I take communion I consider that asking for forgiveness in my own way," Trump said. "I do think it's a great thing and I do think it's an important thing. It makes you feel good."
Watch Trump's remarks below:
These comments about communion follow additional statements that Trump made back in June at the Family Leadership Summit about the importance of partaking in the Christian practice of consuming bread and wine in remembrance of Christ.
"When I drink my little wine — which is about the only wine I drink — and have my little cracker, I guess that is a form of asking for forgiveness, and I do that as often as possible because I feel cleansed," Trump said at the time, according to CNN. "I think in terms of 'let's go on and let's make it right.'"
Trump's comments at the Family Leadership Summit gained attention, considering that asking God for forgiveness and seeking atonement are central tenets of Christianity.
The candidate did tell Brody in his more recent interview that he was possibly "getting a little bit cute" when he addressed forgiveness and communion at the Family Leadership Summit, saying that he didn't "know it was going to be such a big deal."
"I think communion to me is very important," Trump said.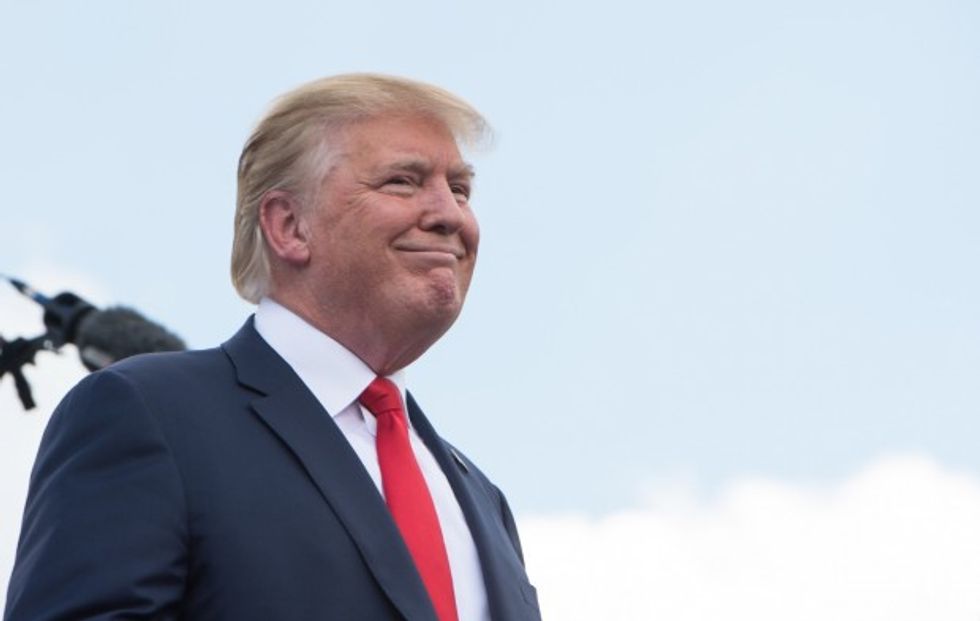 GOP presidential candidate Donald Trump (Nicholas Kamm/AFP/Getty Images)
As TheBlaze previously reported, this isn't the first time that Trump's views on faith and the Bible have made headlines, as he declined to name his favorite Bible verse when a reporter pressed him on the issue last month.
That said, the presidential candidate struck a very different tone in the same interview with Brody, seemingly having no problem diving into his stance on the holy book.
"There's so many things that you can learn from [The Bible]. Proverbs, the chapter 'never bend to envy' —  I've had that thing all of my life where people are bending to envy," Trump said. "Actually, it's an incredible book. So many things you can learn from the Bible and you can lead your life and I'm not just talking in terms of religion — I'm talking in terms of leading a life even beyond a religion."
It is unclear where this "envy" chapter is in Proverbs, as Trump did not cite a specific verse. That said, the subject is dealt with a number of times throughout Proverbs, as Brody noted.
(H/T: CBN News)