Paul Houle started feeling back and chest pain last week during and well after football practice. What the 17-year-old high school senior did next, might have saved his life: he checked his pulse.
Houle didn't have to press down on his wrist the old-fashioned way to figure out his heart was going at 145 beats per minute two hours after practice ended though. According to WBZ-TV, the Cape Cod, Massachusetts, teenager three days earlier had purchased an Apple Watch and that made getting this health  information even easier.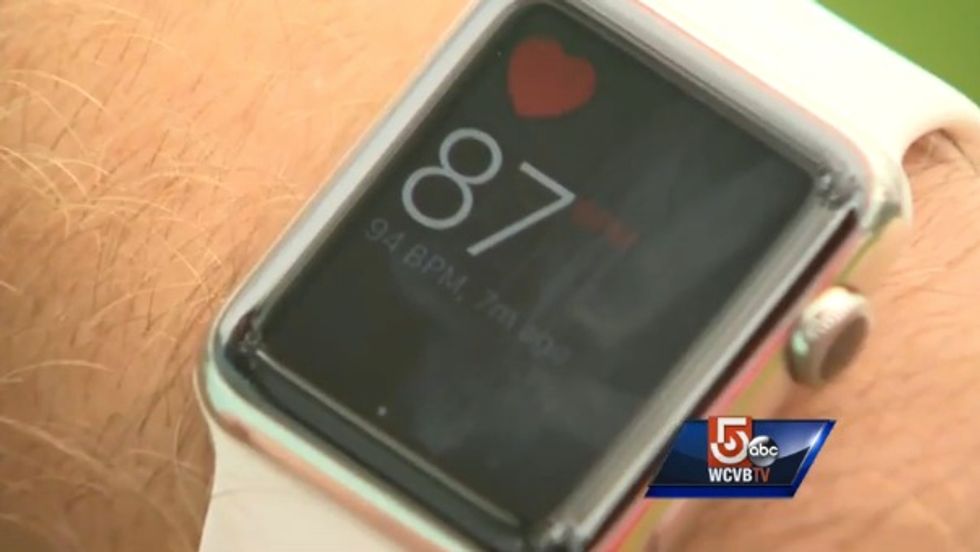 Paul Houle only had his Apple Watch for three days but when he saw that his heart rate was 145 beats per minute two hours after football practice, well above his resting average, he knew something was wrong. (Images source: WCVB-TV)
With the average resting heart rate of an adult being 60 to 100 beats per minute, the news station reported that Houle contacted the team trainer and was rushed to the hospital where he learned he had rhabdomyolysis, a condition characterized by the "breakdown of muscle tissue that leads to the release of muscle fiber contents into the blood," according to the National Institutes of Health. This could lead to kidney damage or failure if not treated. WCVB-TV reported that the teen had heart, liver and kidney failure by the time he was admitted to the hospital.
A variety of things could cause rhabdomyolysis, but in Houle's case, it was likely dehydration from not one but two practices during a hot day that week.
"I was so dehydrated that my muscles started to actually break down and release a protein that is sort of toxic into my blood stream which caused my heart, my liver and my kidneys all to shut down," Houle told WBZ.
While Houle said he's "happy to be alive," he also has something else to be pleased about, despite having to miss some of the Tabor Academy football season in recovery.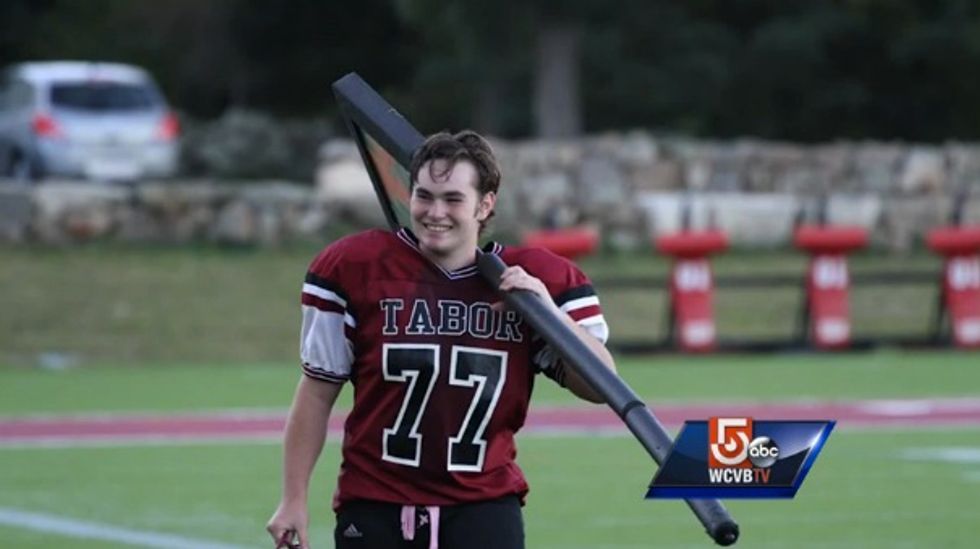 Paul Houle told the local media he is just happy to be alive, but Apple CEO Tim Cook offered the teen a summer internship as well. (Images source: WCVB-TV)
The news station reported that the teen received a call from Apple CEO Tim Cook who offered him an internship next summer.
Houle credit's Apple Watch with saving his life.
"If my Apple Watch hadn't shown me it was 145, I would have done nothing about it," he told WCVB.
Watch the news station's report:
(H/T: SlashGear)