A Muslim preacher recently issued a warning that the flood of migrants pouring into Europe will eventually "conquer" the continent by multiplying at a much faster rate than Europeans.
Calling Europe, which has a famously low birthrate, "old and decrepit," Sheikh Muhammad Ayed said in his sermon at Jerusalem's Al-Aqsa mosque, "They have lost their fertility, so they look for fertility in their midst. We will give them fertility!"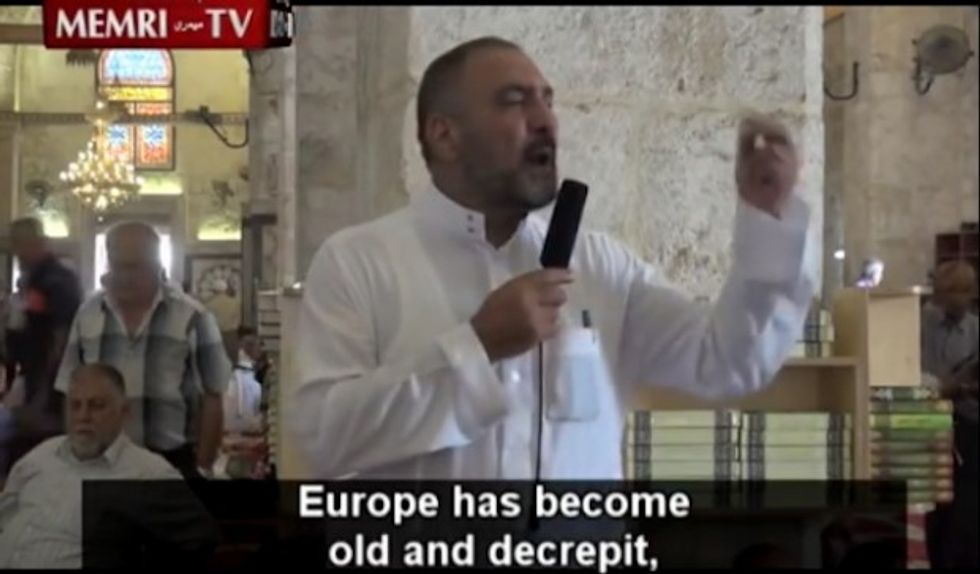 Sheikh Muhammad Ayed encouraged Muslims worldwide to use their high fertility rate as a demographic weapon against the West. (Screenshot: YouTube/MEMRI)
"We will breed children with them, because we shall conquer their countries – whether you like it or not, oh Germans, oh Americans, oh French, oh Italians, and all those like you. Take the refugees!" Ayed said according to a translation from the Middle East Media Research Institute.
"Europe has become old and decrepit and needs human reinforcement. No force is more powerful than the human force of us Muslims," he said.
The preacher asserted that Europeans are not motivated by compassion for Middle Easterners; rather, they simply want cheap labor.
"They are not motivated by compassion for the Levant, its people and its refugees. Throughout Europe, all the hearts are infused with hatred toward Muslims. They wish that we were dead," he said.
Eventually, he said, "the coming caliphate" will collect its Muslim sons to fight as soldiers for Islam.
"We shall soon collect them in the name of the coming caliphate. We will say to you: These are our sons. Send them, or we will send our armies to you," Ayed added.
A growing number of European countries have signaled that they prefer to grant asylum to Christian Syrians over Muslims fleeing their war torn country over concerns Islamic State fighters could infiltrate into Europe under the guise of asylum seekers.
Those concerns were amplified following recent reports that some migrants were discarding their identifying documents, purchasing fake passports and claiming to be Syrian, raising their chance of resettling legally in Europe.
Secretary of State John Kerry announced Sunday that the U.S. would accept 185,000 refugees from around the world over the next two years, up from the current 70,000 annually. He made the announcement at a news conference with German Foreign Minister Frank-Walter Steinmeier after they discussed the Syrian refugee crisis.
MEMRI reported that the sermon was posted online on Sept. 11.