Donald Trump was grilled by "CBS Evening News" anchor Scott Pelley in an interview for "60 Minutes" over how he handled an anti-Muslim questioner at a recent townhall event.
In a preview of the interview set to air Sunday, Trump was repeatedly pressed by Pelley on the incident.
"You let that pass and I wonder what that tells us about you," the CBS anchor said.
"Well, he said much more than that. That was part of the statement. He went on to say other things," Trump responded.
Pelley interjected, "But the bigotry part."
"Look, he said mostly about Obama. That whole question is about — I don't have to defend President Obama. He's not going to defend me. So whether you agree with the man or don't agree — and there were people in the audience, you probably noticed, who did agree with him," Trump replied.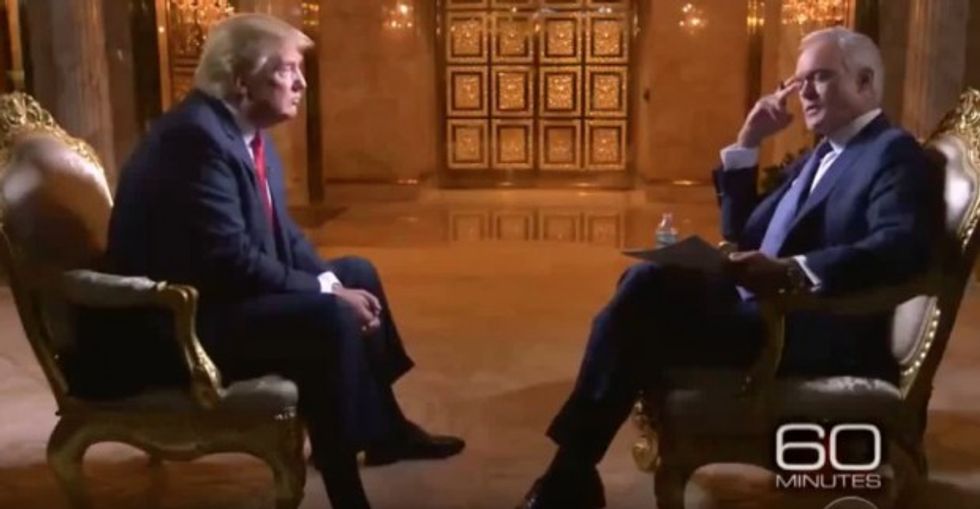 Image source: Screen grab via "60 Minutes"
Pelley, however, wasn't satisfied with the answer.
"It was a testing moment for a man running for president. You never know when they are coming. But here you had a bigot that you could have slapped down," he told Trump.
Trump, who said he didn't think it was a "testing moment," pushed back against the assertion that the questioner was a "bigot."
"You don't that. I mean he asked a question. You don't know that he's a bigot," Trump said.
Pelley was taken back by the comment, seemingly stunned.
"A problem in this country and it's Muslims?" he asked.
Trump said has a great love for Muslims, calling them "phenomenal people," but added that "like everything else, you have people where there are problems."
"Now we can say there are no problems with the Muslims. There are no problem. There is no terrorism. There is no crime. There is no anything. They didn't knock down the World Trade Center. To the best of my knowledge, the people that knocked down the World Trade Center — they didn't fly back to Sweden," Trump said.
(H/T: Mediaite)
—
Follow the author of this story on Twitter and Facebook: