A teenager was charged with assault in Iowa after he was caught on camera punching a bus driver in the face before hopping off.
Why he did it? Well, here's how it went down.
One by one, high school students filed onto driver Cindy Wentz's CitiBus last week, flashing there IDs as they passed. A yellow sticker on these cards allows them to ride for free.
One student, a 15-year-old black male, didn't have his ID card, so Wentz told him he'd need to pay the dollar fare. Another student, a white male, got on the bus and had his ID card but not the yellow sticker.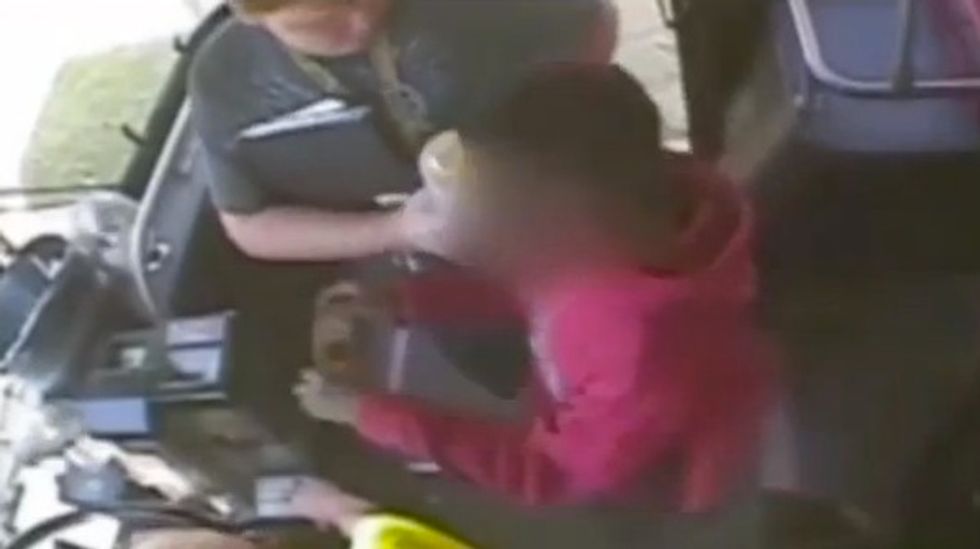 The bus driver told one student he had to pay when he didn't have his student ID. She let another student ride the bus without charge because he had his ID but not the sticker that allowed free fare. (Image source: YouTube)
"It's 50 cents without a sticker," Wentz can be heard telling this student.
"Well, I guess I'm walking," this student replied and stepped off the bus.
Wentz shut the doors and then thought again. Reopening the doors, she said, "I'll let you slide today, but you better have a sticker tomorrow."
"That's when the other student got irate," Wentz told KWQC-TV, adding that this student accused her of being racist for having him pay a dollar to ride while the white student got on without charge.
"How was it racist? You didn't have your school ID," Wentz told KWQC of how she responded. "Had you had your school ID, I would have let him slide too, but he didn't have nothing stating or showing he was a student."
In the video, Wentz said if this student was "going to get lippy" with her, then he could get off the bus.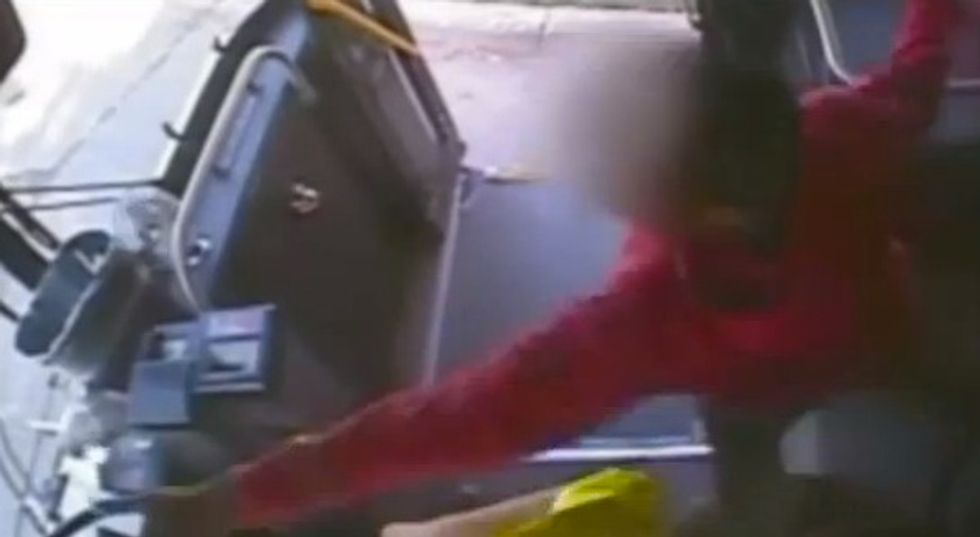 The student who didn't have an ID and had to pay his way accused the bus driver of being racist and punched her before getting off the bus. He has been charged with assault. (Image source: YouTube)
He did, but before doing so, he threatened to punch her.
"Lay your hand on me, see what happens," Wentz said.
And then he did.
The footage of the incident was released Friday:
According to WQAD-TV, Wentz was taken to the hospital, went home that evening and returned to work a couple of days later.
The teen, who was not named because he is a minor, was charged with assault in juvenile court and is banned from riding CitiBus in the future, WQAD reported.
(H/T: Daily Mail)